Yum! 2Q Results Higher on Emerging Market Growth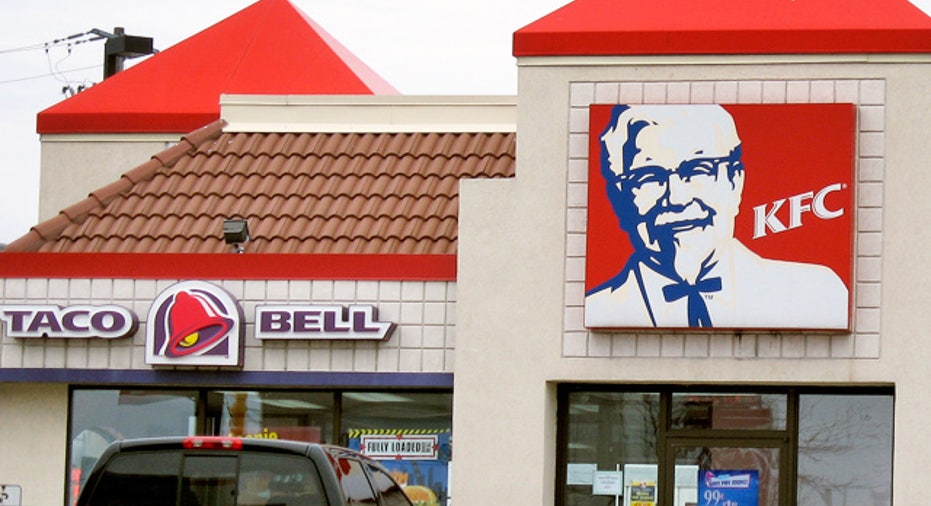 Yum! Brands Inc. (NYSE:YUM) posted second-quarter results on Wednesday that exceeded Wall Streets expectations, and lifted its full-year forecast to 12% growth in earnings per share, up from an earlier forecast for 10% growth
The operator of popular restaurant chains KFC and Taco Bell reported its second-quarter profit rose 10%, to $316 million, or 65 cents a share, compared with year-ago net income of $286 million, or 59 cents a share. On an adjusted basis, earnings per share rose 13% to 66 cents, compared with last years second-quarter adjusted earnings of 58 cents per share.
Revenue came in at $2.82 billion, up from last years sales of $2.57 billion. The results easily topped expectations on both the top and bottom line. Analysts had forecast earnings of 61 cents on revenue of $2.70 billion, according to the latest poll by Thomson Reuters.
In the U.S., restaurant margin fell 4.4%, as operating profit slipped 28% and operating margin slid 3.6%, compared with the second quarter of 2010. The company pointed to falling same-store sales and increased food costs for the decreased profit and margin. The company expects food costs to inflate approximately 7% in fiscal 2011.
Overseas locations helped to buoy the companys disappointing domestic performance during the quarter and were responsible for the full-year guidance hike. The companys China division saw same-store sales rise 18% as same-store sales fell in the US by 4% compared with the year-ago quarter.
Our outstanding international results were offset by a 28% decline in U.S. profits, driven by higher commodity costs and a 4% decline in same-store sales, said David C. Novak, Chairman and CEO, in a statement. Novak said he anticipates improvement on the domestic front by the fourth quarter.
Shares of Yum Brands rose 1% in Wednesdays session. The shares were up $1.50, or nearly 3%, in after-hours trading.