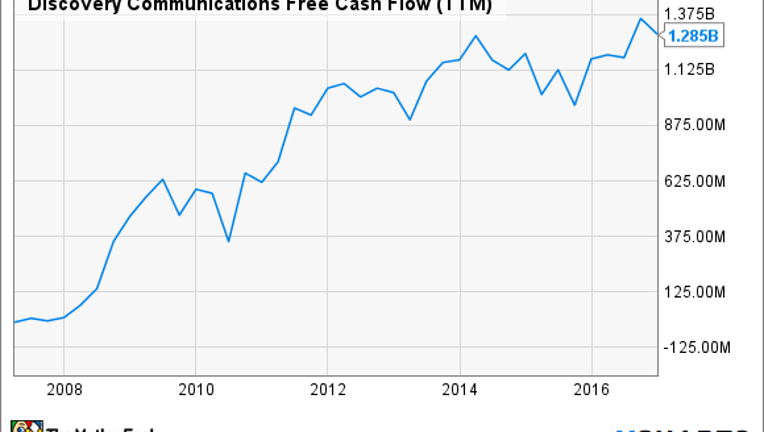 It's not often that an investor has the opportunity to buy shares in a fantastic business, one that not only sports an exceptional record of high returns on invested capital, but one that possesses a portfolio of brand-name media properties that are practically assured a place in the entertainment consumption habits of television viewers for years to come. And yet, as we shall soon see, that is exactly what Foolish investors have staring them in the face in shares of Discovery Communications (NASDAQ: DISCA)(NASDAQ: DISCB).
Image Source: Getty Images.
Recent results
Results over the past year for Discovery Communications have been decent. The owner of premium television channels such as Discovery, TLC, Animal Planet, OWN, and The History Channel has been extremely forward-thinking in adapting to the current entertainment landscape. This has born fruit, as FY 2016's results were more than respectable:
| | | |
| --- | --- | --- |
| Metric | FY 2016 | FY 2015 |
| Revenue | $6.18 billion | $6.07 billion |
| Net income | $916 million | $810 million |
| Free cash flow | $1,285 million | $1,174 million |
Data source: S&P Global Market Intelligence.
Discovery's strong free-cash-flow generation is owed to the simple fact that its media properties require very little in the way of capital investment to maintain their positions: Capital expenditures in FY 2016 were a paltry $88 million in FY 2016, down from $103 million in FY 2015.
"Discovering" consistent returns
Exceptional profitability is nothing new to Discovery Communications. In fact, looking back over the last 10 years, it's clear that Discovery is nothing less than an exceptional business.
DISCA Net Income (Annual) data by YCharts.
DISCA Free Cash Flow (TTM) data by YCharts.
This fact is further amplified by its average return on equity over the last decade of 20.6% -- extremely high for the average publicly traded corporation.
All this for a low, low price ...
As icing on the cake, Discovery Communications shares currently trade for a song. With shares changing hands for around $29 per share, the stock is valued by Mr. Market at just over 13 timesS&P Global Market Intelligence's EPS estimates for FY 2017 of $2.17. What's more, after taking into account management estimates and market trends, the company's earnings growth into the 2020s is just as attractive:
| | | | | | |
| --- | --- | --- | --- | --- | --- |
| Metric | FY 2017 | FY 2018 | FY 2019 | FY 2020 | FY 2021 |
| Estimated EPS | $2.17 | $2.44 | $2.67 | $2.81 | $3.29 |
Data source: S&P Global Market Intelligence.
With the market entering its eighth year of a secular bull market, and the naturally high valuations that go along with such a trend, this low valuation for a high-quality business more than stands out from the crowd. However, there are a few storm clouds overhead to keep an eye on.
A few words of caution
While Discovery's ability to generate profits for its owners is beyond dispute, it should be noted that media is a competitive business to be in these days. Arguably far more competitive than it was when Discovery Communications first staked its claim as niche player in the industry. Not only do traditional cable channels such as Discovery and TLC have to compete with other cable offerings, but they must compete with the internet itself. The simple fact of the matter is that YouTube's owner, Alphabet, didn't even exist when TLC was first created.
It is not unimaginable that the company might slowly lose its competitive position as the years go on, bringing its fantastic profitability down with it.
Foolish final thoughts
Discovery Communication's stock is extremely cheap -- that is, it trades for a ridiculously low price relative to its demonstrable earning power. Its properties reach more than 2.8 billion viewers in well over 100 countries and in 40 languages. Management has proven its ability to execute in the 21st century, and shareholders can sleep well at night knowing that the company's significant free cash flow generation will be put to good use. All in all, the weight of the evidence points to Discovery's shares being extremely undervalued. And while there are no guarantees in investing, enterprising investors would likely do well to give its shares very strong consideration.
10 stocks we like better than Discovery CommunicationsWhen investing geniuses David and Tom Gardner have a stock tip, it can pay to listen. After all, the newsletter they have run for over a decade, Motley Fool Stock Advisor, has tripled the market.*
David and Tom just revealed what they believe are the 10 best stocks for investors to buy right now...and Discovery Communications wasn't one of them! That's right -- they think these 10 stocks are even better buys.
Click here to learn about these picks!
*Stock Advisor returns as of February 6, 2017.
Suzanne Frey, an executive at Alphabet, is a member of The Motley Fool's board of directors. Sean O'Reilly has no position in any stocks mentioned. The Motley Fool owns shares of and recommends Alphabet (A shares). The Motley Fool has a disclosure policy.