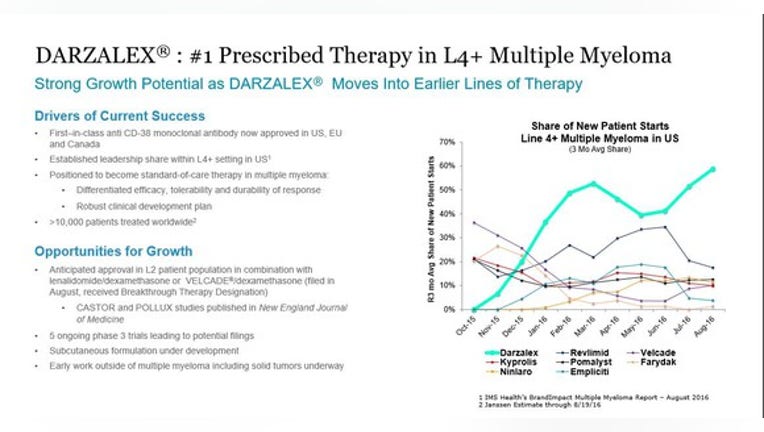 Image source: Getty Images.
With theelectionover and themarket's fear of drugprice controls rapidly weakening,up-and-coming blockbusters are set tobecome big catalysts for the pharmaceuticals industry again. Among those companies, Johnson and Johnson (NYSE: JNJ) stands out. Why? The healthcare titanhas been lifted onto a new growth path withits high-margin specialty drugs, withone cancer-fighter in particular -- Darzalex -- looking absolutely spectacular.
Let's zero-in on this drug, because recent trial results opened the door to the possibility of Darzalex becominga transformational drug for all stages of multiple myeloma, with $5 billion-plus in peak sales.
Unprecedented Action, Standout Data, Landmark Advance
While oncologists are generally loath to praise drugs, Mayo Clinic's Dr. Kapoor described Darzalex's performance as "unprecedented in myeloma." Meanwhile, last quarter, J&J put it at the top of its listof drugs "with higher certainty and higher value than originally anticipated."
While J&J has been beating the drumfor this drug, it flew under the radar of most analysts since FDA clearance limited it to myeloma patients who failed three previous therapies, a last ditch market already crowded with other treatments, such as Celgene'sPomalyst and Amgen'sKyprolis.
But fast-forward to October 6, 2016 and a phase 3 trial reported in the New England Journal of Medicine (NEJM) showed data so impressive that study authors said it should be the "new standard of care for multiple myeloma."
Myeloma is an aggressive disease, and with each relapse it becomes more challenging to treat. Despite that, in its POLLUX trial on relapsed patients failing at least one prior therapy, a Darzalex combo cut the risk of disease progression 63% more than the current standard of care.To put that in context, Bristol-Myers Squibb'snew myeloma fighter Emplicitiis generally believed to be an excellent medication, but it reduced the risk of progression by only 30% in its ELOQUENT-2 trial.
J&J rushes Darzalex into 28 clinical trials
The FDA granted Darzalex abreakthrough designation for an expanded indication with a PDUFA date on February 17, 2017. That's a catalyst date investors might want to keep an eye on, but trial results and submissions will keep comingafterwards. Danish company Genmab (with whom J&J has a worldwide license to develop and commercialize the drug) announced last quarterthat J&J was fast-forwardingDarzalex's clinical development program, moving it from 11 clinical studies at the beginning of the year to an eye-popping 28.
Image source: J&J investor presentation.
While the bulk of Darzalex'strials focus on relapsed myeloma patients, several early stage trials aim atapproval as a first-line treatment for newly diagnosed patients. Going forward, investors particularly need to keep their eye on a key trial teamingitwith cancer giant Roche Holding's anti-PDL1 therapy atezolizumab.
If that collaboration sees early success, that's great news for J&J, but it could be worrisome to Celgene investors, since it means Darzalex could pose a threat to that company's prized myeloma fighter, Revlimid. In addition, three days ago, Amgen announced Darzalex is being teamed up with Kyprolis, and the two drug giants will be collaborating in multiple clinical trials.
Given that the myeloma market is expected to climb to $18.4 billion by 2020, Darzalex has a tremendous opportunity.In fact, Dr. Antonio Palumbo, lead study author on oneDarzalex trial,as quoted in Forbes, said the drug couldend up being the single treatmentused in all myeloma patients.ButDarzalex's opportunity doesn't end there since it israpidly being moved into development in other disease areas.Those includestudiesin lymphoma,as well as a studyteaming it with Roche's anti-PDL1 therapyforsolid tumor cancers.
J&J's R&D effectivenessshouldovercome biosimilar headwinds
You should never buy a stock based on its prospects with one drug -- certainly not when the company is as large and diversified as J&J. But Darzalex is one of the biggest opportunities I've seen in pharma recently, and its success heralds the kind of high profit margins that will allow J&J to dedicate significant financial resources to R&D, leading to even more drugs of Darzalex's caliber.
J&J'searnings surpassed expectations last quarter. However,sharesticked downward onconcerns about future growth prospects for top-selling drug Remicade. While Pfizer'sannouncement that it will launch a biosimilar of Remicade in Novemberis a headwind,given Remicade's long-term safety record and the biosimilar offering only a15% discount,Pfizer's launch willface some big headwinds of its own.In fact,in Canada and Brazil, where a Remicade biosimilar is already readily available, J&J has maintained more than 90% volumeshare.
More to the point, though,J&J's pipeline is not just on track, the companyledthe market in FDA approvalsfrom 2011 to 2016.Going forward, thecompanyplans on 10large-scale drugsreaching the marketbetween 2015 and 2019, with40 line extension filings planned in the same time frame. In other words,J&J hasmore than enough fuel in its tank, and with the election over, I'd start planning how to squirrel away more shares.
Forget the 2016 Election: 10 stocks we like better than Johnson and Johnson Donald Trump was just elected president, and volatility is up. But here's why you should ignore the election:
Investing geniuses Tom and David Gardner have spent a long time beating the market no matter who's in the White House. In fact, the newsletter they have run for over a decade, Motley Fool Stock Advisor, has tripled the market.*
David and Tom just revealed what they believe are the ten best stocks for investors to buy right now...and Johnson and Johnson wasn't one of them! That's right -- they think these 10 stocks are even better buys.
Click here to learn about these picks!
*Stock Advisor returns as of November 7, 2016.
Cheryl Swanson owns shares of Johnson and Johnson. The Motley Fool owns shares of and recommends Celgene. The Motley Fool recommends Johnson and Johnson. Try any of our Foolish newsletter services free for 30 days. We Fools may not all hold the same opinions, but we all believe that considering a diverse range of insights makes us better investors. The Motley Fool has a disclosure policy.