You Won't Believe Which Restaurant Will Discount Aggressively to Win You Back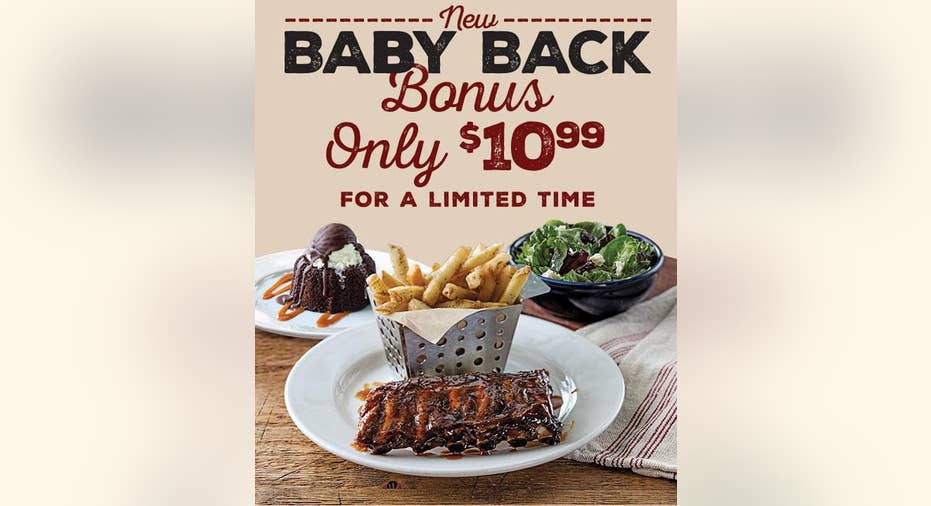 Source: Chili's.
Fancy steaks and table-top tablets weren't enough to drum up an uptick in comparable-restaurant sales for Brinker International's Chili's Grill & Bar, so it's going back to basics. The meat and high-tech are staying, but its latest marketing campaign is all about providing a cheaper way to enjoy its signature baby back ribs.
Chili's is promoting the dish that put it on the map when it was introduced 30 years ago, eventually resulting in one of the catchiest jingles in casual dining history. C'mon, tell me you're not already singing the "I want my baby back ribs" tune. Chili's is pairing up a half rack of the ribs with homestyle fries or a side of your choice, a salad to kick things off, and a mini molten cake for dessert. It all goes for $10.99, which for those not in tune with where this falls in the Chili's value spectrum is exactly what it charges for just the half rack of ribs and fries.
Taking a signature dish and turning it into a three-course meal for the same price may seem like a bad strategic move if you're Brinker. It will nip any waiter attempt to upsell the order with appetizers or dessert. Who orders two desserts? However, it's a value that should resonate with folks that may not have come back to Chili's in 2016 -- and judging by Brinker's latest quarter that happens to be a lot of you.
Brinker International took a hit on Tuesday following disappointing financial results for its fiscal third quarter. Barclays would go on to downgrade the stock, lowering its price target to $47 in the process.
Brinker's Maggiano's Little Italy concept held up reasonably well, but Chili's -- accounting for 97% of its 1,674 restaurants -- was a disaster. Comparable-restaurant sales slipped 4.1% at company-owned restaurants. Customers aren't cutting back on how much they're spending at Chili's. The average check per person ticked slightly higher. The real dagger here was a 4.9% plunge in foot traffic since the prior year's fiscal third quarter. Franchisee-owned locations fare a bit better, but comps there also clocked in negative.
Earning its ticker symbolA decline in customers is always problematic, and more so for a restaurant chain that's now facing higher wage rates and health insurance expenses. It stings operating margins, and that's a big deal for Brinker. The trend in casual dining in recent years has been for chains to hand over their company-owned eateries to successful franchisees, but Brinker's going the other way around. Last summer it scooped up 103 Chili's locations, and it now owns 74% of its domestic units.
Discounting seems as if it's going to stick around at Brinker for a spell. The word "value" was mentioned 35 times during Tuesday's earnings call. It referred to the recent move by the leading burger chains to push their buck bargains, culminating in January's "5 for $4" offer at Restaurant Brands International's Burger King. Chili's isn't going to follow Restaurant Brands International. It can't. However, it also seems as if Chili's isn't going to be able to shake itself off of the $10.99 three-course meal it introduced on Monday or the "2 for $20" meal for two that it's been promoting for years. Just as Restaurant Brands International and its burger-flipping peers are doomed to hover around dollar menu promotional antics, Brinker's flagship chain didn't do so well earlier this year when it felt that Sizzling Steaks would woo higher-paying customers.
Installing Ziosk tablets at every table a couple of years ago was supposed to promote bigger orders and faster turnaround times. The high-tech tweak lived up to its end of the market, but now Brinker is struggling to get folks to show up. It needs to get its customers to come back, and that makes this a good time to cue up an "I want my babies back" jingle.
The article You Won't Believe Which Restaurant Will Discount Aggressively to Win You Back originally appeared on Fool.com.
Rick Munarriz has no position in any stocks mentioned. The Motley Fool has no position in any of the stocks mentioned. Try any of our Foolish newsletter services free for 30 days. We Fools may not all hold the same opinions, but we all believe that considering a diverse range of insights makes us better investors. The Motley Fool has a disclosure policy.
Copyright 1995 - 2016 The Motley Fool, LLC. All rights reserved. The Motley Fool has a disclosure policy.