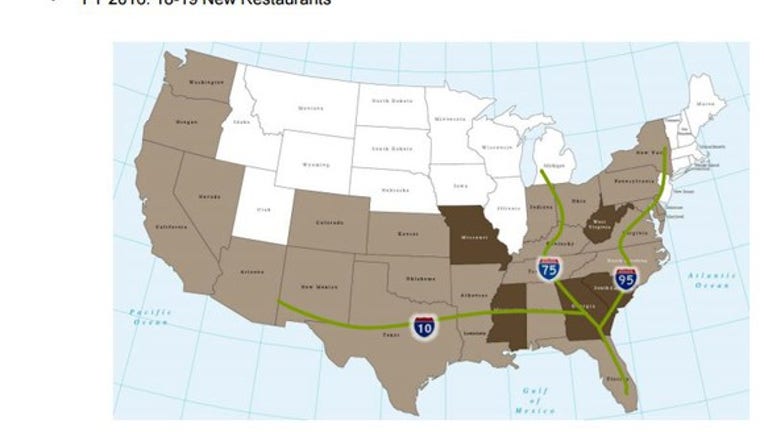 Panera Bread, the fast-casual bakery and sandwich chain, was just bought out for a premium valuation. While this sort of thing doesn't happen every day, another restaurant chain offers the kind of growth that could yield similar returns: BJ's Restaurants (NASDAQ: BJRI).
After BJ's was founded in the 1990s, it was experimenting with everything from pizza to brewpubs, but it ultimately settled on a concept that offers great prices on spectacular meals that are paired by scores of craft beers. This approach led to enviable growth over the past decade.Despite its popular restaurants and laudable expansion plans, its shares have languished along with the rest of the restaurant sector, because of poor sales growth in the latter half of 2016. Even peers Cheesecake Factory (NASDAQ: CAKE) and Red Robin Gourmet Burgers (NASDAQ: RRGB) weren't spared.
Image source: BJ's Restaurants.
Investors may be correct in being less than enthused with the recent results from BJ's Restaurants. However, its profit increases, fueled by new restaurant openings, can't be ignored forever. By looking past the current malaise and toward a restaurant and marketplace with a lot more BJ's locations dotting the U.S., Foolish investors have a unique opportunity to own a great restaurateur just before a major growth spurt.
Latest results
First-quarter earnings per share, reported on April 27, came in at $0.42,beating the average Street estimate of $0.34. Revenue grew 5.9% year over year to just under $258 million. But in a continuation of its fiscal 2016 trend, the company continued to see comparable-store sales at restaurants open more than a year fall 1.3%.
As was the case with BJ's first quarter, last year's results were decent, with particular strength in the top and bottom lines in the fourth quarter on the back of new store openings. The problem for BJ's, and the industry itself, was weak comparable-store sales. Revenue for the fourth quarter came in at $265.6 million, up a solid 18% from the same quarter in 2015. It's clear that this performance is due to new restaurant openings in the second half, as full-year revenue rose just 8% to $993.1 million. Net income in the final quarter of 2016 blazed upward by over 18% to $12.9 million.
However, the bottom line was not so spectacular for the full year, rising just 0.5% to $45.6 million. The all-important same-store-sales figure was the true bane for BJ's year, falling 2.2% in the fourth quarter and 1.2% for the full year. That's worrying, given the company's reputation for driving foot traffic.
But the restaurant industry is highly dependent on consumers' willingness to spend their hard-earned dollars to eat out, and this isn't the first time BJ's has stumbled. However, it has always bounced back, just as it did following the 2008 recession.
Striking it right
What is now BJ's Restaurants had its beginnings in the late 1970s in California, when it was known as Chicago Pizza. By the mid-'90s, it had expanded to multiple locations and began experimenting with new concepts such as breweries and fast-casual dining. The restaurant business is notoriously competitive, perhaps even more so for pizza chains. However, once the company hit on the brewery-and-restaurant concept, just in time to take advantage of the craft-beer trend, the restaurateur hit its stride.
By the late 2000s, the American desire for casual dining at reasonable prices, coupled with the explosion of craft-beer offerings, was as dynamic as rocket fuel. BJ's Chairman and CEO Gregory Trojan has ridden this wave to perfection. It should also be noted that he and other insiders own 20.4% of the company -- ensuring that they are 100% aligned with investors' interests.
Wall Street should arguably give the company more credit, as America's love of casual dining and unique craft beers shows no signs of abating. Given BJ's lower restaurant count, expansion plans, and the unstoppable craft-beer train, Wall Street appears to be throwing the baby out with the bathwater.
Data source: S&P Global Market Intelligence.
Image source: Oppenheimer & Co. Inc. 16th Annual Consumer Conference BJ's Restaurants presentation.
Comparable-store sales rise and fall and are just half of the restaurant value equation. The company's profits rose monumentally in Q4 because of new restaurant openings, and if comps remain in line with the industry, then the growth story is intact. Management seems to agree, announcing in its Q1 2017 release that it hadrepurchased and retired approximately 800,000 shares of its common stock at a cost of approximately$29.0 million ($36.25 per share).
Data source: S&P Global Market Intelligence.
The only hitch, of course, is that even the best-laid plans often make lowercase="f" fools of us all.
Bearish considerations
The number of restaurants that succeed is abysmally low. For every McDonald's or Bonefish Grill, there are 99 failures. Anyone considering an investment in BJ's Restaurants should keep that in mind, along with acknowledging the endless ebb and flow of consumer trends. Were BJ's immune to these realities, it would not have suffered negative same-store-sales growth alongside its fast-casual brethren in the fourth quarter. Craft beer could easily fall out of popularity, and who's to say some new fast-casual chain won't come along and dethrone BJ's Restaurants as the fast-growing brewpub everyone is trying out?
Foolish takeaway
As part of a broad portfolio of stocks one believes in, BJ's seems like a solid bet as long as Americans want a reasonably priced, quality meal in a brewery-like setting. With a valuation on par with restaurants less attuned to these trends, it seems the optimists have the better argument. Its expansion plans and the profit growth those plans will yield are just too good to pass up. For investors looking for the next winning restaurant stock story now that Panera Bread is off the market, BJ's Restaurants is a fantastic stock to consider adding to a growth-oriented portfolio.
10 stocks we like better than BJ's RestaurantsWhen investing geniuses David and Tom Gardner have a stock tip, it can pay to listen. After all, the newsletter they have run for over a decade, Motley Fool Stock Advisor, has tripled the market.*
David and Tom just revealed what they believe are the 10 best stocks for investors to buy right now... and BJ's Restaurants wasn't one of them! That's right -- they think these 10 stocks are even better buys.
Click here to learn about these picks!
*Stock Advisor returns as of April 3, 2017
Sean O'Reilly has no position in any stocks mentioned. The Motley Fool recommends BJ's Restaurants. The Motley Fool has a disclosure policy.