Yep, Netflix Inc. Is Taking On Another $1.1 Billion of Fresh Debt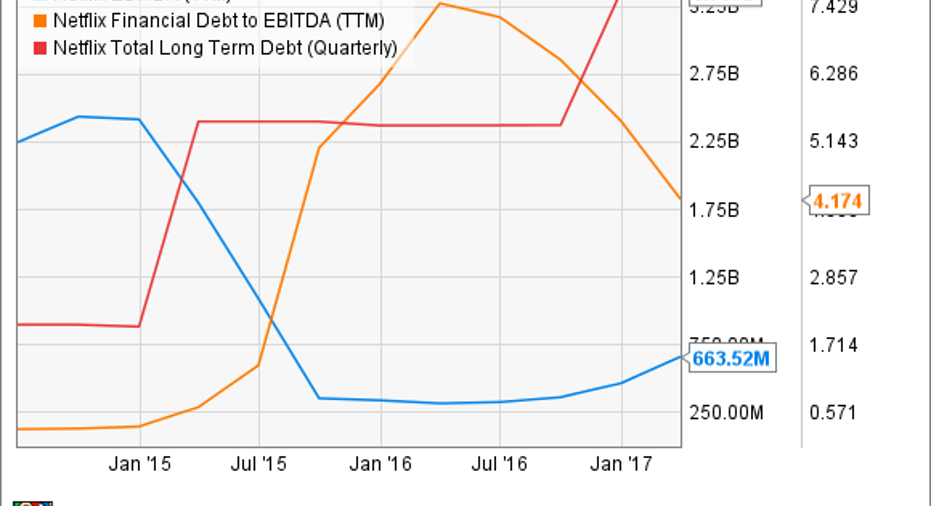 As expected, Netflix (NASDAQ: NFLX) is tapping the bond market for some fresh capital again. The details of this round of debt financing tell the story of Netflix's increasingly international focus, because the bonds will be priced in euros instead of U.S. dollars.
In an early-morning press release, Netflix announced that it plans to take on 1 billion euros (roughly $1.1 billion) in fresh senior notes. The exact terms of the offering have not yet been hammered out, and are subject to negotiations between Netflix and its lenders. Here's how the company's five existing sets of debt offerings were designed, adding up to a current long-term debt total of $3.37 billion:
| Date of Issuance | Principal Amount | Coupon Rate | Maturity |
| --- | --- | --- | --- |
| October 2016 | $1 billion | 4.375% | 2026 |
| February 2015 | $700 million | 5.5% | 2022 |
| February 2015 | $800 million | 5.875% | 2025 |
| February 2014 | $400 million | 5.75% | 2024 |
| February 2013 | $500 million | 5.375% | 2021 |
Data source: Netflix filings with the U.S. Securities and Exchange Commission.
What to expect
Both the American federal funds rate and the LIBOR benchmark for international loans have increased slightly in recent months, but the direct effect on Netflix's loan terms is not likely to be huge. These rates are still running along at historically low levels, which explains why so many companies are taking on cheap debt these days. It's a long way back to the interest rates we saw before the financial market meltdown in 2008:
Credit-rating firm Moody's has already assigned a B1 rating to the proposed bond offering, matching the debt quality of the October 2016 and February 2015 rounds. In general, Moody's rates Netflix at that mid-range speculative level with a stable outlook.
Netflix's long-term debt balance will increase by approximately 37% when this bond sale takes effect, lifting the company's debt leverage from 5.6 times trailing EBITDA (earnings before interest, taxes, depreciation, and amortization) profits to 7.1 times. But the EBITDA line is rising quickly, and Moody's expects the leverage ratio to dip back to 6 by the end of 2016.In support of the B1 debt rating, Moody's wrote:
To move up from today's speculative territory, Moody's would like to see the company turning a profit in more of its international markets and generally expand its profit margins. Doing this would drop the debt-to-EBITDA ratio to more comfortable levels, and could trigger a corporate rating upgrade.
On the other hand, the opposite ratings action could be taken if Netflix stops expanding its profit margins and/or growing its subscriber numbers. The ratings agency would also be unhappy if Netflix takes on too much more debt, keeping its leverage ratio above 6.0 beyond 2018. Netflix's credit ratings were indeed lowered a notch in 2015, when EBITDA profits took a dive and debt balances rose in preparation for the upcoming global expansion:
NFLX EBITDA (TTM) data by YCharts.
Stranger Things is one popular Netflix original. Image source: Netflix.
What's next?
Netflix will use these funds for "general corporate purposes," increasing the company's operating flexibility in overseas markets. Management has been up-front about the fact that debt is mostly used to fund Netflix's ambitious content-production plans, so we should probably expect an influx of mostly European shows and movies in the next few quarters. The company likes to make its Netflix originals available globally, so that means more foreign-language shows for American customers too.
Netflix is following through on its stated capital plans, including a plainspoken promise to "add long-term debt as needed to finance our expansion of original content, including in Q2'17."
Management views its debt balance as "quite conservative" for the media industry, and lower than prescribed by economic theory for efficient capital structure. The low interest rates only add fuel to that fire, and I wouldn't be surprised to see Netflix taking on even more debt in 2018.
No surprises here, in other words. Expect the final bond sale to include coupon interest near 5% with a maturity term in the seven- to ten-year range. This is business as usual for Netflix.
10 stocks we like better than NetflixWhen investing geniuses David and Tom Gardner have a stock tip, it can pay to listen. After all, the newsletter they have run for over a decade, Motley Fool Stock Advisor, has tripled the market.*
David and Tom just revealed what they believe are the 10 best stocks for investors to buy right now... and Netflix wasn't one of them! That's right -- they think these 10 stocks are even better buys.
Click here to learn about these picks!
*Stock Advisor returns as of April 3, 2017
Anders Bylund owns shares of Netflix. The Motley Fool owns shares of and recommends Moody's and Netflix. The Motley Fool has a disclosure policy.