Yelp, Inc. Reviews an Impressive Beat and Raise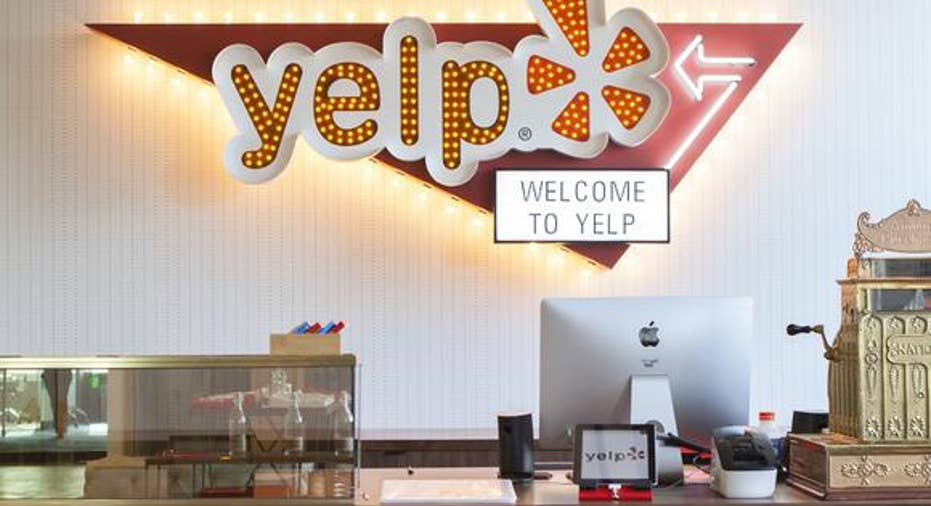 IMAGE SOURCE: YELP INC.
Yelp announced first-quarter 2016 results Thursday after the market close, and investors are understandably happy with shares of the local business-review specialist -- up more than 23% as of this writing. Let's take a closer look at how Yelp kicked off its year.
Yelp results: The raw numbers
| Metric | Q1 2016 Actuals | Q1 2015 Actuals | Growth (YOY) |
| --- | --- | --- | --- |
| Revenue | $158.6 million | $118.5 million | 33.8% |
| Adjusted net income | $6.0 million | $7.9 million | -24.5% |
| Adjusted EPS | $0.08 | $0.10 | -20% |
DATA SOURCE: YELP.
What happened with Yelp this quarter?
Revenue came in above Yelp's guidance, which called for a range of $154 million to $157 million.
Adjusted earnings before interest, taxes, depreciation, and amortization (EBITDA) fell 20.2%, to $13 million -- also above guidance for adjusted EBITDA of $10 million to $12 million.
Yelp remained unprofitable based on generally accepted accounting principles; GAAP net loss was $15.5 million, or $0.20 per share.
Generated cash flow from operations of $23.9 million.
Local advertising accounts increased 34% year over year, to roughly 121,000.
Local advertising revenue climbed 40% year over year, to $138.1 million.
Transactions revenue more than doubled from $6.6 million to $14 million, driven by Yelp's acquisition of online food ordering specialist Eat24 in last year's first quarter.
Revenue, excluding brand advertising -- the strategic phase-out of which Yelp completed last quarterto focus on local advertising -- would have grown 42% year over year.
"Other" revenue declined 11% year over year, to $6 million, primarily driven by partnership arrangements.
Cumulative reviews grew 31% year over year, to 102 million
App unique devices increased 32% year over year, to 21 million on a monthly average basis, up from 20 million last quarter.
Yelp app users represented roughly 70% of total page views during the quarter, and continued to be more than 10 times as engaged as website users based on number of pages viewed.
There were 77 million monthly unique visitors on desktop, down 3% year over year.
There were 69 million monthly unique visitors via Yelp's mobile website, up 9% year over year.
International revenue continued to contribute roughly 2% of total revenue.
What management had to sayYelp co-founder and CEO Jeremy Stoppelman stated:
Looking forwardFor the current quarter, Yelp anticipates revenue of $167 million to $171 million, up 26% year over year at the midpoint. By comparison -- and while we don't lend much credence to Wall Street's near-term demands -- analysts' consensus estimates called for revenue near the low end of that range. Yelp also expects first-quarter adjusted EBITDA of $21 million to $25 million.
For the full year 2016, Yelp expects revenue of $690 million to $702 million, an increase from its previous outlook for $685 million to $700 million, and representing growth of 27% over 2015 at the midpoint. Yelp also increased the lower end of its adjusted EBITDA guidance by $3 million, resulting in a new range of $93 million to $105 million.
In short, this was an undeniably solid report from Yelp. As it strives to capitalize on the massive local advertising opportunity while fostering its younger international sites in en effort to replicate that success overseas, it's no surprise to see Yelp stock trading significantly higher today.
The article Yelp, Inc. Reviews an Impressive Beat and Raise originally appeared on Fool.com.
Steve Symington has no position in any stocks mentioned. The Motley Fool recommends Yelp. Try any of our Foolish newsletter services free for 30 days. We Fools may not all hold the same opinions, but we all believe that considering a diverse range of insights makes us better investors. The Motley Fool has a disclosure policy.
Copyright 1995 - 2016 The Motley Fool, LLC. All rights reserved. The Motley Fool has a disclosure policy.