Yellen says Fed needs to avoid 'boom-bust'cycle in economy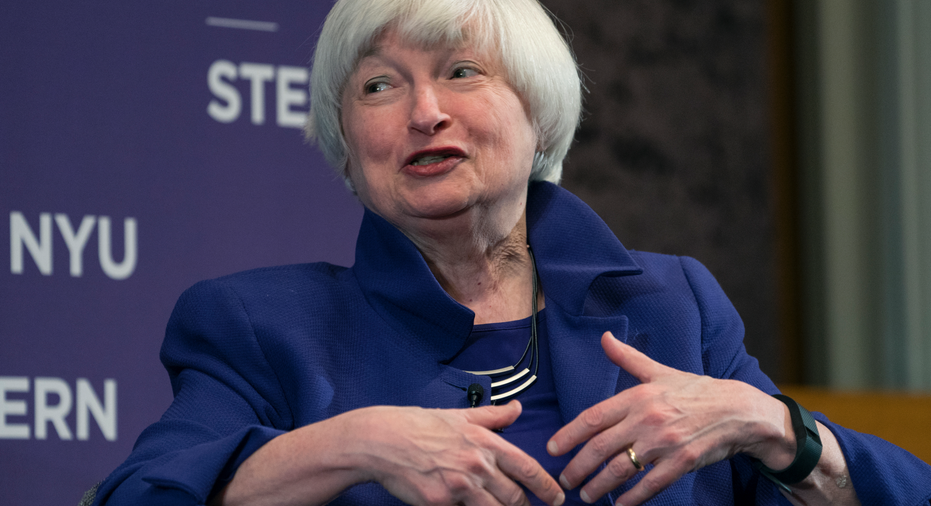 Federal Reserve Chair Janet Yellen said Tuesday that the biggest challenge facing the central bank in coming years will be to craft an interest rate policy that avoids putting the economy through a "boom-bust" cycle.
She said that going forward, the Fed will be faced with a delicate balancing act: It will need to move rates up at a pace that allows the labor market to improve and inflation to move toward the Fed's target. This while not delaying hikes to the point where the Fed is forced to push rates up so quickly that it threatens to throw the country into recession.
Yellen's comments at New York University echoed previous remarks on inflation, indicating that the Fed is still preparing to boost rates again in December, its third hike this year.
"Moving monetary policy too slowly ... has risks," Yellen said, particularly if unemployment, already at 4.1 percent, the lowest in nearly 17 years, begins to fall even more quickly. That could trigger a sudden jump in inflation, forcing the Fed to respond with more aggressive rate hikes that could spell the end of the current economic expansion, already the third longest in history.
"We don't want a boom-bust situation," Yellen said.
As she has in the past, Yellen said Fed officials remain puzzled why inflation, which had begun moving toward the Fed's 2 percent target, has retreated for several months this year. She said officials still believe this is being caused by temporary factors such as a price war among cellphone companies but that the Fed needs to monitor inflation carefully.
Yellen's appearance sponsored by NYU's Stern School of Business came one day after she submitted a resignation letter to President Donald Trump, saying she will leave the central bank's board when Jerome Powell is confirmed as her successor as Fed chairman.
Yellen, the first woman to head the central bank, was not chosen by Trump for a second four-year term as chairman, becoming the first Fed leader not to be offered a second term in nearly four decades.
Yellen, who participated in a discussion at NYU with Mervy King, the former head of the Bank of England, was not asked about her feelings about not getting a second term. But she did say in answer to a question that she had enjoyed good relationships with officials in both the Obama and Trump administrations.
She noted she has met regularly with Treasury Secretary Steven Mnuchin and Gary Cohn, the head of the president's National Economic Council.
"These interactions follow certain rules," Yellen said. "The first rule is that the Federal Reserve is independent within the government and the Fed has to make its own decisions about monetary policies."
She said all the administration officials she met with during her four years as Fed chair understood the importance of the Fed's independence.
Powell, a Republican who has been on the Fed board since 2012, will have his Senate confirmation hearing next week. He is expected to have little trouble winning Senate approval.