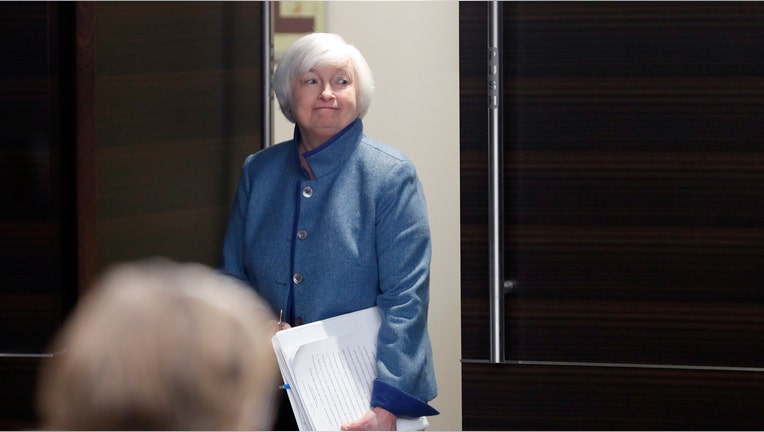 While the U.S. labor market has made significant gains since the financial crisis began in 2007, challenges remain for American job seekers, said Federal Reserve Chief Janet Yellen on Monday.
Yellen, whose remarks came during a speech to graduating students at the University of Baltimore, cited better living standards for "most people" thanks to higher median household income and "disappointing" levels of poverty as reasons for continued labor-market strength, while wage and productivity growth continue to lag.
"While I expect workers will continue to face some challenges in the coming years, I believe, for two reasons that the job prospects and career opportunities for new graduates at this time are very good," she said, citing what she called the strongest job market in nearly a decade and signs that wage growth is finally starting to pick up.
Earlier this month, the Bureau of Labor Statistics reported the economy added 178,000 new jobs in November as the unemployment rate notched a sharper-than-expected drop in the unemployment rate to 4.6% from 4.9% in October. At the same time, however, the labor force participation rate, which measures the number of people looking for work, declined to 62.7% from 62.8%, while wages posted a 2.5% growth rate from the same period last year.
That report helped the Fed's policy-setting Federal Open Market Committee move to raise interest rates for the first time in a year at its December meeting last Wednesday. The FOMC cited continued labor-market strength alongside steadily increasing inflation rates as the primary motivation for raising rates 0.25 percentage point to a range of 0.50% and 0.75%.
"Job creation is continuing at a steady pace; the layoff rate is low, and job openings are up over the past couple years…there are also indications that wage growth is picking up, and weekly earnings for younger workers have made strong gains over the past couple years," Yellen explained in Monday's remarks.
Indeed, a closely-watched report from outplacement consultancy Challenger, Gray and Christmas showed downsizing fell to the lowest level of the year last month, 12% below job cuts announced during the prior month, and 13% below the level reported during the same time in 2015.
Though Yellen didn't elaborate on the specific challenges the economy will face in 2017, she said college graduates are well poised for success in an increasingly globalized world.
"We don't' know how fast the economy will grow, what new technologies will be developed, or how quickly and consistently employment will expand," she said. "What is considerably more certain, however, is that success will continue to be tied to education, in part because a good education enhances one's ability to adapt to a changing economy."
Yellen's remarks are her first since the Fed's rate decision last week.