Yellen Caution Lifts Global Stocks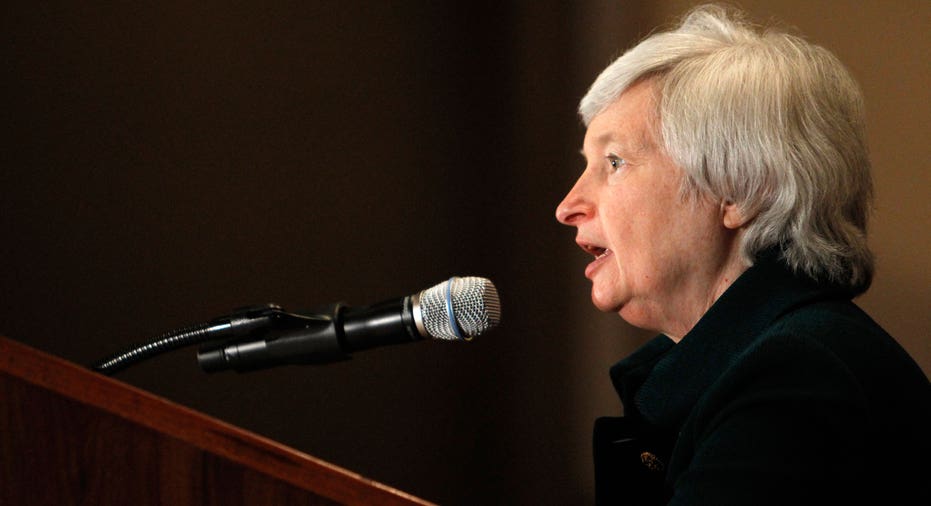 Stocks and commodities rallied while the dollar extended losses Wednesday as Federal Reserve Chairwoman Janet Yellen's cautious stance on raising U.S. interest rates propelled risky assets around the world.
Futures pointed to a 0.5% opening gain for the S&P 500. Changes in futures don't necessarily reflect market moves after the opening bell.
The Stoxx Europe 600 was up 1.4% halfway through the day, following a mostly upbeat session in Asia.
In a speech in New York on Tuesday, Ms. Yellen said global and financial uncertainties posed risks to the U.S. economy and justified a slower path for rate increases.
"Janet Yellen said what the market wanted to hear," said Rebecca O'Keeffe, head of investment at stockbroker Interactive Investor.
Ms. Yellen's dovish stance helped lift Wall Street indexes to their highest closing levels this year, as the prospect of lower interest rates tends to boost risky assets such as stocks.
Meanwhile, the dollar continued to decline early Wednesday. The euro was up 0.4% against the dollar at $1.1327, while the dollar fell 0.4% against the yen to Yen112.3340.
"The primary driver for the dollar will be the speed at which Janet Yellen conveys the Fed is likely to raise rates," said Brett Wander, chief investment officer of fixed income at Charles Schwab Investment Management.
Federal-funds futures, used by investors and traders to bet on central-bank policy, showed the probability of a rate increase at the Fed's June meeting was 28% after Tuesday's speech, down from 38% Monday, according to data from CME Group.
In economic news, the ADP employment report showed an increase of 200,000 private-sector jobs from February to March, matching expectations. The data come ahead of the highly anticipated jobs report on Friday.
For stocks to climb higher from here, investors will want to see continued improvement in economic data, particularly on the industrial side of the economy, said Christopher Dyer, director of global equity at Eaton Vance.
"Wherever you look, developed markets or emerging markets, the big question is growth and the sustainability of that growth," he said.
Also lifting stocks, dollar-denominated commodities such as oil moved higher. U.S. crude rose 1.7% to $38.90 a barrel ahead of oil and fuel inventories data due later in the day, spurring gains in shares of energy and mining companies.
Shares in London-based commodities giant Anglo American PLC gained more than 10%, while BHP Billiton PLC and Rio Tinto PLC each rose more than 6%.
Shares in Metro AG added roughly 13% after the German retailer said it is considering dividing into two independent listed companies.
Earlier, shares in Asia mostly climbed and emerging market currencies rallied as investors welcomed Ms. Yellen's stance on rates. The Shanghai Composite Index ended up 2.8%, while Hong Kong's Hang Seng Index gained 1.7%.
Japan's Nikkei Stock Average fell 1.3% as a stronger yen weighed on shares of exporters. Data also showed a sharp drop in Japanese industrial output, adding to worries over the country's slow start to the year.
Write to Riva Gold at riva.gold@wsj.com