Yandex Continues Its Momentum as Market Share Rises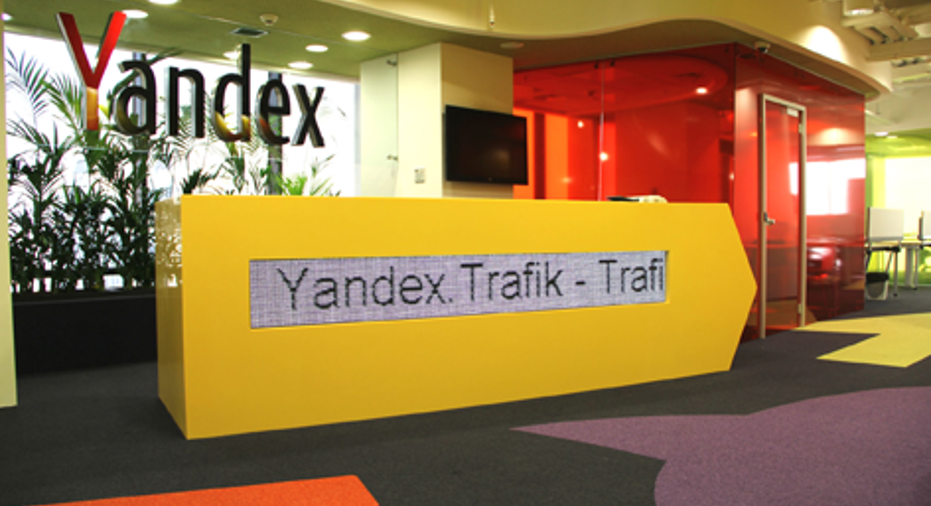 IMAGE SOURCE: YANDEX N.V.
Yandex N.V. reported first-quarter 2016 results Thursday morning. And for the second consecutive quarter, shares of the Russian Internet search leader jumped as it beat expectations and continued to gain market share despite steep competition from global Internet search juggernaut (and Google parent)Alphabet .
Let's take a closer look at how Yandex kicked off the new year:
Yandex results: The raw numbers
| | Q1 2016 Actual | Q1 2015 Actual | Growth (YOY) |
| --- | --- | --- | --- |
| Revenue | 16.47 billion RUR | 12.34 billion RUR | 33.5% |
| Adjusted net income | 3.17 billion RUR | 2.25 billion RUR | 40.9% |
| Adjusted EPS (diluted) | 9.82 RUR | 6.99 RUR | 40.5% |
*FIGURES IN RUSSIAN RUBLES. DATA SOURCE: YANDEX N.V.
What happened with Yandex this quarter?
Revenue excluding traffic acquisition costs -- which Yandex likens to sales commissions -- climbed 36% year over year, to 13.08 billion RUR.
Adjusted EBITDA jumped 62% year over year, to 5.77 billion RUR
Share of the Russian search market averaged 57.6%, up from 57.3% last quarter driven by a combination of gains in Chrome, higher market share of Yandex.Browser, and Yandex's partnership with Microsoft to be the default search engine for Windows 10 in Russia. Recall that deal also extends to Ukraine and several other countries including Turkey.
Mobile share in Russia remains stable at 40% on Android, and 45% on iOS.
Top-line gains were broad-based, including:
a 30.4% increase in search and portal revenue, to 15.15 billion RUR
55.4% growth in e-commerce revenue, to 1.17 billion RUR
176% growth in taxi revenue, to 445 million RUR
34.6% growth in classifieds revenue, to 241 million RUR
76.8% growth in "experiments" revenue, to 185 million RUR
Search queries in Russia grew 7% year over year
Total advertising revenue grew 31% year over year, to 15.83 billion RUR. Note this figure is no longer broken down into text-based and display revenue, Yandex says, "as online advertising formats continue to converge."
Aggregate paid clicks grew 18% year over year
Average cost per click increased 12% year over year
"Other" revenue rose 132%, to 641 million RUR, driven again by Yandex.Taxi.
Regarding Yandex'santitrust complaint againstGoogle initially filed in Feb. 2015, recall Russia's local antitrust authority initially ruled in September that Googleviolated Russian antitrust lawsby requiring manufacturers to pre-install its products and services on their mobile devices. Google appealed this ruling in Dec. 2015. The Russian court then upheld their decision in mid-March, followed by another appeal by Google in mid-April. As it stands, Yandex continues to expect the case to be resolved by the end of 2016.
What management had to sayAs Yandex COO Alexander Shulgin said, "We continue to invest aggressively in our three business units -- Yandex.Taxi, Classifieds and Yandex.Market -- to accelerate their growth in 2016. Going forward, we will share more financial information on these units to provide shareholders with greater visibility into their performance."
Looking forwardMeanwhile, CEO Arkady Volozh called this report a "solid start in 2016," especially as the company begins to see signs of economic stabilization. As such, Yandex raised its revenue guidance to call for growth in the range of 15% to 19%, up from their previous outlook for growth of 12% to 18%. By comparison -- and with the caveat that we don't lend much credence to Wall Street's near-term demands -- the midpoint of Yandex's new guidance range is slightly above analysts' consensus estimates, which called for 2016 revenue to increase 16.7% year over year, to 69.8 billion RUR.
In the end, it's hard to find anything not to like about these results from Yandex as it not only gained share again in Russian Internet search, but achieved outsized growth from its lucrative supplemental business units. With that in mind, it's no surprise shares closed up more than 7% on Thursday as a result.
The article Yandex Continues Its Momentum as Market Share Rises originally appeared on Fool.com.
Suzanne Frey, an executive at Alphabet, is a member of The Motley Fool's board of directors. Steve Symington has no position in any stocks mentioned. The Motley Fool owns shares of and recommends Alphabet (A shares) and Alphabet (C shares). The Motley Fool recommends Yandex. Try any of our Foolish newsletter services free for 30 days. We Fools may not all hold the same opinions, but we all believe that considering a diverse range of insights makes us better investors. The Motley Fool has a disclosure policy.
Copyright 1995 - 2016 The Motley Fool, LLC. All rights reserved. The Motley Fool has a disclosure policy.