Yahoo's Mayer among many CEOs that face balancing act announcing health or personal news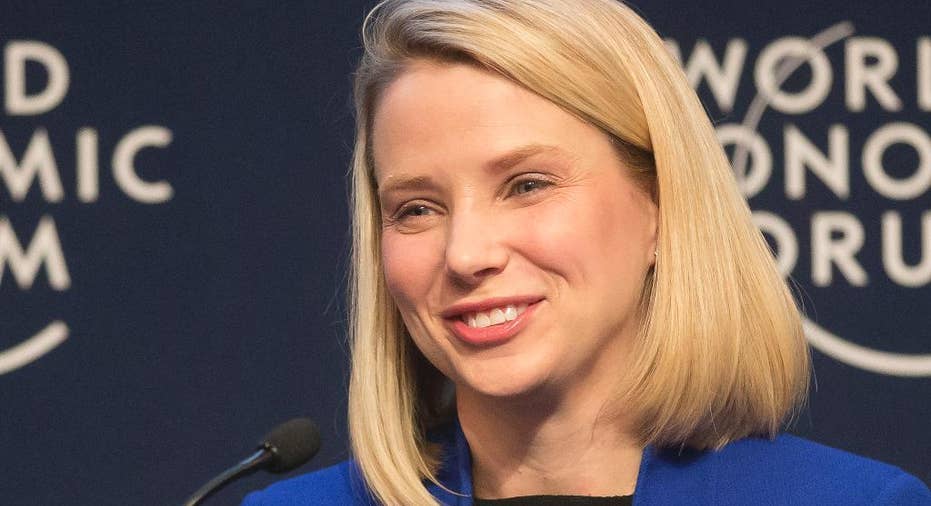 Yahoo CEO Marissa Mayer is promising to be away from the job for just a "limited time" when she gives birth to twins later this year, but the development only adds to the uncertainty some investors have long had about Yahoo.
While a joyful personal event, it shows how a big-name CEO can rattle a company when disclosing significant medical or other personal news. Think Martha Stewart heading to jail or JPMorgan's Jamie Dimon's cancer diagnosis.
"On the one hand the CEO wants to prove to investors they're indispensable," said Jack Ablin, chief investment officer at BMO Private Bank. "On the other hand, they need to present a picture that the company can survive without them for a while. It's a balancing act."
Mayer, 40, said Tuesday she and her husband are expecting twin girls in December and she said she plans to work through the pregnancy much like she did three years ago, when she had a baby three months after taking the helm at Yahoo.
At that time, Mayer's limited time off set off a nationwide debate about corporate culture and working mothers. A few months later, the company expanded its parental leave policy for both mothers and fathers and added other perks for new parents.
Now, Yahoo is in a very different place. Investors already have been questioning Mayer's strategy because Yahoo's ad sales have barely budged during her tenure, even though marketers have steadily increasing the amount of money they are spending on the Internet. Most of those dollars, though, have been flowing to Google and Facebook.
"It has to be frustrating if you are an investor, and it's not about the kid she had before or the kids that are coming," said Rosenblatt Securities analyst Martin Pyykkonen. "It's because she hasn't managed the advertising business very well."
Yahoo's stock price was little moved on Tuesday. Its shares ended the day down 64 cents at $31.60, amid a generalized sell-off on Wall Street. The stock has tumbled 37 percent since the beginning of the year.
Here's a look at other big-name companies that faced big announcements from CEOs that jarred investors.
___
MEDICAL ISSUES
JPMorgan Chase CEO Jamie Dimon led the company through the financial crisis and great recession, but stunned investors in July 2014 when he announced he was battling throat cancer. Dimon, 58 at the time, said he planned to remain on the job and be actively involved in key decisions while undergoing radiation and chemotherapy treatment. It came at a difficult time for the company, when several executives once considered to be Dimon's potential successors had exited. But investors paid more attention to strong quarterly results, and JPMorgan's stock price rose about 9 percent between the time Dimon announced his diagnosis and December, when Dimon told staff he was cancer free.
Antonio Horta-Osorio, the CEO of London-based Lloyds Banking Group, took two months off due to exhaustion at the end of 2011. The move was met with some concern among investors, as he had been tapped for the job only months earlier to turn around the bank's poor performance. When he came back, he cited his leave as one of the reasons for giving up on his generous annual bonus.
___
BIG NAME BRAND CEOS
When CEOs are an iconic part of a company's brand, age alone can be a factor of investor worry. Warren Buffett hasn't had any major health problems yet and has said he doesn't plan on retiring anytime soon. But the fact that he just turned 85 has led to questions about the future of his company, Berkshire Hathaway, a conglomerate with more than 80 subsidiaries. The so-called Oracle of Omaha has gone to great lengths to lay out a solid succession plan to reassure investors the company would be stable in coming years.
"Succession is a critical element, not just internally, but how it's conveyed to analysts and investors," Ablin said.
Martha Stewart Living Omnimedia faced turmoil when Stewart was convicted in 2004 on federal criminal charges of lying to prosecutors. Stewart rejoined the board of Martha Stewart Living in September 2011 after a five-year ban that was part of a settlement with federal regulators related to her conviction. The company continued to struggle, though, and earlier this year it was sold to Sequential Brands Group.
"In many respects, CEOs are the face of the organization," Ablin said. "There's a certain amount of brand value attached to the person, and risks go along with that."
___
AP Writers Mike Liedtke in San Francisco and Carlo Piovano in London contributed to this report.