Wynn Resorts' Macau Payout: What to Watch in 2017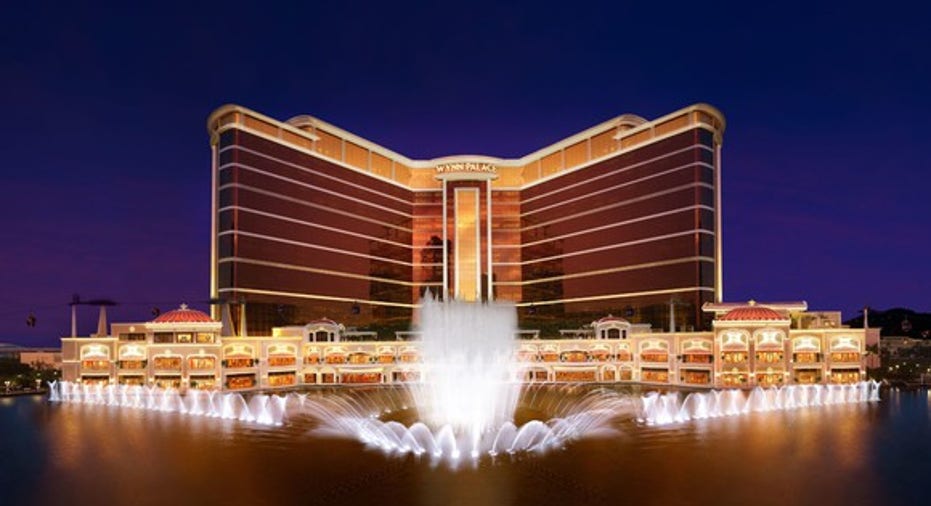 Wynn Palace in Macau. Image source: Wynn Resorts.
Wynn Resorts'(NASDAQ: WYNN)third-quarter earnings showed that the company is still very much in transition, even though shares have risen more than 25% in 2016. Following Wynn's Q2 success with a 24% rise in earnings year over year to more than $70 million, Q3 earnings dropped more than 118% to a net loss. What's even more troubling is that the biggest declines in the quarter were from operations in Macau, where Wynn's spectacular new $4 billion resort opened during the third quarter. Still, Macau could lead to renewed gains for Wynn in 2017 if its new casino there performs well.
Making sense of Wynn's drastic income decline
Wynn's stock has risen more than 25% in 2016, though shares were up more than 50% through September. As for the third-quarter earnings for the period ended Sept. 30, Wynn's total sales increased 11.4% year over year to $1.1 billion. Earnings, however, dropped from a positive $96.2 million in Q3 2015,to a loss of $17.4 million, or $0.17 per share.
While the operating income numbers below look frightening for Macau operations, consider that the company has paid $150 million in pre-opening costs in the last nine months, most of which is related to the $4 billion Wynn Palace resort in Macau that opened in August, which is why operating income has fallen so drastically. When looking at adjusted property EBITDA, Macau is still performing relatively well, and still makes up a larger portion of earnings than Las Vegas operations.
| Metric | Macau, Q2 | Las Vegas, Q2 | Macau, Q3 | Las Vegas, Q3 | Macau, 9 Months | Las Vegas, 9 Months |
| --- | --- | --- | --- | --- | --- | --- |
| Adjusted property EBITDA | $190.4 | $122.3 | $177 | $129 | $558.2 | $360.2 |
| Percent change year over year | 9.4% | 0.2% | 8.4% | 10% | 1.7% | 2.9% |
| Operating income | $85 | $46.4 | $15.3 | $47 | $200.8 | $138.3 |
| Percent change year over year | (9%) | (20%) | (82%) | (9%) | (35%) | (13%) |
Source: Wynn Resorts earnings report. Dollar amounts in millions.
Gambling on Macau's turnaround
Macau's gaming economy has a been a true gamble in the last few years. The gaming market there was cut in half following increased government regulation in2014 that restricted tourist and gambling activities, particularly among high-net worth gamers that made up a large part of Wynn's clientele. Total gambling revenue in Macau plummeted following the increased scrutiny, as did Wynn's stock, which fell from a high near $250, to a low of around just $50 by October 2015.
Things seem to be turning around now. November was the fourth month in a row of year-over-year gains in gaming revenue in Macau, up more than 14% over November 2015, and visitation looks to be rising steadily as well. Total gaming revenue in Macau in 2016 is still expected to finish about three times higher in Macau than in Las Vegas.
The timing could be great for Wynn, which opened Wynn Palace in August. Situated onMacau's Cotai strip where most of the new development in Macau is centered, Wynn Palace comes with all of the splendor that has made Steve Wynn's other properties famous, including a massive lake in front of the property, complete with fountains synchronized to music and gondolas that carry guests over the water to the building's entrance.
Wynn Palace. Image source: Wynn Resorts.
What to watch in 2017
Wynn Resorts could be prepared for a continued rebound in 2017 if Macau's own rebound holds firm. As seen above, Wynn's adjusted EBITDA is already rising steadily in Macau, even if operating income is taking a drastic dive. Now that pre-opening costs for Wynn Palace are accounted for, the property could potentially double the company's Macau revenue and EBITDA, driving full company earnings higher throughout 2017 and beyond.
To gauge just how profitable this new resort could be for Wynn, a couple things to watch in 2017 include hotel occupancy and revenue per available room (RevPAR). As of Q3, occupancy at Wynn Palace was at a low 70%, compared with 95% for Wynn Macau (Wynn's other property there on the other side of the island), and RevPAR was also just $203 compared with $257 for Wynn Macau. Still, those Q3 numbers only show the first 40 days of the resort being open, so Q4 results will tell a much more accurate story of how well this expensive new resort is performing.
Another important component to watch is Wynn's competition on the Cotai strip.Melco Crown(NASDAQ: MPEL)opened its own new casino resort across the street called Studio City in the summer of 2016, andLas Vegas Sands'(NYSE: LVS)Parisian resort opened nearby just one month after Wynn Palace did. In 2017,MGM Resorts International(NYSE: MGM)will openits first Cotai resort directly behind Wynn Palace, which looks to have a similar number of rooms and seeks to offer non-gaming entertainment to draw in more guests.
There are other risks as well, including increased government regulation. Casino stocks took a big hit in early December when rumors of a government-imposed ATM withdrawal limit in Macau surfaced. Still, Wynn certainly has a fewtailwinds going into 2017, and regrowth in Macau in 2017 could bode very well for Wynn stock to keep its 2016 momentum going.
10 stocks we like better than Wynn Resorts When investing geniuses David and Tom Gardner have a stock tip, it can pay to listen. After all, the newsletter they have run for over a decade, Motley Fool Stock Advisor, has tripled the market.*
David and Tom just revealed what they believe are the 10 best stocks for investors to buy right now... and Wynn Resorts wasn't one of them! That's right -- they think these 10 stocks are even better buys.
Click here to learn about these picks!
*Stock Advisor returns as of Nov. 7, 2016
Seth McNew owns shares of Las Vegas Sands. The Motley Fool has no position in any of the stocks mentioned. Try any of our Foolish newsletter services free for 30 days. We Fools may not all hold the same opinions, but we all believe that considering a diverse range of insights makes us better investors. The Motley Fool has a disclosure policy.