Wynn Resorts Looks Forward to Growth Plans in Macau and Las Vegas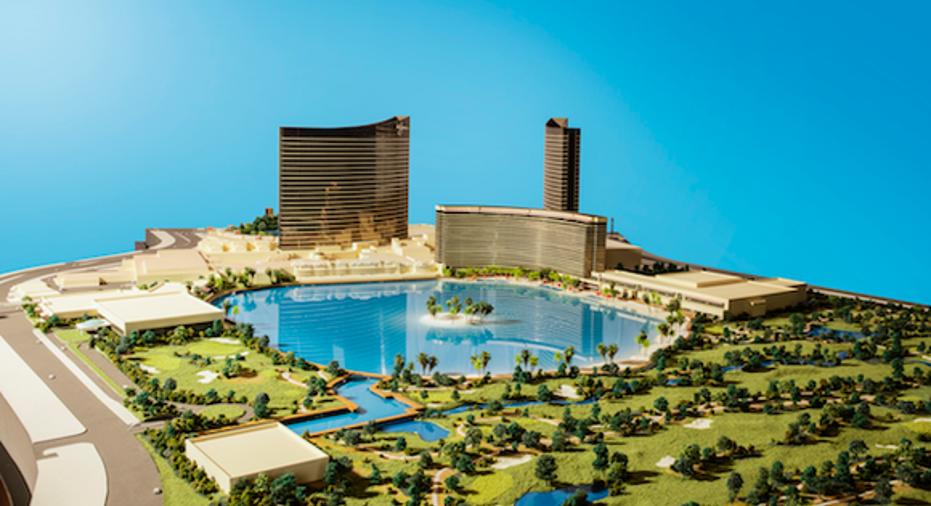 Wynn Palace. Image source: Wynn Resorts.
The decline in gaming revenue in Macau continues to be the biggest driver of Wynn Resorts' financials, but at least the declines are starting to slow down. First quarter 2016 results released on Thursday after the market closed showed a 9% decline in revenue to $997.7 million in the quarter, a 7% drop in EBITDA to $300.3 million, and a 69% increase in net income to $75.2 million after a one-time accounting benefit.
Within those numbers is a tale of two cities with very different fortunes at the moment.
Macau's struggles continue It's not a surprise that Wynn's results in Macau would be down given the 13.3% decline in overall gaming revenue in the first quarter. And with Wynn's reliance on the VIP market, it's normally hit more than competitors like Las Vegas Sands , which focuses more on mass market customers.
Overall, Wynn's Macau revenue dropped 13.8% to $608.2 million and EBITDA was down 9.9% to $191.2 million. A 21.4% decline in VIP volume was the biggest driver of the lower results. What's a little concerning is that non-gaming revenue was down 13.2% to $76.7 million. It's off the gaming floor where Macau is hoping to grow its market, but that's not happening. For now, Wynn is still heavily reliant on VIP players for revenue, and that's resulted in the decline in revenue and EBITDA we see today.
Las Vegas is Wynn's rock Ironically, Las Vegas is much more solid than Macau, partly because it isn't as reliant on the casino. In fact, table game volume fell 17.2% in the first quarter and slot handle volume fell 5.9%. Wynn had abnormally good luck, but 70% of its revenue comes off the casino floor, so the decline in gaming didn't hurt all that much. Overall, revenue fell 0.7% to $389.4 million, and EBITDA drilled 1.5% to $109.0 million.
These solid results in Las Vegas are consistent with what we saw from Las Vegas Sands as well. Where Las Vegas used to be an eyesore on financial results, now it's where investors can count on some consistency amid the chaos in Macau.
An early rendering of Wynn Paradise Park in Las Vegas. Image source: Wynn Resorts.
Growth plans are changing There are three growth projects Wynn Resorts currently has in the works, and they'll have a huge impact on the company's future. Wynn Palace is due to open in the third quarter, which is a little behind schedule but will give the company its first exposure to the Cotai region of Macau. The $4.1 billion project will likely become the company's most profitable resort when it opens, and could help draw new customers to Macau.
Wynn Boston Harbor, meanwhile, is a $1.9 billion to $2.1 billion project that's currently under construction. This will be the company's first exposure to the East Coast gaming market, and could help redefine gaming in the region.
The project that's now on the table in Las Vegas is currently being called Wynn Paradise Park. Plans are changing daily, but there will likely be a large lake with an island and a beach. There could also be activities like ziplines, ferries, and a 10-story "mountain". Given the desire for customers to spend money off the gaming floor, it's not surprising that Wynn is looking to find ways to monetize the land that's currently a golf course. But we still don't know exactly what those plans entail.
Together, these three projects will be the next phase of growth for Wynn Resorts, and will likely more than double the size of the company. And when complete, they could be big drivers for the stock.
What to watch at Wynn Resorts For Wynn Resorts investors, all eyes are really on the Wynn Palace opening this summer. The property will change the company's trajectory in Macau, and could be a draw to more mass market players than Wynn Macau currently is.
If the new resort is a smashing success and takes share in the Cotai region of Macau, it will be a boon for Wynn Resorts and could be a negative for Las Vegas Sands. If it isn't, the rough few years for the stock will contine. Stay tuned to see what happens.
The article Wynn Resorts Looks Forward to Growth Plans in Macau and Las Vegas originally appeared on Fool.com.
Travis Hoium owns shares of Wynn Resorts, Limited. The Motley Fool owns shares of Wynn Resorts, Limited. Try any of our Foolish newsletter services free for 30 days. We Fools may not all hold the same opinions, but we all believe that considering a diverse range of insights makes us better investors. The Motley Fool has a disclosure policy.
Copyright 1995 - 2016 The Motley Fool, LLC. All rights reserved. The Motley Fool has a disclosure policy.