Wynn Resorts Delays Cotai Project Opening (Again)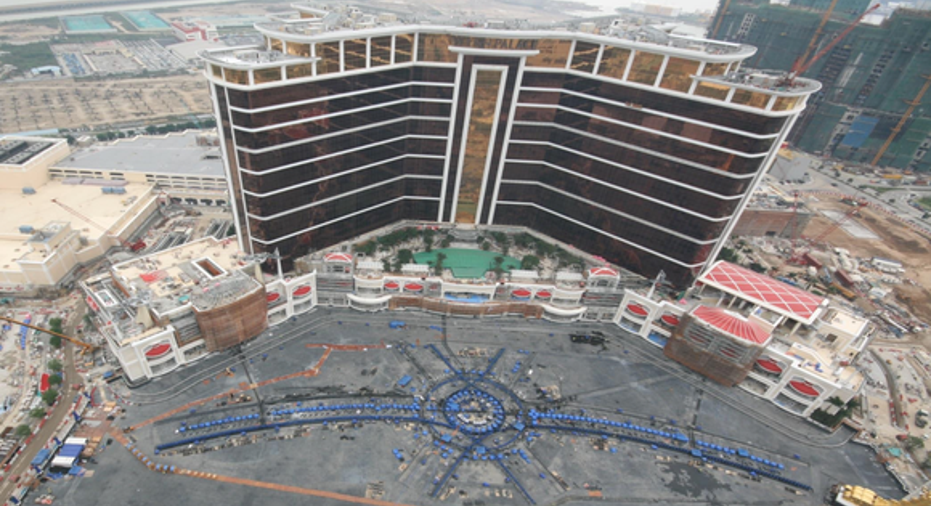 Construction continues on Wynn Palace in Macau. Image source: Wynn Resorts.
Delays are common during large construction projects, and especially in Macau, where the government has limits on imported labor, which is already short in the region. But Wynn Resorts' new delay on Wynn Palace until August 22, 2016, puts the resort five months behind the first scheduled opening, and it has finally become a concern for investors.
Every day the resort isn't open is a lost opportunity for Wynn, and when you consider that Wynn Macau's win per table per day is $21,967 in VIP and $11,092 in the mass market, every day adds up.
The impact on Wynn's bottom line
In a presentation earlier this year, Wynn projected that property EBITDA from Wynn Palace could be $630 million to $850 million. Given the original open date of March 2016, that's $263 million to $354 million in projected lost EBITDA. Wynn has the added cost of keeping on extra staff and paying interest on debt in anticipation of the Wynn Palace opening, so the financial impact is even larger than that projection.
All of those are negatives for Wynn's income statement and balance sheet in 2016, but they're also not the most important factor in Wynn Palace's opening.
Here's what you should be worried about
While this is surely a negative short-term for Wynn Resorts, it isn't worth panicking over, either. Large projects like this are delayed all of the time, and MGM Resorts has already said it will delay its Cotai resort opening from late 2016 into 2017, which was blamed on market weakness (although labor delays likely led to some of the delay). It's also worth watching whether Las Vegas Sands will hit its goal of opening The Parisianin September, as delays may be common in Macau this year.
What's a greater concern is that Wynn still doesn't know how many table games the government is going to allow at Wynn Palace. Management is hoping for as many as 500 tables, and one of the big concerns is that it'll be cut well short of that, something Melco Crown experienced last year when it was only allotted 200 table games at Studio City.
The table game concern is something MGM Resorts and Las Vegas Sands need to worry about as well. The issue is less of a concern for Las Vegas Sands which has the option to move tables from its four operating resorts in Macau. In Wynn Resorts' case, if it gets the same 200 tables Melco Crown got, it could decimate the company's estimated earnings and pummel the stock. That's really where investors should be looking between now and opening day.
Delay shouldn't deter investors
A few months of delay in Wynn Palace's opening won't even be remembered a few years from now, so long-term investors shouldn't see it as a big negative. But investors should be worried that the company hasn't been allocated table games, and it could come up short of what management is hoping for. So, more than the financial impact of the delay, I would keep an eye on the table game numbers, because that will be a better indicator of long-term success for this $4.1 billion bet by Wynn on Macau.
The article Wynn Resorts Delays Cotai Project Opening (Again) originally appeared on Fool.com.
Travis Hoium owns shares of Wynn Resorts. The Motley Fool has no position in any of the stocks mentioned. Try any of our Foolish newsletter services free for 30 days. We Fools may not all hold the same opinions, but we all believe that considering a diverse range of insights makes us better investors. The Motley Fool has a disclosure policy.
Copyright 1995 - 2016 The Motley Fool, LLC. All rights reserved. The Motley Fool has a disclosure policy.