World stocks rise as Germany settles government jitters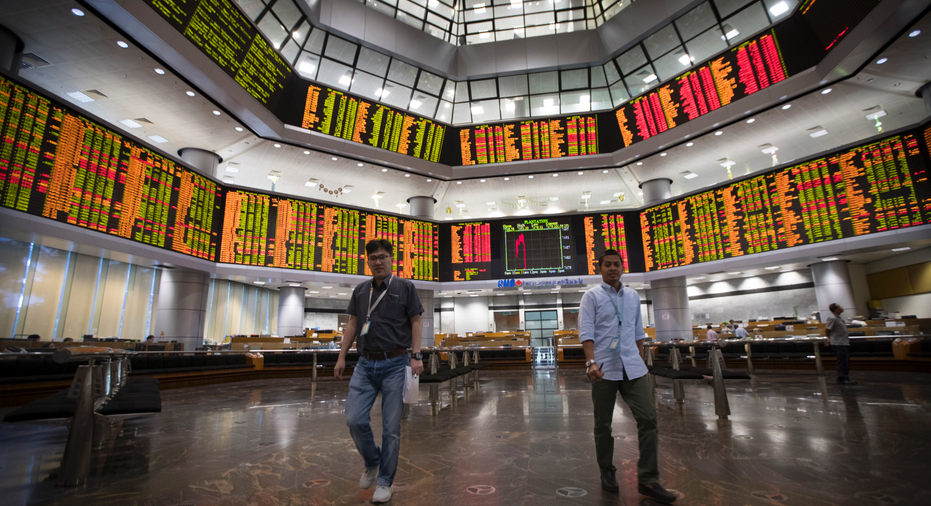 Global stock markets turned higher Tuesday as German leaders put to rest fears that a weeks-long dispute on migration may topple Chancellor Angela Merkel's fourth government.
KEEPING SCORE: Germany's DAX rose 1.2 percent to 12,385 and France's CAC 40 added 0.9 percent to 5,322. Britain's FTSE 100 gained 0.6 percent to 7,589. Wall Street was poised to open higher. Dow and S&P 500 futures were both up 0.4 percent. U.S. markets are scheduled to close early ahead of Wednesday's Independence Day holiday.
ASIA'S DAY: Asian markets tumbled in the morning as back-and-forth exchanges over looming U.S. tariffs added to worries over the trade war brewing between China and the U.S. Hong Kong's Hang Seng, reopening after a market holiday on Monday, closed 1.4 percent lower at 28,545.57 as investors reacted to weaker than expected Chinese economic data. The benchmark Nikkei 225 index lost 0.1 percent to 21,785.54 while South Korea's Kospi added 0.1 percent to 2,272.76. The Shanghai Composite index gained 0.4 percent to 2,786.89. Australia's S&P/ASX 200 rose 0.5 percent to 6,210.20 after the Reserve Bank of Australia kept its 1.5 percent benchmark interest rate unchanged.
GERMAN MIGRANT DEAL: On Monday, Merkel and her rebellious political allies reached a compromise on migration that both sides said addressed their concerns. After five hours of talks, they agreed to establish "transit centers" on Germany's border with Austria where asylum-seekers would be evaluated and, if it turned out they already had applied for protection in another EU country, sent back to that country. Merkel called the deal a "very good compromise."
ANALYST'S TAKE: "The afternoon lift in Asia was reinforced by a positive move in European stocks, led by the German market as a compromise between Merkel and her interior minister on immigration eased fears of political turmoil," said Eli Lee, head of investment strategy at the Bank of Singapore.
TRADE TENSIONS: Investors continued to monitor trade tensions between the U.S. and other major economies. The European Union on Monday slammed the Trump administration for considering higher tariffs on auto imports, saying they could lead to global retaliation against some $300 billion in U.S. goods. President Donald Trump later said the World Trade Organization has treated the U.S. "very badly" and the country will be "doing something" if the organization doesn't change its ways. But he denied reports he plans to pull out of the WTO.
CHINA TARIFFS: The U.S. will start imposing a 25 percent tariff on $34 billion worth of Chinese imports on Friday. It won't target 284 other items, worth $16 billion, until it gathers further public comments. China is expected to strike back with tariffs on a similar amount of U.S. exports. The Trump administration is also identifying an additional $200 billion in Chinese goods for 10 percent tariffs, which could take effect if Beijing retaliates.
GLENCORE SLIDE: Shares in Glencore, the world's biggest commodities trader, were down about 10 percent after it said the U.S. Department of Justice had requested documents to check on its compliance with corruption and money laundering rules. The company says it is considering the request, which relates to its operations in the Democratic Republic of Congo, Nigeria and Venezuela.
ENERGY: Oil futures recovered from the previous day's downtick, after Trump claimed that Saudi Arabia could produce up to double of the 1 million barrels-a-day increase agreed by OPEC countries. Benchmark U.S. crude added 85 cents to $74.79 a barrel in electronic trading on the New York Mercantile Exchange. Brent crude, used to price international oils, gained 74 cents to $78.04.
CURRENCIES: The dollar edged down to 110.83 yen from 110.87 yen in late trading Monday. The euro rose to $1.1656 from $1.1639.