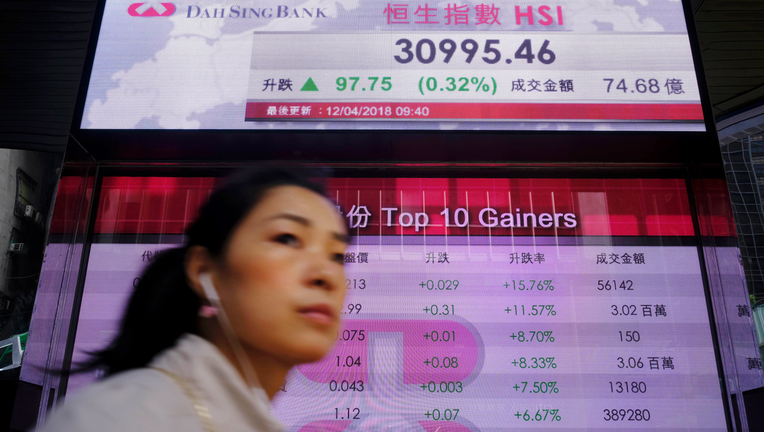 Global stock markets recovered their poise Thursday and the price of oil came off three-year highs as investors digested U.S. President Donald Trump's defiant comments on the Middle East conflict.
KEEPING SCORE: Britain's FTSE 100 was down less than 0.1 percent to 7,257 and France's CAC 40 edged 0.3 percent higher to 5,290. Germany's DAX gained 0.4 percent to 12,348. Wall Street was poised for small gains on the open. Dow futures rose 0.4 percent and the broader S&P 500 futures were up 0.5 percent.
TRUMP TALKS TOUGH: In a tweet, Trump suggested that he wanted to retaliate against Russia after the recent suspected chemical attack in Syria. Separately, Saudi Arabia said it intercepted missiles fired by rebels in Yemen as well as drones that targeted an oil facility. The prospect of escalating conflict in the Middle East has sparked fears about tighter oil supplies, driving crude prices to their highest since December 2014.
ASIAN SCORECARD: Japan's benchmark Nikkei 225 stock index dipped 0.1 percent to close at 21,660.28 while the Kospi in South Korea ended 0.1 percent lower at 2,442.71. Hong Kong's Hang Seng fell 0.2 percent to 30,831.28 and the Shanghai Composite in mainland China slid 0.8 percent to 3,180.16. Australia's S&P/ASX 200 lost 0.2 percent to 5,815.50. Indexes in Taiwan, Singapore and Indonesia also lost ground but shares in Thailand and the Philippines rose.
FED MINUTES: At their most recent meeting in March, Federal Reserve policymakers said they felt the U.S. central bank might have to raise interest rates faster than expected to keep up with quickening economic growth and rising inflation that's coming close to their 2 percent target, according to the latest minutes. Officials otherwise stuck mainly to the same policy language they've used since they began raising rates in December 2015, gradually dialing back the extraordinarily loose monetary policy that had supported financial markets. Some analysts also noted that the meeting was held before recent U.S.-China trade tensions flared up, which could have prompted some officials to ease their views.
ENERGY: Oil futures eased after hitting a three-year high. Benchmark U.S. crude lost 11 cents to $66.71 a barrel in electronic trading on the New York Mercantile Exchange. The contract climbed 2 percent to settle at $66.82 a barrel on Wednesday. Brent crude, used to price international oils, shed 18 cents to $71.88 a barrel in London.
CURRENCIES: The dollar rose to 107.12 yen from 106.79 yen in late trading Wednesday. The euro slipped to $1.2345 from $1.2369.