World stocks mixed as Trump decision on Iran deal approaches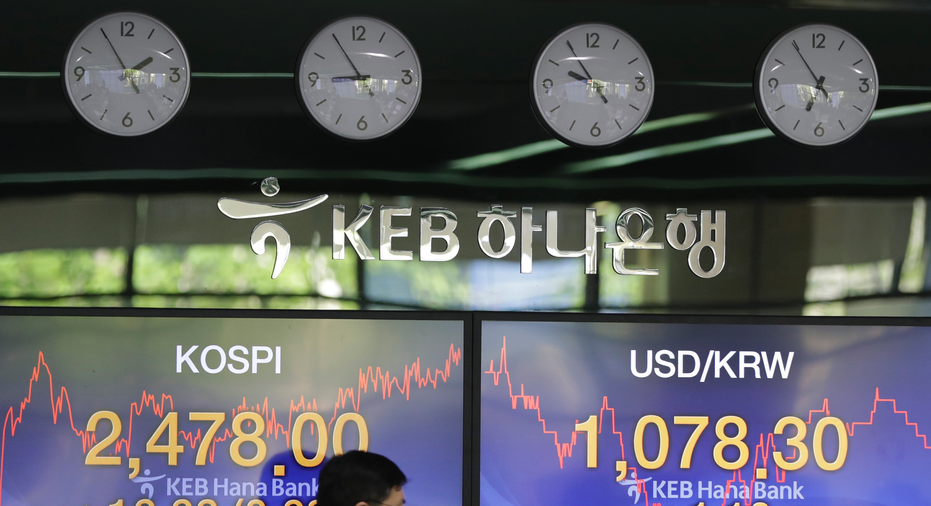 European stock markets are mostly lower after a day of gains in Asia, as a decision by U.S. President Donald Trump looms on whether to pull out of the U.S. nuclear deal.
KEEPING SCORE: Germany's DAX dropped 0.5 percent to 12,878 and the CAC 40 in France lost 0.5 percent to 5,502. Britain's FTSE 100 edged 0.1 percent higher to 7,573. The future for the S&P 500 slipped 0.3 percent and the Dow futures lost 0.2 percent, pointing to a downbeat start on Wall Street.
ASIA'S DAY: Japan's Nikkei 225 stock index added 0.2 percent to 22,508.69 and Hong Kong's Hang Seng index climbed 1.4 percent to 30,402.81. The Shanghai Composite index jumped 0.8 percent to 3,161.50. South Korea's Kospi gave up early gains to lose 0.5 percent, ending at 2,449.81, while Australia's S&P ASX 200 edged 0.1 percent higher to 6,091.90. Shares were higher in Singapore and Taiwan but fell 1.9 percent in Indonesia after the government reported economic growth slowed in January-March.
IRAN DECISION: Trump was due to announce Tuesday whether he plans to carry out his threat to pull out of the landmark nuclear accord with Iran and almost surely cause its collapse. There are no signs that European allies enlisted to "fix" the deal had persuaded him to preserve the accord, whose loss would reflect a growing rift between the U.S. and its allies in Europe. Several companies, including Airbus, Boeing and Total, have struck business deals in Iran and could be looking for exemptions if U.S. sanctions are imposed again.
CHINA TRADE: China's exports expanded by 21.5 percent from a year earlier in April, bouncing back from a contraction the previous month. Imports expanded 12.9 percent year-on-year in dollar terms, leaving the country's politically sensitive monthly trade surplus with the rest of the world at $28.8 billion, a turnaround from the previous month's $5 billion deficit.
THE QUOTE: "The widening China-US trade surplus reflects the difficulty of significantly closing the trade gap between the two countries in the near term, but it is unlikely to obstruct the constructive progress made recently," Betty Wang of ANZ said in a commentary.
PHARMA DEAL: The share prices of pharmaceutical companies Takeda and Shire both rose 4 percent after the sides agreed on a takeover deal. The Japanese company will buy Shire, which is based in Ireland but largely operates in the U.S., for the equivalent of $62.4 billion in cash and stock.
ENERGY: Oil prices fell back after a rally that had them closing above $70 a barrel for the first time since November 2014. On Monday, oil futures climbed to their highest level since November 2014 as a May 12 deadline approached for the U.S. to decide whether to remain in the nuclear agreement with Iran. On Tuesday, benchmark U.S. crude oil dropped 91 cents to $69.82 in electronic trading on the New York Mercantile Exchange. Brent crude, which is used to price international oils, lost 76 cents per barrel to $75.41 per barrel.
CURRENCIES: The dollar slipped to 108.95 yen from 109.07 yen on Monday. The euro fell to $1.1873 from $1.1924.