World stocks mixed as momentum fades after Wall St record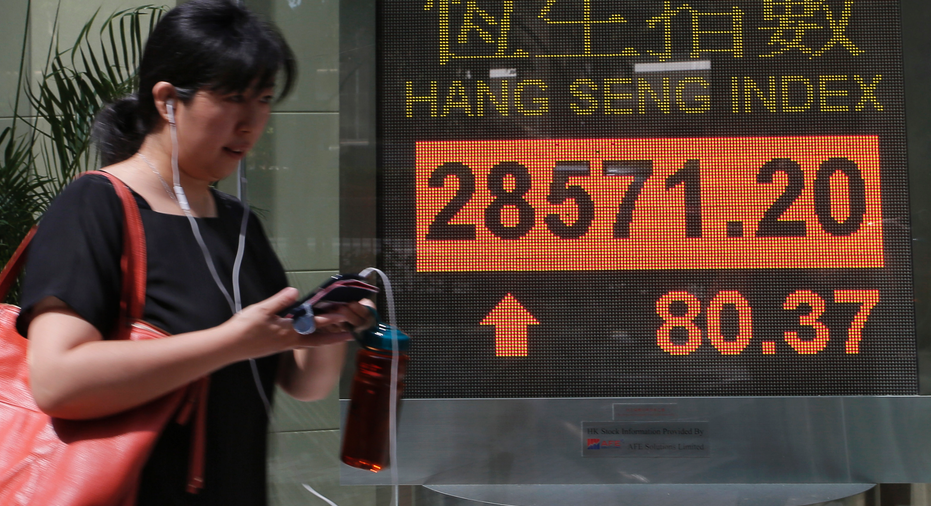 World stocks were mixed Wednesday as momentum from a record Wall Street close faded and investors grew cautious ahead of the release of the latest Federal Reserve meeting minutes and a key Chinese communist party meeting next week.
KEEPING SCORE: European shares were uneven, with Germany's DAX flat at 12,950 and France's CAC 40 down 0.3 percent to 5,349. Britain's FTSE 100 dipped 0.2 percent to 7,525 while Spain's Ibex 35 rose 1.5 percent to 10,294 after the Catalan regional government stopped short of declaring independence. Wall Street was poised to open lower, with Dow and S&P 500 futures both down 0.1 percent.
SPANISH TURMOIL: Spanish stocks rose after tensions over Catalonia's bid for independence eased somewhat after the region's president backed away from plans to immediately break away from Spain following results of a disputed referendum in favor of independence. In a speech, the regional president said he would delay a declaration of independence for several weeks to give dialogue a chance. The Spanish central government responded by asking for clarification and leaving open the door to revoking some of the region's autonomous powers.
GLOBAL OUTLOOK: Sentiment had brightened somewhat also after the International Monetary Fund's raised its latest forecast for global growth to 3.6 percent for this year and 3.7 percent in 2018, the fastest rates since 2010. It expects growth to accelerate in the United States, the 19-country eurozone, Japan and China this year, with a pickup in investment, industrial production and consumer and business confidence underpinning the improved global outlook.
LOOKING AHEAD: Investors in mainland China and Hong Kong are pulling back ahead of a Communist Party meeting that begins next week, when Beijing is expected to outline policy goals.
Markets will also be watching for the release of the Federal Reserve's September meeting minutes later in the day for new hints on the U.S. central bank's stance on interest rates, which many analysts expect will be raised one more time by the end of the year. Also on the horizon are the first corporate earnings as the U.S. quarterly reporting season gets underway.
ASIA'S DAY: Japan's Nikkei 225 index closed at a new 21-year high, rising 0.3 percent to 20,881.27, a level it hasn't seen since December 1996. South Korea's Kospi rose 1 percent to 2,458.16 and Australia's S&P/ASX 20 0.6 percent to 5,770.10. The Shanghai Composite in mainland China edged up 0.2 percent to 3,388.28 but Hong Kong's Hang Seng gave up earlier gains to end 0.4 percent lower at 28,389.57. Shares in Southeast Asia were mixed.
ENERGY: Oil futures extended gains. Benchmark U.S. crude oil rose 33 cents to $51.25 a barrel in electronic trading on the New York Mercantile Exchange. The contract added $1.34, or 2.7 percent, to settle at $50.92 a barrel on Tuesday. Brent crude, used to price international oils, gained 13 cents to $56.74 a barrel in London.
CURRENCIES: The dollar slipped to 112.22 yen from 112.45 yen in late trading Tuesday. The euro strengthened to $1.1825 from $1.1808.