World stocks fall, haunted by concerns over US-China tariffs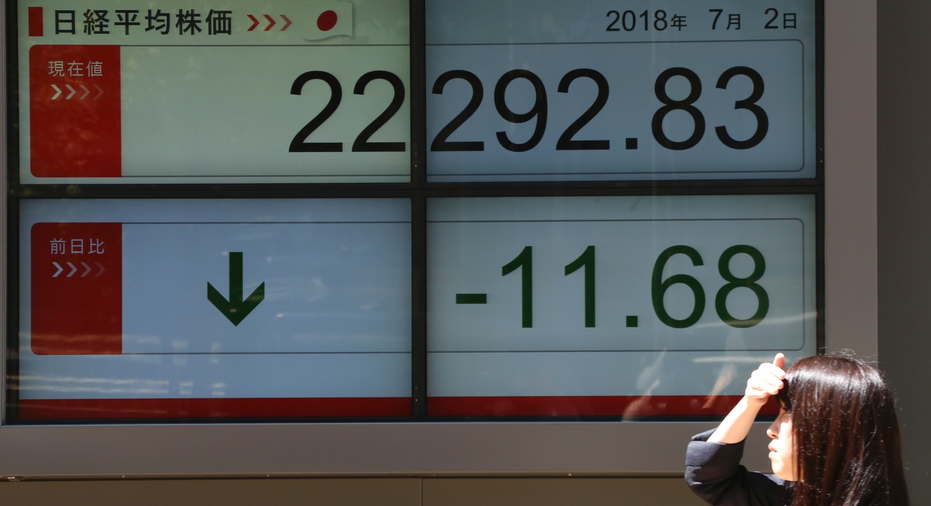 Global stocks fell Monday as weaker-than-expected Asian economic surveys ratcheted up worries over the potential impact of higher tariffs due to be imposed by China and the U.S. in a festering trade dispute. In Europe, a German government crisis weighed on markets.
KEEPING SCORE: Germany's DAX was down 0.8 percent to 12,212 and France's CAC 40 lost 1.2 percent to 5,258. Britain's FTSE 100 shed 1 percent to 7,562. Wall Street was poised to open lower. Dow futures fell 0.5 percent and S&P 500 futures were down 0.6 percent.
ASIA'S DAY: Asian markets were overshadowed by weaker than expected Chinese manufacturing data and a softening in Japan's economic outlook. Japan's benchmark Nikkei 225 index plunged 2.2 percent to 21,811.93 and South Korea's Kospi shed 2.4 percent to 2,271.54. The Shanghai Composite index tumbled 2.5 percent to 2,775.56 while Australia's S&P/ASX 200 lost 0.3 percent to 6,177.80. Hong Kong's markets were closed for a market holiday. Taiwan's benchmark fell but Southeast Asian indexes were mixed.
GERMAN CRISIS LINGERS: German Chancellor Angela Merkel has been locked for weeks in a bitter dispute with her Bavarian allies over migration. The government crisis was prolonged on Sunday when interior minister Horst Seehofer offered to resign instead of backing down from his stance against the chancellor's migration policies. Seehofer is determined to turn away some types of asylum-seekers at Germany's borders, but Merkel has insisted on Europe-wide solutions. There's little sign of a possible compromise and the standoff could spell the end of Merkel's fourth government.
CHINESE DATA: China's manufacturing activity slowed in June, adding to concerns that the economy is cooling due to tighter government controls on lending. The Caixin Manufacturing PMI, which measures growth in the sector, came in at 51.0 in June, down slightly from 51.1 in May. The index is on a 100-point scale, with 50 separating contraction from growth. In Japan, a central bank survey showed the corporate outlook has worsened from three months ago, highlighting risks to its export-reliant economy from trade tensions. The Bank of Japan's "tankan" survey measuring confidence among large-scale manufacturers was at 21 points, down 3 from the March survey, which was the first decline in two years.
U.S-CHINA TARIFFS: The U.S. is set to impose a 25 percent tariff on up to $50 billion of Chinese products starting this Friday. In response, China will raise import duties on $34 billion worth of American goods. On Sunday, Canada started billions of dollars in retaliatory tariffs against the U.S., in a tit-for-tat response to the Trump administration's duties on Canadian steel and aluminum. The items include ketchup, lawn mowers and motor boats. Some items will be subject to taxes of 10 or 25 percent. The U.S. has also faced hit back from the European Union. Iconic American motorcycle maker Harley-Davidson will move some production overseas to avoid tariffs the European Union is placing on motorcycles made in the U.S.
ANALYST'S TAKE: "There is caution over the imposition of tariffs this weekend. Taken together, weaker-than-expected data gives markets room for thought on whether Trump protectionism has seeped into the real economy," said Song Seng Wun, an economist at CIMB Private Banking.
ENERGY: Trump has claimed that Saudi Arabia will raise oil production by "maybe up to 2,000,000 barrels" in response to turmoil in Iran and Venezuela. This is higher than the 1 million barrels-a-day increase that OPEC countries have agreed on, sending oil futures on a decline. Benchmark U.S. crude fell 12 cents to $74.03 a barrel in electronic trading on the New York Mercantile Exchange. Brent crude, used to price international oils, fell 55 cents to $78.68 in London.
CURRENCIES: The dollar ticked up to 110.76 yen from 110.74 yen in late trading Friday. The euro weakened to $1.1643 from $1.1695.