World stocks fall as investors brace for US tariffs decision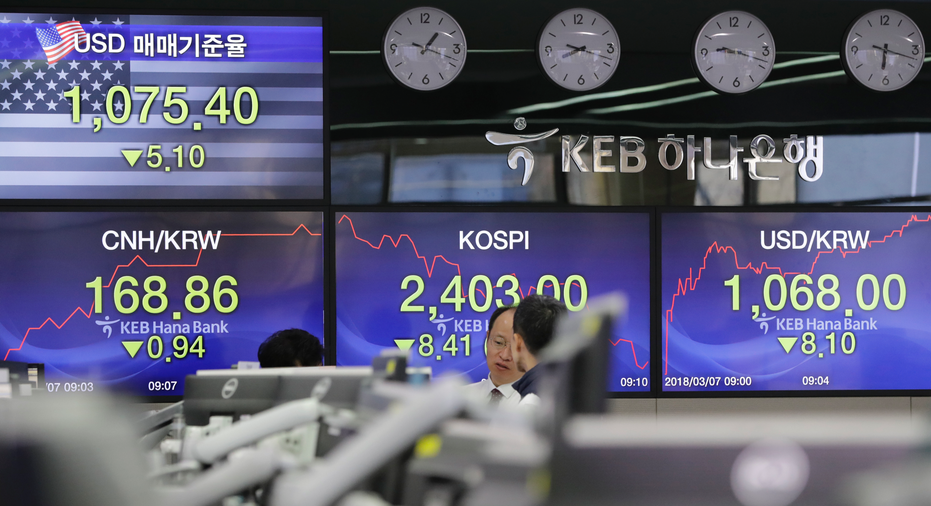 Global stock markets mostly fell Wednesday after the surprise departure of President Donald Trump's top economic adviser, who was the administration's leading internal opponent of his planned tariffs on imports of steel and aluminum.
KEEPING SCORE: Britain's FTSE 100 was flat at 7,150 while France's CAC 40 fell 0.1 percent to 5,164 and Germany's DAX edged up 0.4 percent to 12,164. Wall Street was expected to slide on the open, with Dow futures down 1.1 percent and S&P futures 0.8 percent lower.
TRADE: Gary Cohn, the director of the National Economic Council, announced his departure in a blow to Republicans and business groups who were hoping Trump might heed their concerns about his tariffs plan. Trump has been resisting calls to reverse his stance and has said he will impose tariffs in coming days. The European Union, meanwhile, said it was finalizing a list of U.S. products that it could hit with tariffs in retaliation, should that be required.
ANALYST'S TAKE: "For the markets, Gary Cohn's departure certainly points strongly to the likelihood that little can halt the President from going ahead with his tariff plans and may mark more volatility to come for markets," said Jingyi Pan, a market strategist at IG in Singapore. "Perhaps the biggest thing to look forward to on this topic will be the details of the plans at the moment, to gain a better gauge of the extent of the impact, whereupon more volatility may be unleashed."
ASIA'S DAY: Asian markets started flat but losses widened in the afternoon. Japan's Nikkei 225 dropped 0.8 percent to 21,252.72 while South Korea's Kospi fell 0.4 percent to 2,401.82. Hong Kong's Hang Seng index sank 1 percent to 30,196.92 while the Shanghai Composite Index retreated 0.6 percent to 3,271.67. Australia's S&P/ASX 200 sank 1 percent to 5,902.00. Stocks in Southeast Asia were mostly lower.
OIL: Benchmark U.S. crude lost 29 cents to $62.31 per barrel in electronic trading on the New York Mercantile Exchange. The contract added 3 cents on Tuesday. Brent crude, used to price international oils, fell 28 cents to $65.51 per barrel in London. In the previous session, it rose 25 cents.
CURRENCIES: The dollar fell to 105.75 yen from 106.15 yen. The euro rose to $1.2412 from $1.2406.