World stock markets fall ahead of tense G-7 summit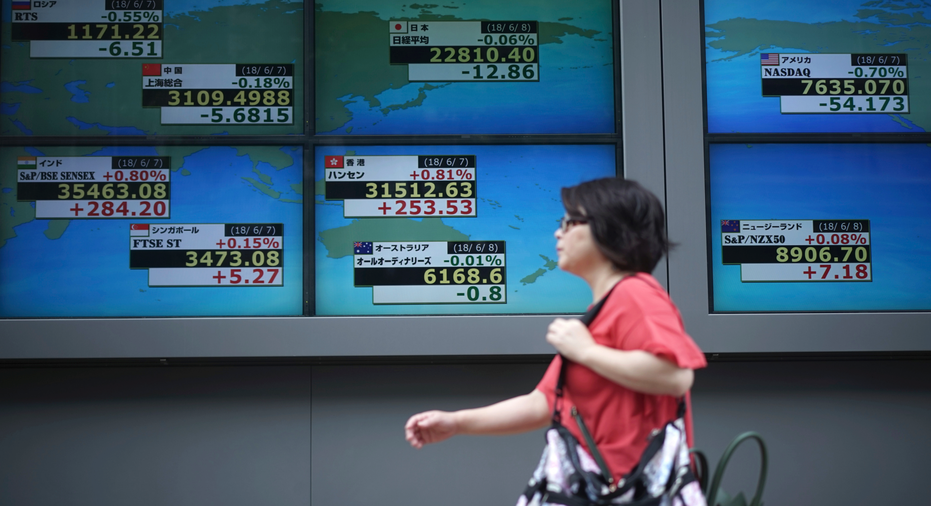 Global stock markets fell Friday ahead of a Group of Seven summit that promises to be tense as leaders confront U.S. President Donald Trump over tariffs he is imposing. Investors will then also look to policy meetings by the European Central Bank and Federal Reserve next week.
KEEPING SCORE: Germany's DAX was down 0.8 percent to 12,707 while France's CAC 40 slipped 0.1 percent to 5,442. Britain's FTSE 100 fell 0.6 percent to 7,658. U.S. shares were set to drift lower with Dow futures down 0.6 percent and S&P 500 futures down 0.5 percent.
ASIA'S DAY: Japan's benchmark Nikkei 225 shed 0.6 percent to finish at 22,694.50. Australia's S&P/ASX 200 edged down 0.2 percent to 6,045.20. South Korea's Kospi lost 0.8 percent to 2,451.58. Hong Kong's Hang Seng slipped 1.9 percent at 30,910.89, while the Shanghai Composite index shed 1.4 percent to 3,067.15.
GROUP OF SEVEN: Leaders from the Group of Seven wealthy industrialized nations are meeting in Canada, where Trump's new tariffs are expected to be a major focus. The White House is expecting a chilly reception from Canada and western European countries. The leaders of France and Canada in particular on Thursday expressed in tough terms their disapproval of the tariffs.
RATE WATCH: The Federal Reserve is expected to raise interest rates next. That would be the second increase in rates this year, and the Fed has said it expects to raise rates three times in 2018. The ECB, meanwhile, will consider whether to rein in its massive monetary stimulus program, which has boosted growth and stocks and kept a lid on the euro.
THE QUOTE: "There's a high level of circumspection associated with this weekend's G-7 meeting as President Trump prepares to enter the G-7 lion's den," says Stephen Innes, head of trading at Oanda. "Then there's that small matter of the European Central Bank and Federal Reserve Board meetings, which could be very crucial for the markets next tack."
ENERGY: Benchmark U.S. crude dipped 35 cents $65.60 a barrel. It rose 1.9 percent to $65.95 per barrel in New York Thursday. Brent crude, used to price international oils, fell 65 cents to $76.67 per barrel in London.
CURRENCIES: The dollar fell to 109.26 yen from 109.97 yen late Thursday in Asia. The euro slipped to $1.1739 from $1.1817.
___
Follow Yuri Kageyama on Twitter at https://twitter.com/yurikageyama
Her work can be found at https://www.apnews.com/search/yuri%20kageyama