World stock markets continue to rise on strong US jobs data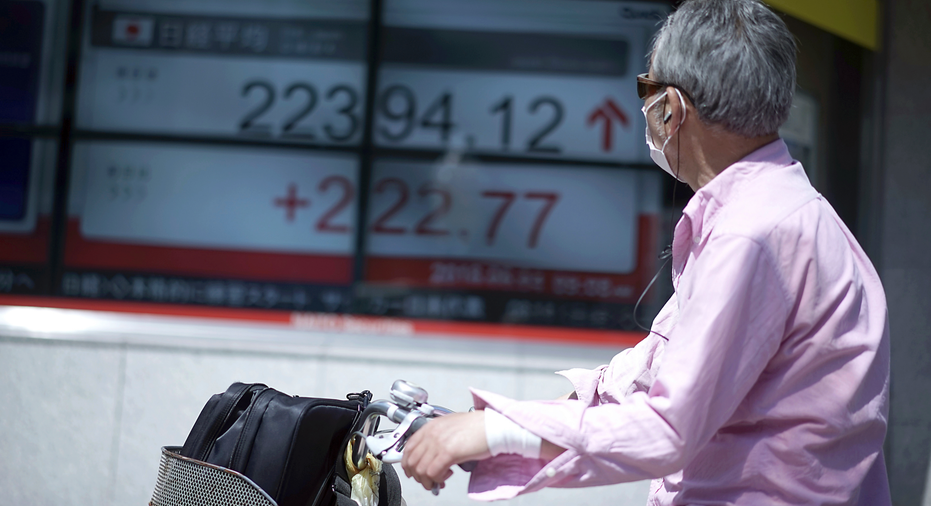 Global stock markets rose Monday on continued optimism over last week's upbeat U.S. jobs report, and despite an impasse between Beijing and Washington over trade.
KEEPING SCORE: Germany's DAX rose 0.1 percent to 12,735 and France's CAC 40 added 0.3 percent to 5,483. Britain's FTSE 100 climbed 0.8 percent to 7,763. Wall Street was poised to open higher, with Dow futures up 0.5 percent and broader S&P 500 futures up 0.3 percent.
MORE U.S. JOBS: Investors sentiment has been bolstered by the report on Friday that U.S. employers added a robust 233,000 jobs in May, up from 159,000 in April. That helped drive the nation's unemployment rate to an 18-year low of 3.8 percent. Markets rose on Friday and into the new week on hopes that the world's largest economy is powering ahead despite uncertainties over global trade.
ITALIAN LEADERSHIP: Populists took power in Italy for the first time on Friday as its new leaders commemorated the founding of the Italian republic by attending a pomp-filled military parade. The European Union will face a whole new partner governing its fourth-largest economy, but the last-minute formation of Italy's new government erased fears that a referendum may see the country leaving the euro bloc for good.
CHINA'S WARNING: Raising the likelihood of a trade war, China said Sunday that it won't step up purchases of American products if President Donald Trump taxes billions of dollars' worth of Chinese imports. In May, China had promised to "significantly increase" its purchases of U.S. farm, energy and other products. Treasury Secretary Steven Mnuchin said then that the U.S. tariffs were suspended and the trade war "on hold." Trump has since renewed his threat to impose 25 percent tariffs on $50 billion in Chinese high-tech goods.
NORTH KOREAN SUMMIT BACK ON: After a week of hard-nosed negotiations, diplomatic gamesmanship and no shortage of theatrics, President Donald Trump announced Friday that the historic nuclear-weapons summit he had canceled with North Korea's Kim Jong Un is back on. The June 12 meeting in Singapore, the first between heads of the technically still-warring nations, is meant to begin the process of ending North Korea's nuclear program.
ASIAN SCORECARD: Japan's benchmark Nikkei 225 index rose 1.4 percent to 22,475.94 and South Korea's Kospi gained 0.4 percent to 2,447.76. Hong Kong's Hang Seng rallied 1.7 percent to 30,997.98 and the Shanghai Composite index rose 0.5 percent to 3,091.19. Australia's S&P/ASX 200 gained 0.6 percent to 6,025.50. Taiwan's benchmark rose and Southeast Asian indexes were mostly higher.
ENERGY: Oil futures dipped on speculation that OPEC countries may decide to raise supply at a summit later this month. Benchmark U.S. crude fell 41 cents to $65.40 a barrel in electronic trading on the New York Mercantile Exchange. The contract lost $1.23 to settle at $65.81 per barrel on Friday. Brent crude, used to price international oils, fell $1.02 to $75.77 per barrel.
CURRENCIES: The dollar was steady at 109.52 yen. The euro strengthened to $1.1728 from $1.1662 late Friday.