World shares mixed amid concerns about trade barriers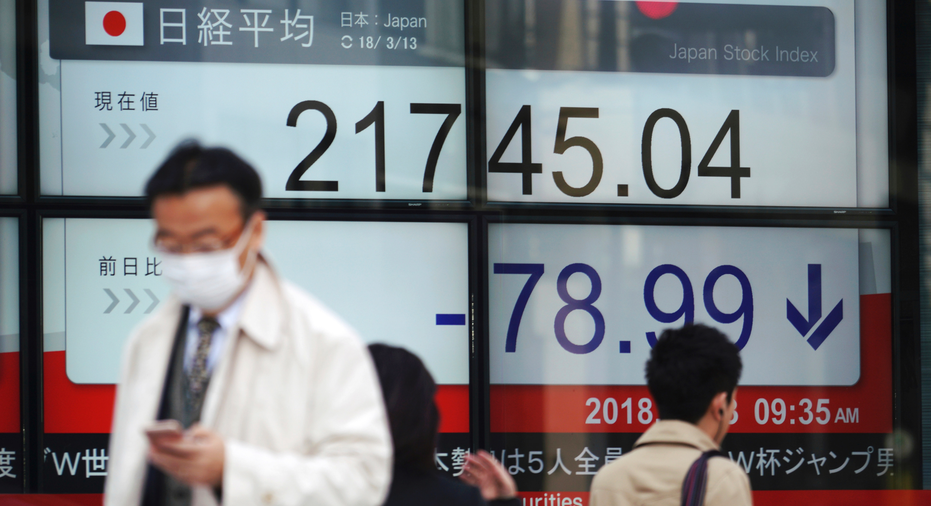 Global stock markets were mixed Tuesday, with Wall Street set for a cautious open, as investors gauge how far countries could go in setting up barriers to trade.
KEEPING SCORE: Britain's FTSE 100 was down 0.2 percent to 7,201 while the CAC 40 of France added 0.3 percent to 5,293. Germany's DAX shed 0.1 percent to 12,409. S&P 500 and Dow futures both climbed 0.2, pointing to small gains when trading starts in New York.
QUALCOM-BROADCOM: Singapore-based computer chipmaker Broadcom said in a statement that it strongly disagrees with Trump's order to block its proposed acquisition of Qualcomm on the grounds it raises national security concerns. The decision, announced late Monday, abruptly ended Broadcom's four-month, $117 billion bid to buy Qualcomm — a deal that would have been the largest ever completed in the technology industry. The move comes after Trump also ordered tariffs on steel and aluminum, suggesting the administration could be stepping up its barriers to international business deals.
CHINA WATCHDOG: China announced plans Tuesday to create a newly powerful regulator to oversee scandal-plagued banking and insurance industries as they try to reduce debt and financial risks. The move is in line with the ruling Communist Party's efforts to tighten control over state-owned entities that dominate industries including banking, telecoms and energy in an effort to make them more efficient and productive.
ASIA'S DAY: Japan's Nikkei 225 index gained 0.7 percent to 21,968.10 while South Korea's Kospi added 0.4 percent to 2,494.49. The Hang Seng in Hong Kong was flat at 31,601.45 and the Shanghai Composite index declined 0.5 percent to 3,310.24. Australia's S&P ASX 200 dropped 0.4 percent to 5,974.70. India's Sensex lost 0.4 percent to 33,791.35. Shares rose in Taiwan and were mixed in Southeast Asia, with the SET in Thailand down 0.2 percent.
ENERGY: Benchmark U.S. crude fell 5 cents to $61.31 a barrel in electronic trading on the New York Mercantile Exchange. It lost 68 cents the day before. Brent crude, used to price international oils, declined 11 cents to $64.84 per barrel, having shed 54 cents the previous day.
CURRENCIES: The dollar rose to 107.21 yen from 106.41 late Monday. The euro edged up to $1.2340 from $1.2336.