World markets rise, tracking Wall Street gains on job report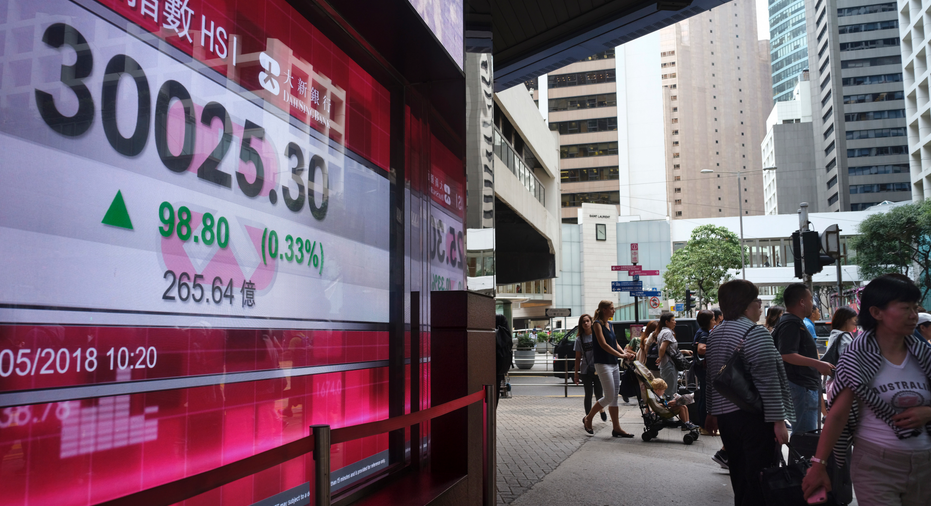 Shares around the world were mostly higher Monday following strong gains on Wall Street after figures showed the U.S. jobless rate down an 18-year low. The strength of the U.S. economy has helped investors overlook unresolved trade tensions between Washington and Beijing.
KEEPING SCORE: In Europe, Germany's DAX was up 0.4 percent to 12,889 while the CAC 40 in France rose 0.1 percent to 5,519. British stock markets were closed for a public holiday. Wall Street was headed for modest gains at the open with Dow futures and the broader S&P 500 futures up 0.3 percent.
U.S. JOBS MARKET: The latest monthly jobs report showed that U.S. hiring continued at a solid clip and wages grew modestly, a sign the world's biggest economy remains resilient despite concerns about trade conflicts with China. U.S. government figures showed that employers added 164,000 jobs in April, making it the 91st straight month of hiring growth, and the unemployment rate fell to 3.9 percent, the lowest level since December 2000.
TRADE DEMANDS: Tensions persist after talks in Beijing ended Friday without any agreement. The Trump administration asked China to cut its trade deficit by $200 billion by the end of 2020, stop providing subsidies to key industries and end some policies related to technology transfers, a main issue behind the dispute. China presented its own concerns, seeking U.S. help with protection of intellectual property and with exports of technology deemed strategically sensitive.
QUOTEWORTHY: "The ongoing negotiations might have bought some time and eased tensions in the short run, but investors will remain alert for another round of trade threats," said Hussein Sayed, chief strategist at FXTM. "Markets will closely scrutinize any statement from President Trump on this front."
AIR FRANCE STRIKE: The airline's shares plunged 12 percent after workers went on strike, resulting in the cancellation of about 15 percent of flights worldwide. France's finance minister warned that the government would not come to the airline's rescue and that its survival is at stake.
ASIA'S DAY: Japan's benchmark Nikkei 225 index dipped less than 0.1 percent to close at 22,457.16 but Hong Kong's Hang Seng index rose 0.2 percent to 29,994.26. The Shanghai Composite index in mainland China jumped 1.5 percent to 3,136.64 and Australia's S&P/ASX 200 climbed 0.4 percent to 6,084.50. Taiwan's benchmark rose but Southeast Asian indexes were mostly lower. South Korean markets were closed for a holiday.
ENERGY: Oil futures advanced to their highest since November 2014. Benchmark U.S. crude rose $1.12 to $70.50 a barrel in electronic trading on the New York Mercantile Exchange while Brent crude, the international standard, gained 76 cents to $75.63 per barrel in London.
CURRENCIES: The euro fell 0.5 percent to $1.19 while the dollar rose 0.2 percent to 109.37 yen.