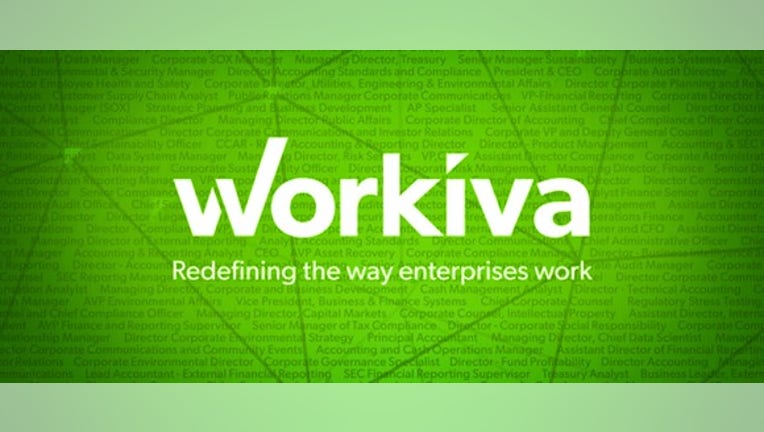 Enterprise software company Workiva (NYSE: WK) announced its first-quarter results after the market closed on May 4. Workiva beat its guidance for both revenue and earnings, producing a much smaller loss compared to the prior-year period. But the company's guidance called for a slowdown in growth, driven, in part, by its push to win enterprise-wide contracts. Here's what investors need to know about Workiva's first-quarter results.
Workiva results: The raw numbers
| Metric | Q1 2017 | Q1 2016 | Year-Over-Year Change |
| --- | --- | --- | --- |
| Revenue | $51.9 million | $44.6 million | 16.5% |
| Net income | ($5.8 million) | ($12.0 million) | N/A |
| Non-GAAP EPS | ($0.04) | $(0.21) | N/A |
Data source: Workiva.
Image source: Workiva.
What happened with Workiva this quarter?
Workiva produced more revenue and a smaller loss than its guidance called for.
Workiva had 2,825 customers at the end of the quarter, gaining 268 customers over the past year.
Subscription and support revenue rose 17.7% year over year, to $39.5 million, while professional services revenue jumped 12.7%, to $12.4 million.
Workiva's revenue retention rate was 95.1% excluding add-on revenue, and 106.6% including add-on revenue. Change in seats purchased and seat prices for existing customers is considered add-on revenue.
GAAP operating expenses were flat year over year, with higher research and development (R&D) spending offset by lower sales and marketing spending. This, along with higher revenue, drove the improvement in Workiva's bottom line.
Operating cash flow was $2.58 million, up from a loss of $19.08 million in the prior-year period.
Workiva provided the following guidance for the second quarter and full year:
Second-quarter revenue between $48.1 million and $48.6 million compared to $43 million in the prior-year period.
Second-quarter non-GAAP earnings per share (EPS) loss between $0.20 and $0.21.
Full-year revenue between $204 million and $206 million compared to $179 million in 2016.
Full-year non-GAAP EPS loss between $0.64 and $0.69.
What management had to say
Workiva CEO Matt Rizai pointed to the company's guidance-beating performance: "We posted strong results in the first quarter, highlighted by 16.5% revenue growth over the same quarter last year. We outperformed our guidance for quarterly revenue, operating loss and loss per share."
Rizai emphasized the company's platform strategy:
Looking forward
Workiva outperformed its guidance during the first quarter, but its outlook for the second quarter calls for a slowdown in growth and a fairly large non-GAAP loss. Workiva expects revenue to grow by about 12.5% year over year at the midpoint of its guidance range.
Workiva is working to win more enterprise-wide contracts for its Wdesk product, and the slowing revenue growth is partly a reflection of that shift. Investors won't accept slowing revenue growth forever, though, so the company will need to pick up the pace at some point down the road.
10 stocks we like better than WorkivaWhen investing geniuses David and Tom Gardner have a stock tip, it can pay to listen. After all, the newsletter they have run for over a decade, Motley Fool Stock Advisor, has tripled the market.*
David and Tom just revealed what they believe are the 10 best stocks for investors to buy right now... and Workiva wasn't one of them! That's right -- they think these 10 stocks are even better buys.
Click here to learn about these picks!
*Stock Advisor returns as of May 1, 2017
Timothy Green has no position in any stocks mentioned. The Motley Fool recommends Workiva. The Motley Fool has a disclosure policy.