Working 'through the tears' after on-air shooting, TV newscast balances grief, reporting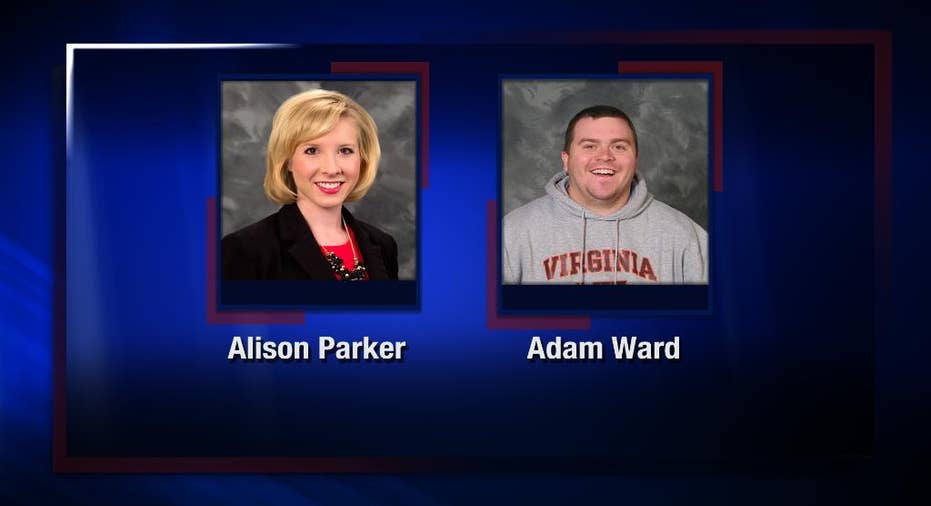 Alison Parker and Adam Ward's colleagues at TV station WDBJ saved their tears for off the air.
The news became personal for the CBS affiliate in Virginia when reporter Parker and cameraman Ward were fatally shot during a live broadcast Wednesday morning, forcing co-workers to balance the stunning tragedy with professionalism.
Their grief was evident during the newscasts that followed, but so was their restraint.
"This is a hard day for all of us here at WDBJ7. We are mourning Alison and Adam, but it is our job to find the facts," anchorwoman Melissa Ganoa said during the 5 p.m. EDT newscast, less than 12 hours after the shooting by a fired station employee, Vester Flanagan, who died later of a self-inflicted gunshot wound.
What unfolded was familiar to any TV viewer: A recounting of the crime; news conferences with updates from authorities and reaction from those who knew the victims. A third person, a local chamber of commerce executive who was being interviewed by Parker, was shot and wounded.
The station in Virginia's Roanoke-Lynchburg media market, however, left it to other outlets to dwell on the footage from WDBJ's unwitting broadcast of the shooting and, in a bleakly modern twist, apparent "selfie" video posted online by the gunman.
An estimated 40,000 viewers saw it unfold live, untold numbers watched it afterward. The station received calls for interview requests from media outlets in Russia and Australia, among others.
"We are choosing not to run the video of that (the shooting) right now because, frankly, we don't need to see it again. And our staff doesn't need to see it again," Jeffrey Marks, WDBJ's president and general manager, said on air soon afterward. "But we will do full reporting on it later. Our teams are working on it right now, through the tears."
In sometimes shaky voices, Marks, reporters and anchors shared tender memories of Parker, 24, and Ward, 27, as kind friends and dedicated colleagues. They also provided sketchy details of the shooting. Then Marks, his hair disheveled but his emotions in check, put a stop to it, at least in those early, freshly painful moments.
"We should probably go back to regular programming now, rather than prolonging this. But rest assured, we'll come back on the air as more information becomes available," he said.
In an age when video of crashes, shootings, fires and other tragedies is readily available and endlessly replayed, it was a decision — albeit it one influenced by personal loss — that other outlets often fail to make and for which they are roundly criticized.
WDBJ news director Kelly Zuber was asked in an interview whether the station planned to air the selfie video. In it, a hand holding a gun is seen behind Ward for several seconds and then squeezes off shots at Parker.
"At this point we don't," she said Wednesday evening. "We'll review that as we go. It's pretty raw right now in our newsroom. And we will continue to process the journalism, and if that piece of video is important to what we do, we'll include it. But for right now, no. No."
Lee Wolverton, managing editor of The Roanoke Times, expressed the newspaper's sympathy for the victims and its intention to provide complete coverage. The paper's website Wednesday night included a screen grab of WDBJ's broadcast of the attack, labeled with a viewer warning, but not the selfie video.
"We recognize how important this story is in the life of our community and have strived to deliver the same kind of fullness and context we seek in every story," Wolverton said in an emailed response, adding that the Times' reporting would be thorough and presented in "a manner appropriate for the circumstances."
___
Elber wrote from Los Angeles. Associated Press writer John Raby contributed to this report from Roanoke, Virginia.