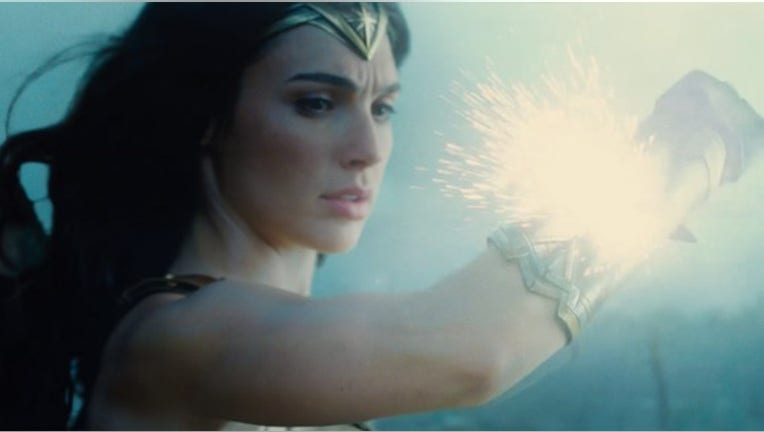 Time Warner's (NYSE: TWX) Wonder Woman has landed as a big hit with critics, and its 96% favorable score on Rotten Tomatoes currently makes it the best-reviewed superhero movie to date, according to the site's rating system. The movie hits theaters Friday. It's possible that the film's score on the review-aggregating website will fluctuate as more takes come in, but the picture is clearly a critical winner rather than the potential misstep that some early reports and rumors suggested it might turn out to be.
Gal Gadot as Wonder Woman in the new film. Image source: DC Comics.
Why it matters
The great reviews for Wonder Woman are a notable win for Warner's film wing and the DC Extended Universe, especially after critical drubbings the company's last two superhero projects suffered and the production difficulties that have surrounded the franchise. Previous entries Batman v Superman and Suicide Squad both put up solid numbers at the box office, but they were roundly dismissed by critics, and concerns were mounting that the DC movie franchise would be weighed down by ongoing quality problems. The franchise now has its first critical darling in Wonder Woman, and the overwhelmingly positive reception is a good sign for the soon-to-be-released film and the DCEU at large.
Early tracking suggested the movie would open to roughly $65 million at the domestic box office, but more recent estimates suggest that the picture could reach stateside ticket sales of around $90 million in its opening weekend, and it's likely that strong reviews are bolstering interest in the film. Favorable critical reception and word of mouth should work in Wonder Woman's favor for the duration of its theatrical run, and they point to better chances of growing ticket sales with sequels, as well as increased merchandising potential for one of Warner's most valuable characters.
10 stocks we like better than Time WarnerWhen investing geniuses David and Tom Gardner have a stock tip, it can pay to listen. After all, the newsletter they have run for over a decade, Motley Fool Stock Advisor, has tripled the market.*
David and Tom just revealed what they believe are the 10 best stocks for investors to buy right now... and Time Warner wasn't one of them! That's right -- they think these 10 stocks are even better buys.
Click here to learn about these picks!
*Stock Advisor returns as of May 1, 2017
Keith Noonan has no position in any stocks mentioned. The Motley Fool recommends Time Warner. The Motley Fool has a disclosure policy.