With Sales Sluggish, Price Hikes and Cost Cuts Drive Procter & Gamble Co Earnings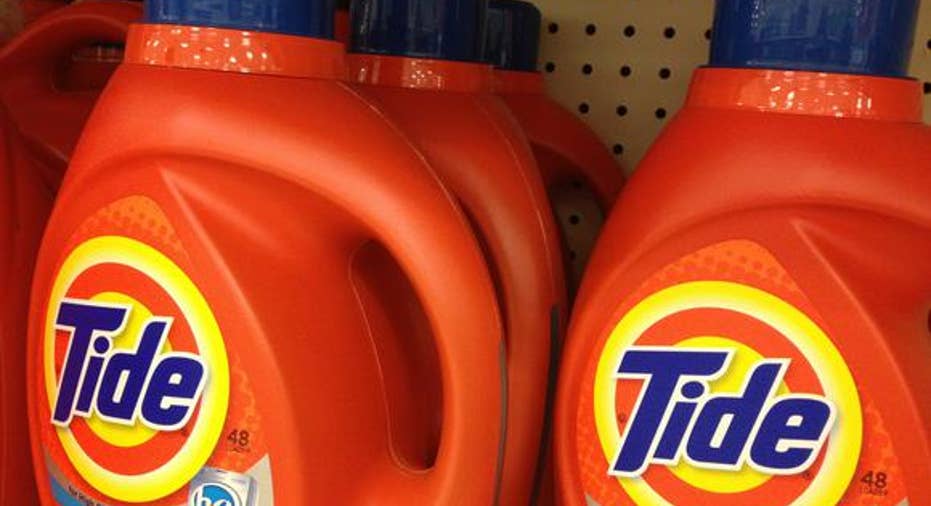 Image source: Procter & Gamble
Procter & Gamble (NYSE: PG) reported fiscal 2016 third quarter results on April 26. The owner of brands such as Tide laundry detergent and Pampers diapers is struggling to offset declining sales volumes with cost reductions and price hikes.
The raw numbers
| | Q3 2016 | Q3 2015 | YoY Growth |
| --- | --- | --- | --- |
| Sales | $15.755 billion | $16.930 billion | (7%) |
| Net income from continuing operations | $2.337 billion | $2.401 billion | (3%) |
| EPS from continuing operations | $0.81 | $0.82 | (1%) |
Data source: Procter & Gamble Q3 2016 earnings press release
What happened with Procter & Gamble this quarter?Organic sales -- which exclude the impact of foreign exchange, acquisitions, and divestitures -- rose 1%, driven by price increases as organic shipment volume was unchanged from the year-ago quarter.However, foreign currency exchange rate movements reduced sales by 5 percentage points, with brand divestitures and the deconsolidation of the company's Venezuelan operations reducing sales by an additional 3 percentage points. That led to an overall year-over-year decline in net sales of 7% to $15.8 billion.
Procter & Gamble is facing intense competition in many of its markets such as grooming, where its popular Gillette brand is being pressured by lower-priced competitors here in the U.S. The company is also seeing growing opposition from local rivals in large international markets such as China. To combat these trends, P&G is ramping up its advertising spending to strengthen consumer awareness of the benefits of its brands.
In the meantime, price hikes and cost-cutting initiatives are helping to prop up profitability. "Core" (a non-GAAP measure that adjusts for restructuring and other non-recurring charges) gross and operating margins increased by 340 and 270 basis points, respectively, on a currency-neutral basis in the third quarter. That helped currency-neutral core earnings per share remain flat year-over-year at $0.89.
Cash flow and capital returnsImportantly, cash flow generation remains strong, with operating cash flow exceeding $3.2 billion and free cash flow surpassing $2.4 billion in the third quarter. That, along with the nearly $14 billion in cash investments on its balance sheet, allowed P&G to reward its investors with $1 billion in stock buybacks and $1.9 billion in dividend payments during the quarter.
Looking forwardProcter & Gamble reiterated its forecast for full-year organic sales to be "in-line to up low single digits" compared to fiscal 2015. Yet the company continues to expect its fiscal 2016 all-in sales to be "down high-single digits" from last year, primarily due to a negative impact 6 to 7 percentage points from foreign exchange.
The company also narrowed its projected range for core earnings per share to down 3% to 6% from its previous guidance of down 3% to 8% from 2015's $3.76. However, management lowered its guidance for constant currency core EPS growth to "mid-single digits" compared to its prior outlook of "mid-to-high single digits."
"We continue to make progress on the transformations we are undertaking to return P&G to balanced top and bottom-line growth and maintain strong cash generation," said CEO David Taylor in a press release. "We delivered another strong quarter of productivity improvement and cost savings, and we increased investments in innovation, advertising and selling to enhance our long-term prospects for faster, sustainable top-line growth and value creation."
var FoolAnalyticsData = FoolAnalyticsData || []; FoolAnalyticsData.push({ eventType: "ArticlePitch", contentByline: "Joe Tenebruso", contentId: "cms.203648", contentTickers: "", contentTitle: "With Sales Sluggish, Price Hikes and Cost Cuts Drive Procter & Gamble Co Earnings", hasVideo: "False", pitchId: "2667", pitchTickers: "", pitchTitle: "", pitchType: "", sfrId: "" });