With renewed interest in traveling to Cuba, here are some key questions and answers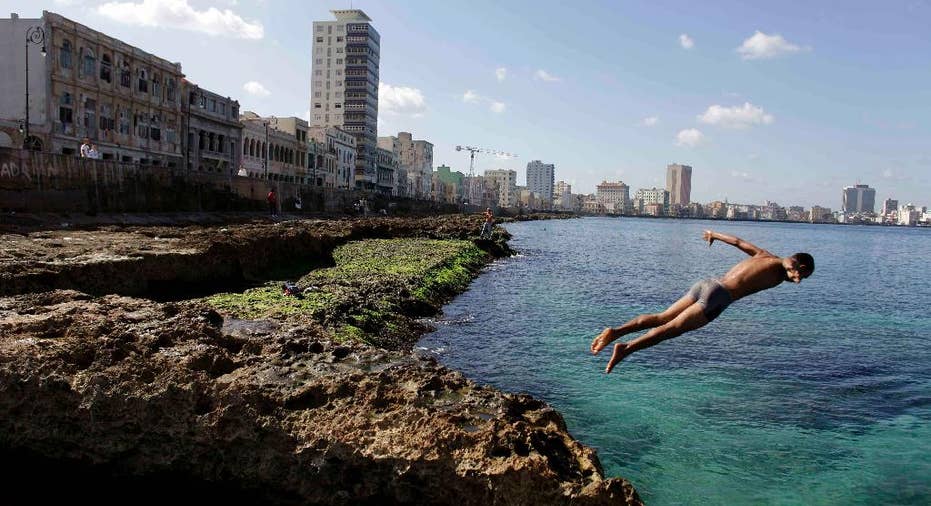 Don't rush to book that flight to Cuba just yet.
While the U.S. plans to restore diplomatic ties with the Caribbean island nation, globe-trotting tourists won't be able to hop on a plane to Havana anytime soon. It remains illegal for most U.S. citizens to travel to — and spend money in — Cuba. Congress would first have to lift its half-century old trade embargo.
Still, travel companies are salivating at the chance to set up shop in Cuba. Delta Air Lines, JetBlue Airways, Hilton Worldwide, Marriott International and the Carnival Corp. all expressed interest this week.
With the renewed interest in Cuba, here are some answers to the most popular travel questions.
Q: Can U.S. citizens vacation in Cuba?
A: Probably not. The president's announcement doesn't open the door to most American travelers.
Q: Who can visit?
A: The U.S. Treasury's Office of Foreign Assets Control oversees travel to Cuba. There are 12 categories of people who are allowed to visit. They include: close relatives of Cubans, academics, those traveling on official government business, those on humanitarian or religious missions, journalists and people on accredited cultural education programs.
A: I fit into one of those groups. Where can I book a flight?
Q: It's not that simple. The government gives out licenses to tour operators who then help travelers obtain visas and sell spots on trips to Cuba. Many of them are mom and pop travel agencies in Florida, catering to Cuban-Americans. Others are large tour companies offering weeklong educational trips for $3,000 to nearly $8,000 a person. American Airlines, JetBlue and Sun Country offer charter flights to the Cuban cities of Havana, Holguin, Santa Clara and Cienfuegos but the only way onto those planes is through one of these agencies.
A: Are there other ways for Americans to visit Cuba?
Q: The Cuban government doesn't prohibit Americans from visiting. So for years, intrepid travelers have broken the U.S. law by entering Cuba via Mexico or Canada and asking officials not to stamp their passports.
Q: How much do flights cost?
A: Air Canada is charging $750 for nonstop flights in February from Toronto to Havana. A nonstop flight on Cubana from Cancun to Havana during the same period is $410 and a trip to Havana from Panama City on Copa Airlines is $670.
Q: How do U.S. travelers pay for things in Cuba?
A: Banks and credit card companies are prohibited from doing business in Cuba. So don't expect to see ATMs or businesses accepting Visa, MasterCard or American Express. In other words, bring lots of cash.
Q: Will that change?
A: It could be one of the earliest liberalizations. But even when credit card companies are allowed into the country, their acceptance won't initially be widespread. Large hotels would likely be the first businesses to let travelers swipe to pay but mom and pop restaurants or local shops could take much longer.
Q: What can travelers expect from hotels, taxis and restaurants?
A: Part of the appeal of Cuba is that, in many ways, it is frozen in time. Most hotels and nightclubs date back to the pre-Castro era. Cuba is known for its beautiful classic cars. That is great, unless you are used to being shuttled to the airport in an air conditioned Cadillac Escalade and staying at hotels with 800-thread-count sheets.
Q: How many cigars can I bring back home?
A: The U.S. government eased its export restrictions to allow travelers to bring up to $400 in goods out of Cuba. However, only $100 of that can be liquor or tobacco products.
Q: Will Cuba be ruined?
A: That is a big fear for many travelers. They don't want to visit yet another Caribbean island overrun with Starbucks, McDonald's, jewelry stores and T-shirt stands. There could be a rush by tourists to see Cuba before the masses arrive.
__
Scott Mayerowitz can be reached at http://twitter.com/GlobeTrotScott.