With Misfit, Fossil Could be a Threat to Android Wear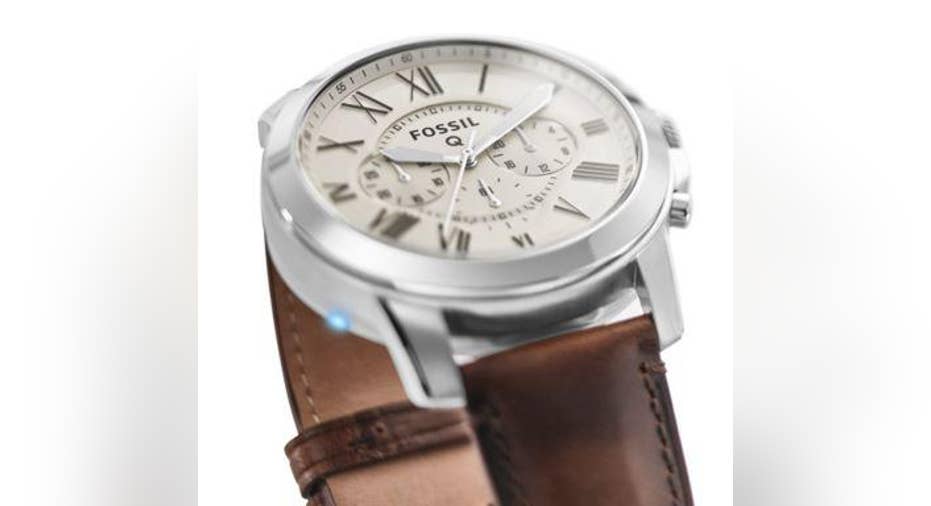 Fossil's smarter watch, the Q Grant. Photo: Fossil
Watchmaker Fossil has had a difficult year: shares have fallen more than 65% in 2015. A series ofdisappointingearnings reports have taken a toll, but the company's multiple has also contracted, likely fueled bypersistentfears that Fossil's core market -- affordable watches -- will bedevastatedin the not-too-distant future. Anonslaught of smartwatch competition, including themultitude of Android Wear devices from Alphabet's many partners, poses an obvious risk.
But Fossil is fighting back.
Last month, the company acquired wearable and fitness tracker specialist Misfit for $260 million. Fossil intends to integrate Misfit's technology into many of its products over time, which could make them stronger alternatives to the growing number of smartwatches.
Making dumb watches smartOn Fossil's earnings call back in August, CEO Kosta Kartsotis spoke of a desire to build what he called "smarter watches". These watches would resemble Fossil's traditional offerings, but come equipped with a variety of chips and sensors. They'd offer fitness and sleep-tracking capabilities, but would still, essentially, remain traditional watches.
Fossil's recently released Q Grant is a perfect testament to that strategy. From the outside, it's almost indistinguishable from any of Fossil's other watches -- but it's a Bluetooth-connected activity tracker, able to monitor steps taken and calories burned. It can also provide notifications in a limited way: a light on the watch will display different colors (for different contacts) and vibrate.
The Misfit acquisition appears aimed at furthering Fossil's focus on smarter watches. On the company's most recent earnings call in November, Chief Strategy Officer Greg McKelvey drew particular attention to Misfit's use of traditional watch batteries.
Fossil will be able to fold Misfit's technology into its traditional watches, and perhaps more importantly, make use of its app and its data. "The Misfit acquisition is really about owning the cloud on the app platform," McKelvey added later in the call.
It's better to own the platformFossil also makes an actual smartwatch, the Android-Wear powered Q Founder. During the November call, management reiterated its commitment to that product and to its partnership with Alphabet's Google, but it's easy to see why it would prefer to sell customers smarter watches rather than actual smartwatches.McKelvey explained on the call:
Fossil's Q Founder is as much a product of Google and Intelas it is a Fossil -- Google provides the software platform and Intel provides the chips. Given their digital displays and touch screens, Fossil's designers are limited in what they can offer with a smartwatch. And it introduces all sorts of uncertainty to Fossil's business -- if it becomes primarily a smartwatch vendor, it has to compete with a variety of tech firms and retool its business.
Two different sorts of productsFossil's Q Founder and Fossil's Q Grant are two radically different sorts of products. They compete for the same wrist space, but they're giving two different answers to the same question. Do consumers want astandard watch that doubles as a fitness tracker? Or do they want areal smartwatch, with support for third-party apps, an interactive display, and voice commands?
Fossil investors should hope it's the former rather than the later.
The article With Misfit, Fossil Could be a Threat to Android Wear originally appeared on Fool.com.
Sam Mattera has no position in any stocks mentioned. The Motley Fool owns shares of and recommends Alphabet (A shares) and Alphabet (C shares). The Motley Fool recommends Fossil and Intel. Try any of our Foolish newsletter services free for 30 days. We Fools may not all hold the same opinions, but we all believe that considering a diverse range of insights makes us better investors. The Motley Fool has a disclosure policy.
Copyright 1995 - 2015 The Motley Fool, LLC. All rights reserved. The Motley Fool has a disclosure policy.