With its Debt Woes Growing, Chesapeake Energy Corporation Reaches Out for Help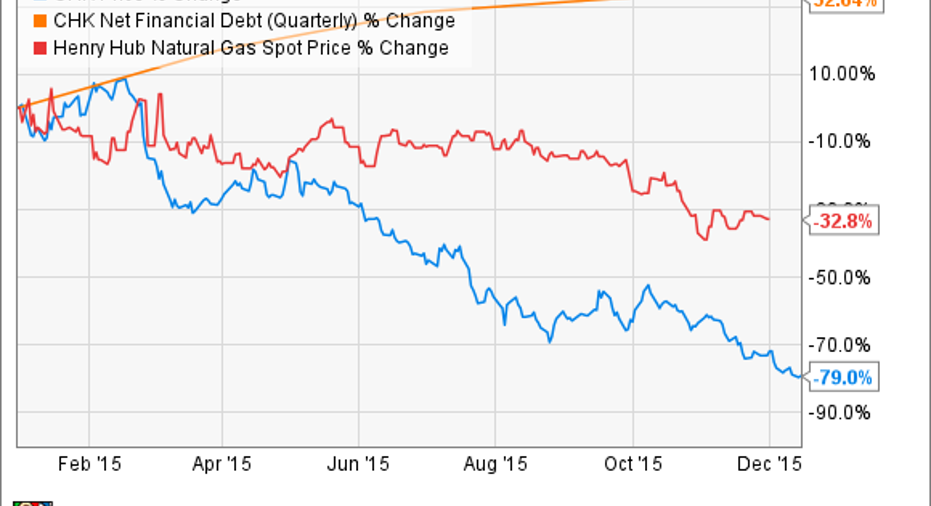 What a difference a year makes. A little over a year ago Chesapeake Energy CFO Nick Dell'Osso told investors that "Chesapeake has never been stronger financially." That strength was in large part due to the sale of a huge swath of the company's acreage in the Marcellus and Utica shale plays to Southwestern Energy for roughly $5 billion in cash.
A year later, with the company having burned through more than half of that cash due to ill-timed debt buybacks and ill-advised growth, it finds itself in a considerably weakened financial position. Making matters worse is the fact that natural gas prices recently touched a 14-year low, which has cut off a key fuel that Chesapeake Energy needed to maintain its debt while growing its production. This is forcing the company to reach out for help, with it reportedly hiring restructuring advisor Evercore Partners to help it address its $11.6 billion in debt.
Drilling its own grave?Chesapeake Energy's problems in 2015 really started when it announced that it was reverting back to its old ways of outspending its cash flow. This was after it decided to use some of the cash it received from Southwestern Energy to grow its production 3% to 5% this year. It was a move widely panned by analysts with many downgrading the stock after the announcement.
Chesapeake did quickly realize that this wasn't the best idea, and a month later it lopped off a half a billion dollars from its $4 billion to $4.5 billion budget, which tamed production growth to just 1% to 3%. However, due to improving well performance and lower than expected capital costs throughout the year the company continued to boost its production growth outlook -- with its adjusted production now expected to be 6% to 8% higher than last year -- while only trimming another $100 million of its capex budget. Normally, this would have been a great achievement, but the market simply didn't need any more oil or gas with it so vastly oversupplied that the excess is filling up storage capacity.
In a sense, Chesapeake Energy drilled its way into its own mess this year by not pulling back the reins on spending and growing for the sake of growth. In continuing to pump more gas than needed, the company contributed to pushing down gas prices to levels not seen in more than a decade, which is having a big impact on its cash flow. Further, it paid for this growth with the cash it received from Southwestern Energy and not cash flow, resulting in a significant increase to the company's net debt since the start of this year:
That said, Chesapeake Energy isn't completely to blame for the weak gas prices because it wasn't the only producer driving robust production growth into an oversaturated market. Southwestern Energy, for example, is expecting to grow its production 27% this year, which after a couple of revisions and some assets sales will result in a higher average rate than its initial guidance. The difference is that Chesapeake grew production to its own detriment this year, which has really limited its options going forward.
What it's hoping Evercore can doThe company has reportedly hired Evercore to help it address its growing debt burden. This was something that Chesapeake has been trying to creatively address, with the company recently announcing a private debt exchange offer. It was offering up to $1.5 billion of senior secured second lien notes in exchange for some of its unsecured notes, with a preference toward near-term maturities. However, with roughly $11.6 billion in outstanding debt the company needs to do more to relieve the growing pressure on its balance sheet. This is where Evercore would come into play because it could help the company reorganize that debt, possibly arranging the exchange of its existing bonds at a discount for new debt or equity securities, or exploring assets sales.
To put it bluntly, Chesapeake Energy really does need to do something to stop the bleeding fast. It has burned through an enormous amount of cash in such a short amount of time and has precious little to show for it. It is time that the company got serious about curtailing its spending and building a company that can be sustainable at lower commodity prices. Hopefully, Evercore can find a way to put the company on that path.
The article With its Debt Woes Growing, Chesapeake Energy Corporation Reaches Out for Help originally appeared on Fool.com.
Matt DiLallo has no position in any stocks mentioned. The Motley Fool has no position in any of the stocks mentioned. Try any of our Foolish newsletter services free for 30 days. We Fools may not all hold the same opinions, but we all believe that considering a diverse range of insights makes us better investors. The Motley Fool has a disclosure policy.
Copyright 1995 - 2015 The Motley Fool, LLC. All rights reserved. The Motley Fool has a disclosure policy.