With golf and gifts, Japan's Abe cuts own path with Trump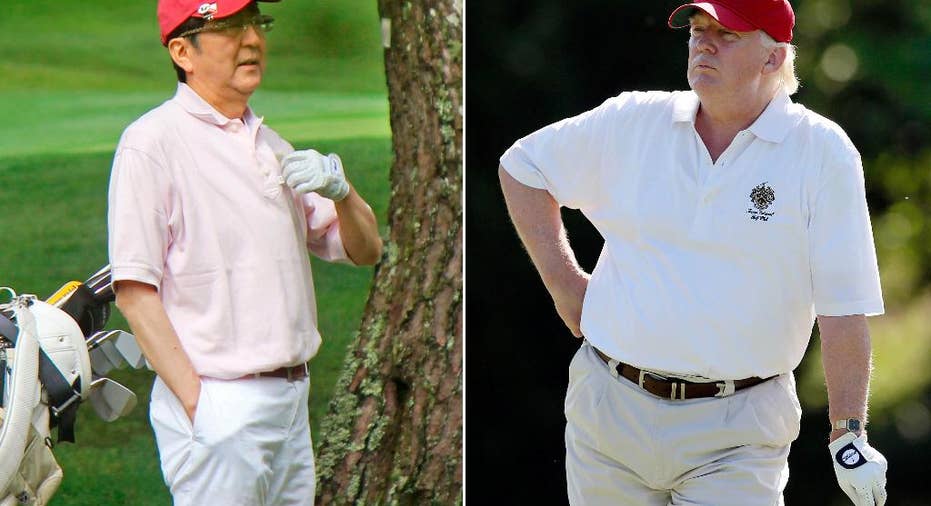 Japan is charting its own course to deal with a radically different U.S. president, an approach that will be tested at the end of this week when Prime Minister Shinzo Abe meets Donald Trump in the White House and on the golf course in Florida.
Some other leaders of America's closest neighbors and allies, from Mexico to the United Kingdom, have been singed by their encounters with Trump. Japanese officials are optimistic the invitation to visit Trump's "Winter White House," an exclusive club he owns in Palm Beach, signals a more positive outcome.
"We hope that the two leaders can deepen relations and trust in Florida," Chief Cabinet Secretary Yoshihide Suga told reporters in announcing the trip.
Abe, who departs Thursday, has moved quickly since the U.S. election to try to win Trump over. He was the only world leader to meet him before the inauguration, and will be the second to do so since Trump took office, after British Prime Minister Theresa May. Abe and Trump hold talks in Washington, D.C., on Friday before flying to the president's Mar-a-Lago Club in Florida.
"We're going to have a round of golf, which is a great thing," Trump told a sports radio interviewer, according to a transcript released Sunday by the White House. "That's the one thing about golf. You get to know somebody better on a golf course than you will over lunch."
In a culture where gift-giving is often obligatory, Japan also may come bearing presents. Abe gave the president-elect a high-end golf driver at their November meeting in New York. This time, according to media reports, the government is trying to put together a package of investments and loans that would create jobs in America.
"They think that they have to bring something to please Mr. Trump, because his pledge is America first, and bring all the employment to the United States, as well as business investment to the United States," said Mieko Nakabayashi, a former lawmaker who teaches at Waseda University in Tokyo.
The strategy seems to be an update of Japan's playbook from the U.S.-Japan trade wars in the 1980s and 1990s, said Aurelia George Mulgan, a Japan expert at the Canberra campus of the University of New South Wales in Australia.
"Japanese prime ministers and ministers often went to the United States ... bearing a package of such offerings," she wrote in a commentary posted online Wednesday. "Gift diplomacy could also be twinned with the tactic of substitution compensation, where Japan would not agree with a particular U.S. demand but would offer some other kind of concession instead."
She added in an email exchange that the golf outing may help Abe replicate another element of the 1980s: the close "Ron-Yasu" relationship that then-Japanese Prime Minister Yasuhiro Nakasone built with President Ronald Reagan.
The outreach to Trump carries risks.
"Frankly, I have doubts about the idea of him playing golf," Makoto Koga, a retired lawmaker from Abe's party, said on a weekly TV political talk show last weekend. "It may not be necessarily a good idea to get too close or friendly with someone like Mr. Trump, who seems to be impulsive or simple-minded."
Britain's May was criticized at home for inviting Trump to visit, shortly before Trump announced a travel ban on people from seven predominantly Muslim countries. Mexican President Enrique Pena Nieto and Australian Prime Minister Malcolm Turnbull are smarting from phone calls with Trump. Nieto canceled his planned visit over a disagreement about the wall Trump has pledged to build along the U.S.-Mexico border.
Trump has attacked Japan's trade and exchange rate policies, and during the campaign, demanded that Japan and other allies pay more of the cost of stationing U.S. troops in their countries.
Japan's has responded firmly but politely, taking issue with Trump's assertions when it disagrees, but avoiding comment on issues such as the travel ban.
As the meeting with Trump approaches, it is the unpredictability of America's new leader that worries government officials and analysts the most.
"We never know whether Mr. Trump would do some kind of a surprise," Nakabayashi said. "And we're not sure whether Mr. Abe is prepared for that."
___
Associated Press writer Mari Yamaguchi contributed to this story.
Online: http://www.eastasiaforum.org/2017/02/08/back-to-the-future-for-us-japan-relations/