With Fed expected to hike, attention turns to what it says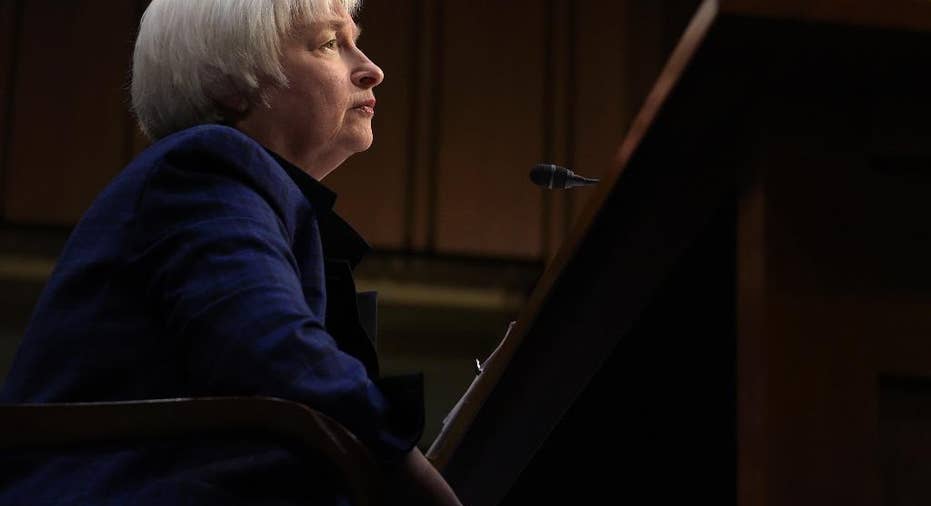 There isn't much doubt about what the Federal Reserve will do when its latest policy meeting ends Wednesday: It's all but certain to raise its benchmark interest rate — its first increase in a year.
The real anticipation surrounds what Fed officials may or may not say about the pace of future rate hikes against the backdrop of Donald Trump's election.
Will they signal that they expect to raise rates very gradually in the coming year? Or will they say the risk of high inflation resulting from Trump's tax and spending plans may require accelerated rate hikes?
On this, economists and investors agree: The Fed will raise its key rate by a modest quarter-point to a range of 0.5 percent to 0.75 percent — a move that will likely lead to slightly higher rates on some consumer and business loans. The Fed last increased rates last December, when it raised its benchmark rate from a record low set at the depths of the 2008 financial crisis.
"Never has the Fed telegraphed a rate hike as thoroughly as this one," said David Jones, chief economist at DMJ Advisors.
Yet how the Fed will devise its rate policies in light of Trump's policies isn't clear and might not be clear even after it issues a statement and Chair Janet Yellen holds a news conference Wednesday.
Wall Street, for its part, has already signaled its response to Trump's election: Investors have sent stock prices surging to record highs and driven up longer-term rates in anticipation that Republican control of the White House and Congress will allow Trump to cut taxes, ease regulations and accelerate infrastructure spending. Many appear to think those actions, in turn, will increase economic growth, inflation and corporate profits.
Some Fed watchers expect faster growth to cause the central bank to shift its focus from trying to energize the economy to considering ways to counter the risk of too-high inflation. On that assumption, some are revising their forecasts for Fed rate hikes in 2017.
Before Trump's victory, the consensus view was for two Fed rate increases next year. Now, some say they foresee three or possibly up to four hikes. The expectation for higher rates in part reflects a job market that has vastly improved, with the unemployment rate at a nine-year low of 4.6 percent.
"I think the rate hike this week will be the start of a series of rate hikes," said Mark Zandi, chief economist at Moody's Analytics. "Financial markets are buoyant after the election, the economy is very close to full employment and inflation is moving toward the Fed's 2 percent target. All the conditions are in place for higher interest rates."
Other analysts suggest that the ever-cautious Fed will be slow to announce any major policy shifts. For one thing, Trump's economic program still must win congressional approval and could undergo significant change along the way.
In her only public remarks since Trump's election, Yellen told a congressional committee last month that Fed officials will be monitoring Congress' actions and "updating our economic outlook as the policy landscape becomes clearer."
Other Fed officials have endorsed that wait-and-see approach. As a result, when the Fed updates its quarterly forecasts Wednesday, it may indicate little change from its most recent projections in September. Three months ago, the collective forecast of Fed officials was for two rate increases in 2017.
Zandi foresees three rate increases next year. But he thinks the Fed may wait awhile before telegraphing the next hike, given "lots of scenarios and lots of unknowns."
For consumers, rates on home and car loans won't necessarily respond much to Wednesday's expected move by the Fed, which doesn't directly affect them. Long-term mortgages, for example, tend to track U.S. Treasury yields. Those rates have surged since Trump's election, apparently in anticipation of higher federal spending and inflation.
Rates on some other loans, though, like credit cards and home equity credit lines, will likely rise, though probably only slightly as long as the Fed's rate hikes remain modest.
Whether or not Trump's election influences the pace of rate increases, it could nevertheless have a major effect on the Fed itself. Trump will likely replace Yellen as chair when her four-year term ends in February 2018, along with the vice chair, Stanley Fischer, whose term also ends then.
In addition, Trump can begin putting his stamp on the Fed immediately by filling two vacancies on its seven-member board. And one current board member, Daniel Tarullo, who has taken the lead in implementing the Dodd-Frank financial regulation law, would likely leave if Trump chose a Dodd-Frank critic for the board position of vice chair for bank supervision.
It's also possible that a long-standing Republican drive to limit the Fed's powers and independence will gather momentum without a Democratic president to block it. Republican lawmakers want to subject the Fed's decisions to audits, limit its emergency loan powers and require it to use a formula in devising its rate policy.
Yellen has stoutly resisted these changes, arguing that the economy would suffer if investors felt the Fed's independence in setting interest rates had been compromised.
Recent presidents have been careful to respect the Fed's independence. Trump has shown no such hesitancy. During the campaign, he called Yellen "highly political."
"We have just gone through a period when presidents saw that it was better not to interfere with the Fed," said Diane Swonk, chief economist at DS Economics. "Republicans in Congress have been highly critical of the Fed, so a lot will depend on the people Trump selects for the Fed board."