Wisconsin dairy farmers face spoiling market, tight deadline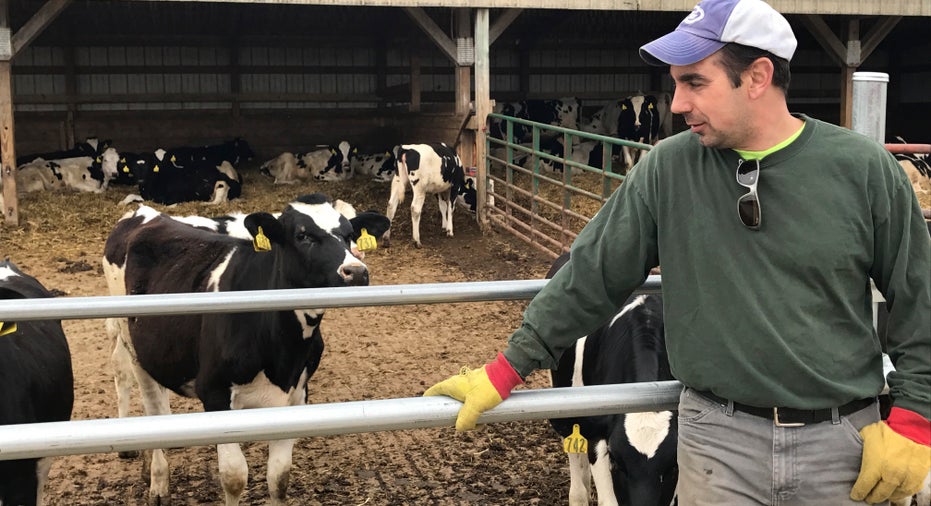 A handful of Wisconsin dairy farmers whose Canada market evaporated in a trade dispute were weighing offers from new buyers on Tuesday, but others were running out of time before an expiring contract risked putting them out of business.
"The milk market is tighter than we expected," said Daniel Smith, a state Department of Agriculture, Trade and Consumer Protection administrator. "It doesn't mean the game's over, but it does mean the clock is ticking."
Smith said about 15 farms that produce ultra-filtered milk were considering offers Tuesday. Even if all those deals are completed, though, 20 to 25 other farms still faced a Monday deadline after Grassland Dairy told several farmers it would stop buying their milk beginning May 1.
As farmers scrambled, Gov. Scott Walker was praising Donald Trump for imposing tariffs on Canadian lumber in the wake of a Canadian dairy pricing change that effectively boxed out imported ultra-filtered milk. The Wisconsin governor said the two men spoke Monday and Tuesday, and Walker took to Twitter to announce it.
"It was great to talk to you this morning," Walker tweeted at Trump. "Thanks for supporting WI dairy farmers!!!"
Trump referenced the crisis on Twitter a day after announcing the tariffs: "Canada has made business for our dairy farmers in Wisconsin and other border states very difficult. We will not stand for this. Watch!"
Walker also said in a news release Tuesday that the Wisconsin Housing and Economic Development Authority is offering dairy farmers and processors better terms on loan guarantees from now until August, which could encourage processors to expand operations to accommodate more milk.
But Tim Prosser, who with his father owns a dairy farm in Columbus, said the loan guarantee changes aren't immediate help to farmers like him faced with the prospect of having nowhere to send their milk starting Monday.
The impacted farms in Wisconsin ranged in size from 12 cows to 3,200 cows. Many have said they'll have no choice but to sell their cows and shut down if they don't find new buyers for their milk and even those who've received offers have to decide if they're financially feasible.
Carrie Mess, a Wisconsin dairy farmer and board member of the Dairy Girl Network, said the Dairy Farmers of America cooperative has made offers to buy milk from several farms. But she said at least some of the offers she's heard about would lock farmers into year-long contracts at terms that would make it hard for them to recoup their production costs.
"It's not ideal, but it's something that can keep the doors open," she said.
A Dairy Farmers of America spokeswoman did not immediately respond to multiple messages confirming the number of offers made or accepted, or the terms of the offers. Smith said he didn't know.
Farms in New York and Minnesota were also affected by the change. Margaret Hart, a spokeswoman for the Minnesota Department of Agriculture said Tuesday Grassland has since agreed to continue buying milk from all the Minnesota farms affected.
Mess reiterated that many Wisconsin farms haven't received any offers and are still desperately seeking buyers.
"There are farms still looking," she said. "This is not the end of the story."
___
Follow Cara Lombardo on Twitter at https://twitter.com/CaraRLombardo