Williams-Sonoma 4Q Tops Views on Internet Sales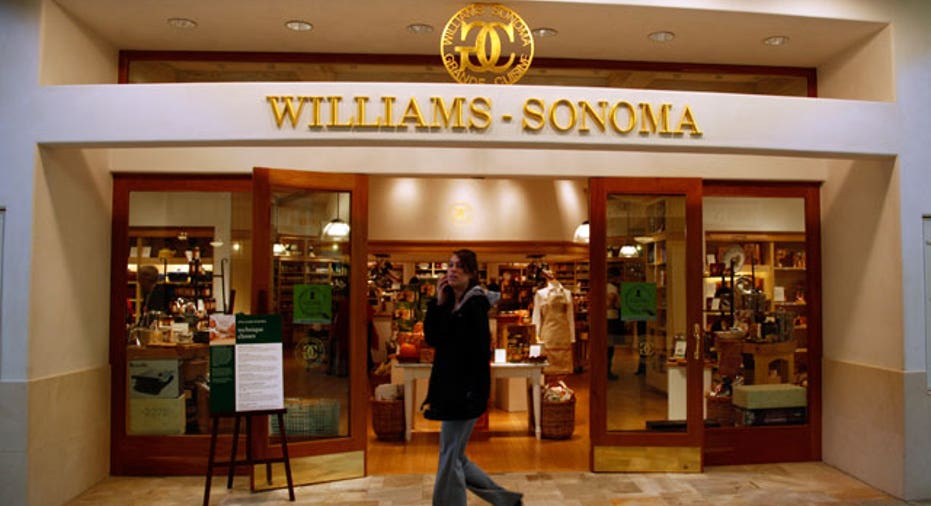 Led by much stronger online sales and higher demand at its more established stores, Williams-Sonoma (NYSEWSM) revealed on Tuesday a stronger-than-expected 28% increase in fourth-quarter profit.
The San Francisco-based company posted net earnings of $113.4 million, or $1.05 a share, compared with $88.4 million, or 81 cents a share, in the same quarter last year.
Excluding one-time items, Williams-Sonoma earned $1.08 a share, ahead of average analyst estimates polled by Thomson Reuters of 98 cents.
Revenue for the home-products retailer, operating under brands such as Pottery Barn and West Elm, was $1.195 billion, up 9.7% from $1.09 billion a year ago, virtually matching the Street's view.
"Fiscal 2010 was a record earnings year for Williams-Sonoma," Laura Alber, the company's chief executive, said in a statement. "Each of our brands is stronger today than a year ago and we made substantial progress on our longer term growth and profitability initiatives."
Sales were fueled by a 27.2% increase in Internet revenue and a 5.2% jump in comparable-store sales, led by its Pottery Barn and Outlet stores. The company said its focus on merchandising, marketing, customer acquisition and customer service helped Williams-Sonoma attract new customers and improve market share.
During the quarter, the company repurchased more than 1.29 million of its shares at an average cost of $34.31 a share, a total cost of $44.3 million, which completed its $65 million stock repurchase program authorized in September. Earlier this year, the company's board authorized a new $125 million buyback program.
The strong results led the company to increase its quarterly cash dividend by 13% to 17 cents a share from its earlier pay-out of 15 cents.
Looking ahead, the company sees fiscal 2011 revenue in the range of $3.635 billion and $3.72 billion. Wall Street is expected earnings of $2.09 a share on revenue of $3.65 billion.