Williams Companies Inc.: Time to Move On?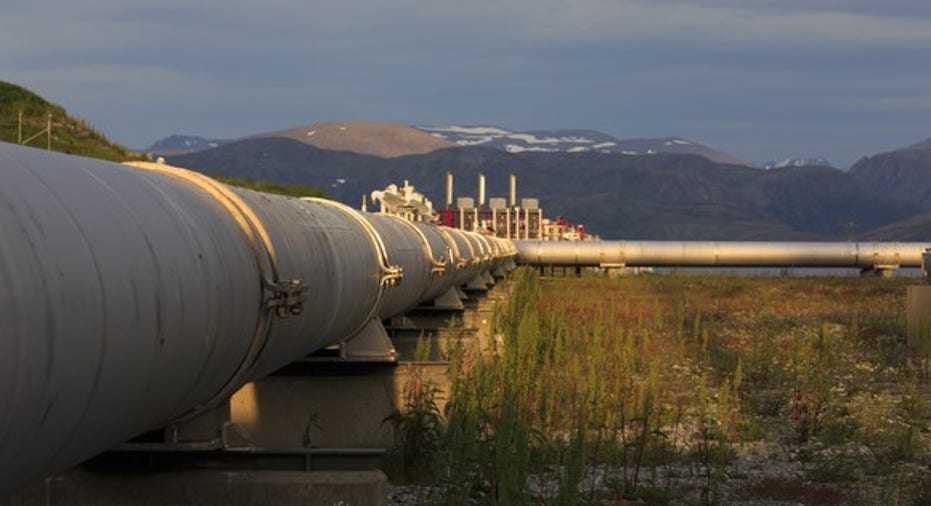 Shares of Williams Companies (NYSE: WMB) are up more than 93% over the past year. That'smainly because the stock got hammered heading into 2016 after the oil market took a turn for the worse, which increased fears that its pending merger with Energy Transfer Equity (NYSE: ETE) could prove disastrous. Those concerns, however, started to fade as the merger came undone, with Energy Transfer Equity ultimately winning court approval to terminate the deal.
Williams would go on to complete a deal of its own, agreeing to a simplification transaction with its master limited partnership,Williams Partners (NYSE: WPZ). As a result, both companies now have a clear plan for the future. These two catalysts lifted the weight that had been holding down Williams's stock, which is why it's up so sharply over the past year. While short-term investors might want to take that money and run, investors with a long-term mind-set ought to stick around. Here's why.
Still cheap compared to its peers
Despite its run-up over the past year, Williams Companies' current valuation is well below its peer group average. In fact, as the chart at the bottom of the following slide shows, the company's valuation is near the bottom of the pack:
Data source: Williams Companies investor presentation.
That valuation discount comes despite making significant progress over the past year to improve the security of its income stream. Going forward, 97% of the cash flow at Williams Partners will be fee-based and regulated, which provides top-tier cash flow stability. Contrast this with ONEOK (NYSE: OKE), which expects to get about 90% of its cash flow from fee-based sources this year. Meanwhile, Energy Transfer Equity's MLPs operate several assets such as gas stations and processing plants that don't generate steady income, which has proven problematic for the company over the past year. As a result, there is a much higher level of confidence that Williams' earnings will hit the mark, which should cause its shares to trade at a premium valuation.
Image source: Getty Images.
Visible growth on the horizon
In addition to the cheaper valuation, Williams' growth forecast is much more of a sure thing than its rivals. The company firmed up its forecast earlier this year by completing a financial repositioning with Williams Partners. That deal positioned Williams Companies to increase its dividend by 50% this year and then 10% to 15% annually over the next several years while maintaining a coverage ratio of more than 1.1 times. Fueling that growth will be increasing future distributions from Williams Partners, with the MLP targeting 5% to 7% annual growth over the next several years from its reset rate. Supporting that distribution growth is a slew of expansion projects already underway on Williams Partners' key Transco system. In fact, the company has contracts to expand the capacity of that system up to 17.7 Bcf/d over the next several years, which is an increase from 11.7 Bcf/d in 2016. Those projects alone represent $5.5 billion of investment capital. In addition, it is working to capture 20 more growth opportunities across that system and two others.
Contrast this visibility with ONEOK, which expects to grow its dividend 21% this year and 9% to 11% annually through 2021 while maintaining 1.2 times coverage. Fueling that growth is the upcoming acquisition of its MLP, which should significantly improve the combined company's credit and coverage metrics. That said, ONEOK's growth project backlog is a bit light on details, with the company reporting $1.5 billion to $2.5 billion of projects under development. While ONEOK certainly could achieve its ambitious growth goals, it doesn'thave a clearly defined backlog like Williams Partners.
Investor takeaway
Williams Companies isn't likely to double again over the next year. However, it still has plenty of upside. Not only does its stock trade at a discount to its peer group -- despite the greater cash flow security -- but it also has clearly visible growth on the horizon as expansion projects at Williams Partners come on line. That's why Williams Companies investors shouldn't move on just yet.
10 stocks we like better than Williams CompaniesWhen investing geniuses David and Tom Gardner have a stock tip, it can pay to listen. After all, the newsletter they have run for over a decade, Motley Fool Stock Advisor, has tripled the market.*
David and Tom just revealed what they believe are the 10 best stocks for investors to buy right now... and Williams Companies wasn't one of them! That's right -- they think these 10 stocks are even better buys.
Click here to learn about these picks!
*Stock Advisor returns as of February 6, 2017
Matt DiLallo has no position in any stocks mentioned. The Motley Fool owns shares of and recommends ONEOK. The Motley Fool has a disclosure policy.