Will You Cancel Your Netflix Subscription Next Month?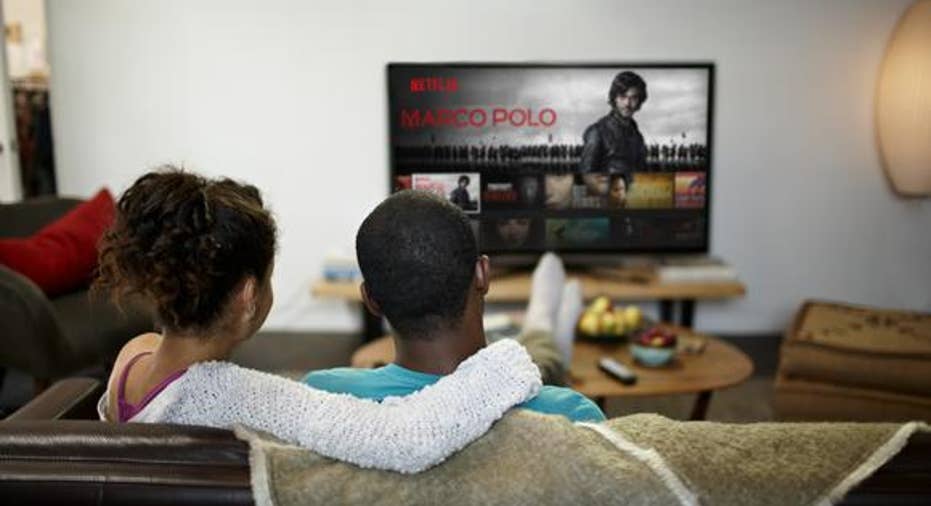 Image source: Netflix.
Longtime Netflix subscribers are in for an unpleasant realization perhaps as soon as next month when their Netflix bill climbs from $7.99 to $9.99. In the company's fourth-quarter letter to shareholders, management noted that the price increase for grandfathered subscribers of Netflix's old rates will come in the second or third quarter.
Netflix subscribers generally don't like price increases. (Remember the Qwikster debacle?) And with a bevy of new streaming options from Amazon , Hulu, and premium cable networks like Time Warner's HBO, Netflix subscribers may opt for something less expensive -- or more valuable.
41% say they'll cancelAnalysts at UBS conducted a survey that found that 41% of Netflix subscribers said they would accept no price increase for Netflix. While it's unclear whether the survey only polled subscribers that would actually be affected by the price increase, UBS is confident customers won't be leaving in droves next month when it believes the price hikes will hit customers' credit cards.
UBS analysts note that Netflix held up considerably well compared to pay TV. Sixty-eight percent of customers say they're unwilling to pay any more for cable, and with all the options available for cord cutters it would seem consumers should have a lot of leverage over the pay-TV companies. Nonetheless, the average cable bill continues to climb (3% to 5% annually) and the industry is losing less than 1% of subscribers.
UBS believes Netflix subscribers will exhibit a similar trait -- all talk, no walk.
It's estimated that 16 million to 17 million subscribers will be affected by the price increase, and UBS believes just 3% to 4% of the affected subscribers will cancel. That's 480,000 to 680,000 subscribers. Considering Netflix added 900,000 US streaming subscribers in the second quarter of last year, up 58% from the previous year, it should still come out well ahead after the price increase.
But what would keep rational subscribers from cancelling?Both Amazon and Hulu have drastically improved their content catalogs over the past couple years. Hulu picked up the Epix content catalog that Netflix dropped at the end of last year. Amazon has made various pacts with content companies, including HBO, to distribute their programming. HBO, Showtime, and Starz have all launched their own over-the-top services to capture the broadband-only market, and they're all priced competitively with Netflix's new $9.99 per month subscription rate. In fact, Amazon Prime, Hulu, and Starz can all be had for less than Netflix now.
But subscribers are attached to Netflix's original programming. Fifty-eight percent of subscribers said they subscribed for Netflix's original content, according to a survey from Cowen & Company. And that number is climbing rapidly, up from just 37% in December 2014.
Netflix's plans to double the number of original series it produces in 2016 is well under way with eight new series premiering this year already. The company is continuing to invest in its content library, outspending everyone with a budget of $5 billion for this year. That kind of spending certainly weighs on profits. However, if it keeps 15 million-plus US subscribers around paying $24 more per year and continues to attract new subscribers abroad, then it's well worth it for investors.
As of the end of last year, Netflix's content obligations stood at $10.9 billion, with the bulk of it due within the next three years. But with the strong potential for Netflix to top 90 million subscribers worldwide this year, it's more than able to cover its current obligations and turn a profit. Analysts currently expect Netflix's profits to remain stable this year before quadrupling in 2017.
Maintaining a strong catalog of original shows is key to sustainable price increases, which is especially important as Netflix saturates the U.S. market. HBO is able to charge a premium ($15 per month) thanks to its original content, and Netflix could ultimately reach pricing parity with the top dog in premium networks if it continues investing in new content at this rate.
The article Will You Cancel Your Netflix Subscription Next Month? originally appeared on Fool.com.
Adam Levy owns shares of Amazon.com. The Motley Fool owns shares of and recommends Amazon.com and Netflix. The Motley Fool recommends Starz and Time Warner. Try any of our Foolish newsletter services free for 30 days. We Fools may not all hold the same opinions, but we all believe that considering a diverse range of insights makes us better investors. The Motley Fool has a disclosure policy.
Copyright 1995 - 2016 The Motley Fool, LLC. All rights reserved. The Motley Fool has a disclosure policy.