Will Whole Foods Market Earnings Wilt?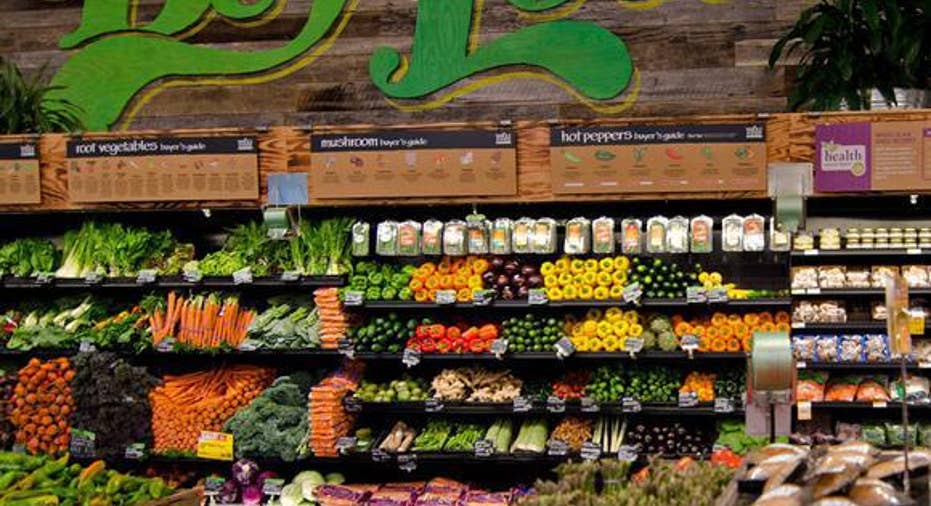 Image source: Whole Foods Market.
When things go wrong for a stock, it can often take a long time for the company to get its momentum back. Whole Foods Market has been going through a tough time lately, working at regaining its position atop the organic and natural foods niche. Yet an onslaught of numerous specialty competitors as well as efforts from mainstream grocer Kroger and others to tap into the high-margin niche have crushed Whole Foods' stock lately, and coming into its May 4 fiscal second-quarter financial report, Whole Foods investors fear that earnings might remain under pressure again this time around. Let's take an early look at the latest from Whole Foods Market to see if the much-anticipated turnaround is going as it expected.
Stats on Whole Foods Market
| | |
| --- | --- |
| Analyst EPS Estimate | $0.41 |
| Change From Year-Ago EPS | (4.7%) |
| Revenue Estimate | $3.75 billion |
| Change From Year-Ago Revenue | 2.8% |
| Earnings Beats in Past 4 Quarters | 1 |
Data source: Yahoo! Finance.
Can Whole Foods keep up its earnings momentum?In recent months, investors have gotten a little more upbeat in their views on Whole Foods earnings, keeping fiscal second-quarter projections unchanged but boosting their full-year fiscal 2016 projections by $0.02 per share. Nevertheless, the stock has remained in the doldrums, bouncing by just 2% since late January.
The fiscal first-quarter results in February didn't give investors everything they had wanted to see, but they did awaken hopes that the grocery giant could finally be nearing a bottom. Revenue was up 3%, and although net income fell 6%, a substantial reduction in the number of shares outstanding allowed Whole Foods to keep its earnings per share unchanged compared to year-ago levels. Nevertheless, comparable-store sales remained weak, falling 1.8% even after adjusting for currency impacts, and a poor start to the fiscal second quarter also weighed on investor sentiment. Shareholders tried to put their faith in the company's suggestion that the second half of the year would improve, but there's still a lot of uncertainty for Whole Foods.
Whole Foods has also kept working at ways to reach out to its customer base. The grocer believes that its new 365 store concept will be attractive to demographic groups that it traditionally hasn't targeted, especially millennials. The first 365 store should open sometime in May, and an outside partnership with restaurant business By Chloe is just one example of how Whole Foods is reaching out to independent entrepreneurs in order to take advantage of its brand awareness and get more shoppers to come through its doors. The hiring of professional chef Tien Ho will boost Whole Foods' prepared-food exposure, and the company is also working harder at making delivery options more viable and popular. At the same time, initiatives designed to bring certain prices down could help change Whole Foods' customer perception as an expensive place to shop.
Perhaps more importantly, Whole Foods is trying to find a way to thread the needle between differentiating itself from mainstream grocers like Kroger and still appealing to a mass-market audience. Traditionally, Whole Foods has offered a more extensive selection of natural and organic foods than Kroger, but Kroger has been able to offer its more limited selection at a more competitive price. Smaller 365 stores could allow Whole Foods to take on Kroger while still maintaining the broader selection at namesake Whole Foods stores to cater to its core clientele.
In the Whole Foods earnings report, investors need to see progress on the grocery's efforts to keep Kroger and other competitors at bay through its reinvented strategic plans. Ongoing weakness in comparable-store sales would make many investors nervous about the sustainability of Whole Foods' competitive advantage. The longer it takes for Whole Foods to start moving forward again, the more damage could be done to its brand in the long run.
The article Will Whole Foods Market Earnings Wilt? originally appeared on Fool.com.
John Mackey, co-CEO of Whole Foods Market, is a member of The Motley Fool's board of directors. Dan Caplinger owns shares of Whole Foods Market. The Motley Fool owns shares of and recommends Whole Foods Market. Try any of our Foolish newsletter services free for 30 days. We Fools may not all hold the same opinions, but we all believe that considering a diverse range of insights makes us better investors. The Motley Fool has a disclosure policy.
Copyright 1995 - 2016 The Motley Fool, LLC. All rights reserved. The Motley Fool has a disclosure policy.