Will Wall Street Sink Tesla Motors' Purchase of Solar City?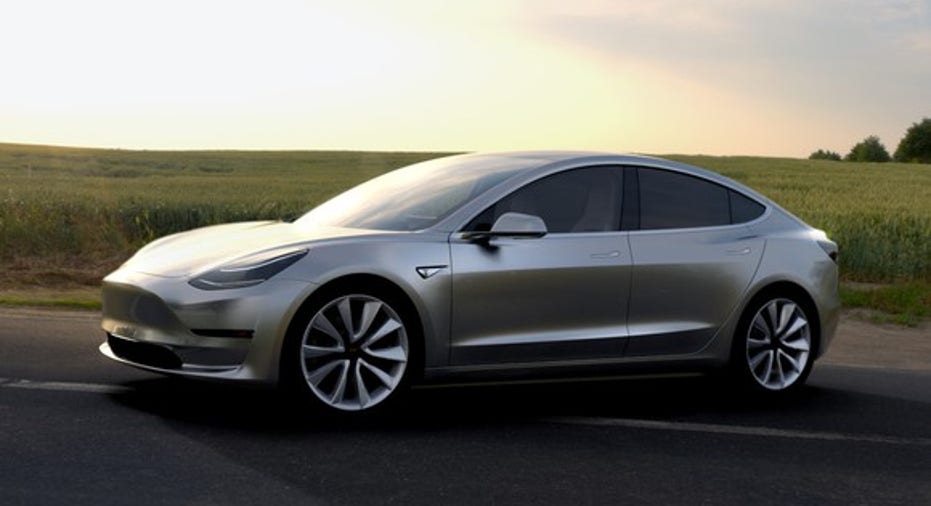 Some analysts are concerned the Solar City deal willdistract from Tesla's efforts to bring the Model 3 sedan to market. Image source: Tesla Motors.
Criticism of Tesla Motors' proposed purchase of Solar City is mounting fast. So fast, in fact, that it's possible the deal will be scuttled.
A lot of the criticism is taking a near-term view, expressing concerns about integrating Solar City's business (and debt) with Tesla at this particular moment. But as is so often the case, Tesla CEO Elon Musk is arguing for the deal from a long-term view that discounts near-term challenges.
It has always required a leap to see what Musk is seeing, and there have been plenty of investors willing to make those leaps with Musk. But some big voices are balking at this one.
One of the loudest Tesla bulls doesn't like this deal
The latest (as I write this on Thursday morning) concerns came from longtime Tesla bull Adam Jonas. The Morgan Stanley auto-industry analyst has sung the praises of Elon Musk and Tesla for several years now. But on Thursday, he dropped his bullish "overweight" rating on the Silicon Valley automaker to "equal weight" and cut his price target to $245 from $333. (That's still a nearly 25% premium over Tesla's closing price on Wednesday, but for Jonas, it's positively bearish.)
Simply put, Jonas thinks the deal adds risk to Tesla as an investment without adding to its core business. He argues that Tesla's stock price should be discounted to account for the risk. "While there may be long-term commercial and strategic rationale for combining TSLA and SCTY," he wrote, "the opportunity may not adequately compensate TSLA investors for the added risk/cash consumption. Moreover, we don't believe SCTY will help TSLA make better cars." (Emphasis added.)
Jonas joined a chorus of Wall Street analysts who have expressed concerns about the deal. Some worry the deal will distract Tesla from the all-important work of bringing the upcoming Model 3 sedan to market, while others simply feel the returns from the acquisition are unlikely to justify the investment.
Concerns are also being raised by analysts who follow Solar City. My Foolish colleague Simon Erickson argues that Tesla's offer for the solar-panel company is "far too low" given the company's potential. Others, including the Fool's Travis Hoium, have expressed concerns about Solar City's high debt load and the nearly constant need for funding imposed by its sales model.
Could the deal be withdrawn before it ever gets to a vote?
Not surprisingly, Solar City's shares jumped in after-hours trading on Tuesday after the deal (which offered a significant premium over Tuesday's closing price) was announced. But as of Thursday morning, the shares had given up all of that gain and had slipped slightly below Tuesday's closing price. That suggests the market now thinks the deal won't happen.
If Tesla and Solar City decide to proceed, the next steps will involve presenting the deal's financial details to shareholders of both companies, who will then vote on whether to approve the deal.
It's still possible the deal will go forward, and that it will work out well for all concerned in the long run, just as Musk hopes. But right now, it looks more likely than not that the deal will be withdrawn before it ever gets to a vote.
The article Will Wall Street Sink Tesla Motors' Purchase of Solar City? originally appeared on Fool.com.
John Rosevear has no position in any stocks mentioned. The Motley Fool owns shares of and recommends SolarCity and Tesla Motors. Try any of our Foolish newsletter services free for 30 days. We Fools may not all hold the same opinions, but we all believe that considering a diverse range of insights makes us better investors. The Motley Fool has a disclosure policy.
Copyright 1995 - 2016 The Motley Fool, LLC. All rights reserved. The Motley Fool has a disclosure policy.