Will Virtual Reality Be the Next Nail in GoPro's Coffin?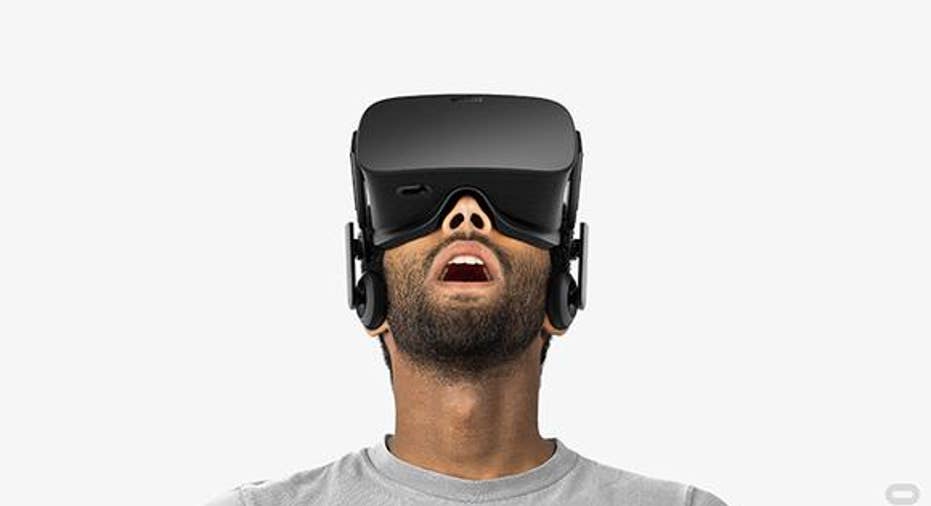 Source: Oculus.
It's a fair bet that virtual reality will be a big theme this holiday shopping season. The fireworks will begin as early as later this month when Facebook's Oculus rolls out its $599 Rift headset. It hits the market on March 28 -- but that's not the case if you're deciding that you want one now.
Demand has been so hot for Facebook's virtual reality headset that orders being placed now won't ship until July. Oculus is the name the market associates with consumer-oriented VR, but it won't be alone.
This week it was Sony showing off PSVR, its PlayStation VR headset. It will hit the market at just $399 in October. Sony's appeal -- beyond the price -- is that the device will be ready to go with a PS4 and a PS4 camera accessory. There are more than 36 million PS4s out there, giving it a huge potential audience out of the gate. Another advantage for Sony over Facebook's Oculus Rift, or the $799 HTC Vive, is that those platforms are fueled by high-end gaming PCs.
Lost in all of this, of course, is GoPro . The leading maker of wearable cameras was the market darling of the 2014 holiday shopping season. Its HERO line of strap-on cameras dominated the market in the area of $399 gadgetry. GoPro's sales posted a 75% year-over-year surge during the 2014 holiday quarter.
A lot changed a year later. The similarly priced big-ticket items on holiday wish lists this past season were hoverboards, smartwatches, drones, and smartphones. Tastes change, and this time it translated into a 31% plunge in sales at GoPro.
Analysts see a 15% decline for all of 2016, but that consists entirely of sharp declines through the first half of the year. Wall Street pros see a resumption of growth during the latter half of the year, but if demand cooled for GoPro last holiday season, why will things be any different this time around?
Hoverboards may have a whiff of "flash in the pan" to them, but can the same thing be said about the other items? Tack on Sony, Facebook, HTC, and others jumping into virtual reality, and there will be even more shiny objects wooing holiday shoppers.
It also doesn't help that GoPro's target audience is the same group of young males who also happen to be diehard gamers. The PS4 crowd will gravitate to PSVR. The Xbox One crowd will be won over by Oculus Rift, which actually comes with an Xbox One controller. GoPro may have new products that it hopes returns the brand to its former glory, but bouncing back in what will be a very competitive market for big-ticket gadgetry may be more virtual than reality.
The article Will Virtual Reality Be the Next Nail in GoPro's Coffin? originally appeared on Fool.com.
Rick Munarriz has no position in any stocks mentioned. The Motley Fool owns shares of and recommends Facebook and GoPro. Try any of our Foolish newsletter services free for 30 days. We Fools may not all hold the same opinions, but we all believe that considering a diverse range of insights makes us better investors. The Motley Fool has a disclosure policy.
Copyright 1995 - 2016 The Motley Fool, LLC. All rights reserved. The Motley Fool has a disclosure policy.