Will Valero Energy Corporation Raise Its Dividend in 2016?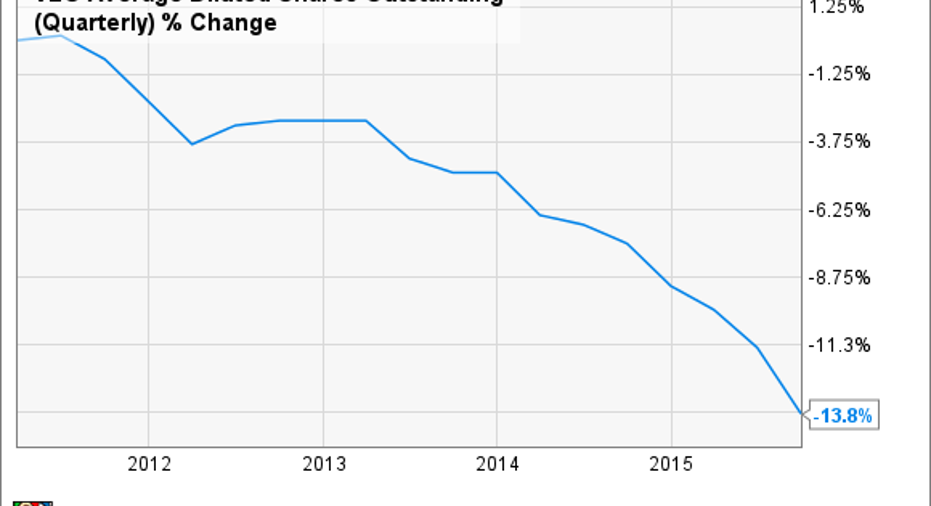 Last year was an awful one for income investors after a number of energy companies reduced or suspended dividend payouts because of the continued downturn in the oil price. Valero Energy , however, was one of the few bright spots in the sector after it gave its investors not one, but two dividend increases, with the overall payout surging 80%. In boosting its payout, the company continued its trend of consistently growing its dividend each year:
It's a trend that shows no signs of ending in 2016. Not only is the current operating environment for refiners very lucrative, but Valero has a number of capital allocations drivers that should provide it with more fuel for future dividend increases.
It's a great time to be a refinerLast year was a banner year for refiners in large part because of robust gasoline demand, which grew at three times its historic rate. Because of this, last quarter alone, Valero's refining segment generated $2.3 billion in operating income, which was $631 million ahead of the year-ago quarter. Thanks to strong gasoline margins, Valero captured a throughput margin of $14.38 per barrel, which was $2.56 margin per barrel above the prior year.
That strong operating environment isn't showing any signs of letting up. Valero Energy CEO Randy Gorder noted last quarter that the company was already "seeing good seasonal demand for our products in the fourth quarter." Further, analysts believe that gasoline demand could remain strong this year given the renewed weakness in the oil price, which is expected to keep a lid on gas prices.
Smart allocatorIn addition to the robust cash flow coming into the company from its strong refining margins, Valero also has cash coming in via drop-down transactions with its MLP Valero Energy Partners . Last year, the company was able to sell $1.14 billion in assets to Valero Energy Partners, which was just above its $1 billion target. Looking ahead, the company has a number of additional assets that it can drop down to Valero Energy Partners, including 1,200 miles of pipelines, 80 million barrels of storage capacity, crude unloading facilities, and marine assets.
Valero is doing two things with these cash inflows, other than paying a strongly growing dividend. It's investing a portion of the cash to grow its asset base, with the company's recent investments in two crude topping units at its Corpus Christi and Houston Refineries coming online in the first quarter of 2016. Beyond that, Valero has a number of investments planned for 2016, with 55% of its growth-focused spending in 2016 geared toward investments in MLP-type assets that could be dropped down to Valero Energy Partners. Meanwhile, the other 45% of its investments are related to asset optimization, which are fast payback projects that earn a minimum 25% internal rate of return. In other words, these projects beget more cash for the company, which increases its ability to pay a higher dividend.
Another important part of Valero's capital allocation strategy is to buy back its stock, which it believes is undervalued relative to its peers. Last quarter alone, the company bought back $1.1 billion in stock, which has enabled it to meaningfully reduce its share count.
VLO Average Diluted Shares Outstanding (Quarterly) data by YCharts.
This share count reduction is a net positive for the dividend because it reduces the required cash outlay of the dividend. To put that into perspective, if Valero didn't buy back any stock last year, its current quarterly dividend outlay would be roughly $258.8 million. However, after accounting for the reduced share count over the past year, its current dividend outlay is roughly $247 million per quarter, which is an $11.8 million difference. The implication is that the company could conceivably continue paying the same net cash amount each quarter while still increasing the dividend on a per-share basis simply because the share count is falling.
Investor takeawayValero's dividend appears poised to continue to grow in 2016. While the payout might not grow by 80% again, it should still grow by a meaningful amount. That's because the current operating environment is really robust, and the company is strategically allocating its capital to either grow its cash inflows or reduce its dividend outlays on a per share basis, all of which can fuel future dividend increases.
The article Will Valero Energy Corporation Raise Its Dividend in 2016? originally appeared on Fool.com.
Matt DiLallo has no position in any stocks mentioned. The Motley Fool has no position in any of the stocks mentioned. Try any of our Foolish newsletter services free for 30 days. We Fools may not all hold the same opinions, but we all believe that considering a diverse range of insights makes us better investors. The Motley Fool has a disclosure policy.
Copyright 1995 - 2016 The Motley Fool, LLC. All rights reserved. The Motley Fool has a disclosure policy.