Will This Study Finally Catapult Gilead Sciences Into a Cancer Powerhouse?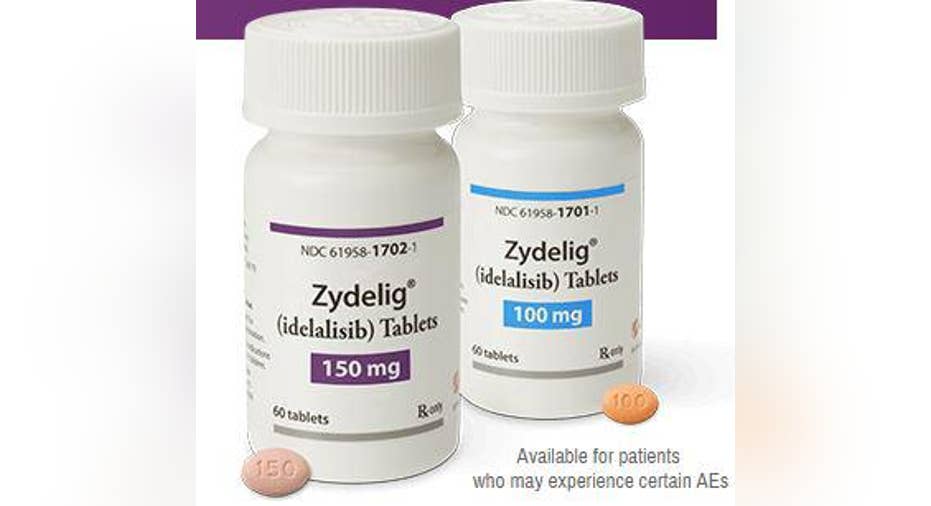 Source: Gilead Sciences
Gilead Sciences is best known for its top-selling HIV and hepatitis C drugs, butthe FDA approval of Zydelig in 2014 means the company is also trying to build up its chops in cancer treatment.
So far, Zydelig has been a bit of a commercial dud, but recently reported data could change that situation if it causes Zydelig to capture a larger share of the market for recurring or relapsing chronic lymphocytic leukemia, or CLL.
Source: Gilead Sciences
Expanding accessCurrently, Zydelig is only approved to treat relapsing/recurring CLL in patients who would be dosed with Rituxan alone. That's a pretty small addressable market, because Rituxan is often dosed in that setting alongsideTeva Pharmaceuticals' chemotherapy, Treanda.
As a result, Zydelig sales totaled just $36 million in the third quarter and only $92 million through the first nine months of 2015. That pales in comparison with AbbVieand Johnson & Johnson's Imbruvica, a drug that won FDA approval for CLL around the same time as Zydelig but that can be used in more patients than Zydelig. In the third quarter, sales of Imbruvica were $304 million.
However, Gilead Sciences recently reported that combining Zydelig with Rituxan and Treanda significantly improved progression-free survival.
Specifically, the triplet therapy delayed disease progression for a median 23.1 months, versus 11.1 months for Rituxan and Treanda alone.
Gilead Sciences also reports that using the three drugs together reduces disease progression by 50% more than Rituxan and Treanda in patients harboring the tough-to-treat 17p or TP53 genetic mutations.
Overall survival -- the holy grail of cancer-drug development -- also improved when Zydelig was added to Rituxan and Treanda. In patients treated with all three drugs, there was a 45% reduction in risk of death versus the Rituxan and Treanda arm of the study, and the overall response rate to the therapy was 68% for the Zydelig cohort and 45% for the control arm.
Following those results, Gilead Sciences expects to ask the FDA early next year to expand Zydelig's label to include its use with Rituxan and Treanda.
Marketplace uncertaintyAlthough Gilead Sciences plans to file for supplementary approval of Zydelig for use with Rituxan and Treanda soon, it's not clear how widely used this triplet could become.
Since Rituxan is a billion-dollar blockbuster drug and Treanda's sales top $200 million per quarter, Zydelig may be in a position to see its sales jump significantly, but that will depend a great deal on how the market for Imbruvica shapes up.
Imbruvica is already approved for use in patients who have been treated at least once previously, and earlier this year, AbbVie offered up results from a trial exploring the use of Imbruvica with Rituxan and Treanda, too.
In that trial, adding Imbruvica to Rituxan and Treanda reduced the risk of disease progression or death by 80%, and the overall response rate to Imbruvica was 82.7%, versus a 67.8% overall response rate for Rituxan and Treanda therapy.
In addition to the fact that Imbruvica may have comparable or better efficacy in this triplet, Imbruvica may have safety and dosing advantage as well. That's because Zydelig has a black-box warning of liver toxicity that Imbruvica doesn't have on its label, and Imbruvica is taken once daily while Zydelig is taken twice daily.
Looking aheadZydelig and Imbruvica's trial progress suggest that chemotherapy is going to play an increasingly smaller role in treating CLL.
Studies are evaluating Zydelig in previously untreated patients and earlier this month, AbbVie announced that using Imbruvica in previously untreated patients significantly outperformed chemotherapy, the current standard of care in the first-line setting. In its trial, the risk of disease progression or death on Imbruvica fell by 84% versus chemotherapy, and 98% of Imbruvica patients were alive at the two-year mark, versus 85% of chemotherapy patients.
Those results may indicate that Imbruvica will soon displace chemotherapy in the first-line setting, and if so, it could open up the second-line market to a Zydelig containing combination therapy. That would certainly help boost Zydelig's sales, so investors will want to keep tabs on both of these drugs.
The article Will This Study Finally Catapult Gilead Sciences Into a Cancer Powerhouse? originally appeared on Fool.com.
Todd Campbellowns shares of Gilead Sciences. Todd owns E.B. Capital Markets, LLC. E.B. Capital's clients may have positions in the companies mentioned.The Motley Fool owns shares of and recommends Gilead Sciences. The Motley Fool recommends Johnson & Johnson and Teva Pharmaceutical Industries. Try any of our Foolish newsletter services free for 30 days. We Fools may not all hold the same opinions, but we all believe that considering a diverse range of insights makes us better investors. The Motley Fool has a disclosure policy.
Copyright 1995 - 2015 The Motley Fool, LLC. All rights reserved. The Motley Fool has a disclosure policy.