Will These Game-Changing Cancer Treatments Hit the Market in 2016?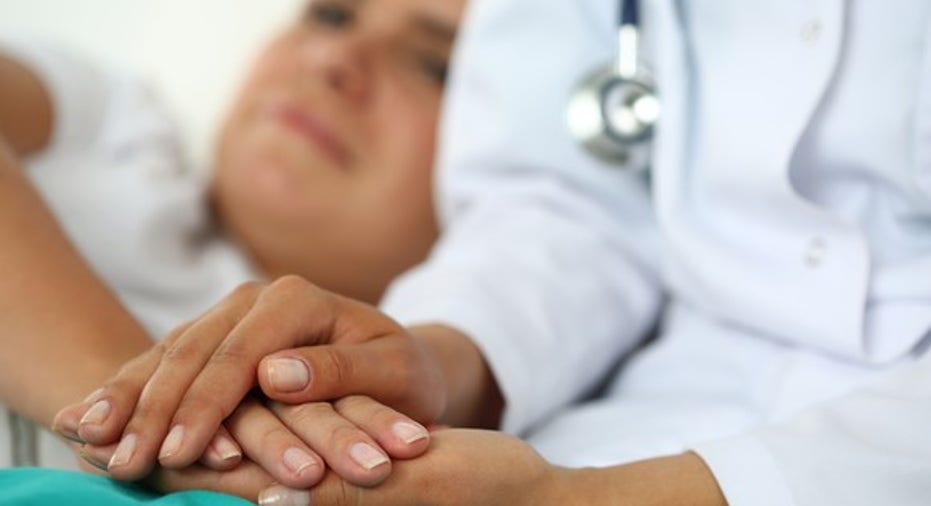 The standard of care for cancer patients is currently undergoing a fundamental paradigm shift that's still largely unheard-of among the general public -- despite the avalanche of stories about how former President Jimmy Carter's advanced skin cancer miraculously went into remission, thanks in no small part toMerck's drug Keytruda.
Cancer immunotherapies -- that is, treatments that stimulate a person's immune system or direct an attack against a tumor -- such as Keytruda are expected to become the predominant form of treatment as early as 2030. Simply put, these drugs have the potential to phase out, or at least minimize, the use of age-old chemotherapies that have barely improved the outcomes of most malignancies over the past 50-plus years.
The excitement about cancer immunotherapies stems from their recent clinical successes in treating a variety of hard-to-treat malignancies, including non-small-cell lung, kidney, and skin cancer, among others. This first major wave of immune-oriented cancer drugs centers on the concept of "checkpoint inhibition." Checkpoint inhibitors -- such as Merck's Keytruda andBristol-Myers Squibb's competing drug, Opdivo -- target cells that express the PD-1 (programmed cell death-1) protein that allows tumor cells to evade immune detection.
While this "brakes-off" approach to fighting cancer is seemingly best suited to treating patients with tumors that heavily express the PD-1 protein, the results have nonetheless been stunning, leading to unprecedented response levels across a host of cancers. As a result, the U.S. Food and Drug Administration has granted Bristol's Opdivo multiple accelerated approvals in perhaps record time for any novel medicine, and Merck's Keytruda isn't far behind in this regard.
The second wave of cancer immunotherapies is near
Although the biopharma industry is currently pursuing multiple lines of research, the next big step forward for cancer immunotherapy is widely expected to come from thearea known aschimeric antigen receptor (CAR) transduced T cells.CAR-Ts are made by extracting a patient's T cells from his or her blood and then using a viral vector to get the cells to express a receptor associated with a specific cancer antigen. These modified cells are then infused back into the patient, where they are then able to recognize and eliminate the cancerous cells of interest.
Source: Kite Pharma.
The lowdown is that CAR-Ts aren't exactly a new idea, but researchers seem to think that they can finally mitigate their deadly side effects such as cytokine release syndrome and neurotoxicity to produce a commercially viable product. And that's great news because the early clinical results have suggested that CAR Ts could be a game-changer for a number of blood-based cancers that have few, if any, treatment options at the moment.
As it stands now, Kite Pharma , Juno Therapeutics , and Novartis are leading the race to bring the first FDA-approved CAR T cell therapy to market. Specifically, Kite is on track toreport top-line data from an ongoing mid-stage study assessing KTE-C19 in aggressive non-Hodgkin lymphoma patients before year's end, putting a possible regulatory filing in play by 2017.
Novartis has stated that its lead CAR T cell therapy product candidate, CTL019, could generate two regulatory filings next year: one for pediatric acute lymphoblastic leukemia and another for diffuse large B-cell lymphoma. That said, Novartis has been nowhere near as vocal as Kite or Juno about its CAR T program, meaning that the details are still somewhat fuzzy about CTL019's progress.
Finally, Juno recently reported in its first quarter earnings call that its most advanced CAR T therapy,JCAR015, may progress through the clinic quickly enough to make it on the market as a treatment for acute lymphoblastic leukemia by 2017.
So while these potentially revolutionary cancer treatments won't be commercially available this year, there's a good chance that multiple CAR T cell therapies could hit the market in 2017.
What's next?
The biggest impediment toward a regulatory approval for one or all of these CAR T cell product candidates emanating from Kite, Juno, and Novartis seems to be their questionable safety profiles. After all, multiple patients have died from side effects associated with CAR T cell therapies in the past. To avoid these undesirable side effects, most companies have been focusing initially on the dosing regimens of their respective product candidates, which has led to mixed results, quite frankly. Going forward, however,the next generation of CAR Ts should tend to come with so-called "safety switches" that can be triggered by a small molecule in case an adverse event crops up following treatment.
Until these serious safety concerns are put to rest, though, the FDA is likely to take an overtly cautious approach with CAR Ts during this first round of upcoming regulatory reviews. While the FDA might not issue an outright rejection for these potential game-changing treatments indicated for diseases that are downright fatal in their own right, investors and patients alike shouldn't be surprised if their use is substantially limited by burdensome labels due to these outstanding safety concerns -- at least at first. The bottom line is that the widespread use of CAR-Ts will probably depend on the success or failure of the molecular switching technology that is rapidly evolving right now.
On the bright side, some researchers are hopeful that these safety problems can be overcome, possibly transforming CAR T cell therapy into a functional cure for many blood-based cancers in the process.
The article Will These Game-Changing Cancer Treatments Hit the Market in 2016? originally appeared on Fool.com.
George Budwell has no position in any stocks mentioned. The Motley Fool recommends Juno Therapeutics. Try any of our Foolish newsletter services free for 30 days. We Fools may not all hold the same opinions, but we all believe that considering a diverse range of insights makes us better investors. The Motley Fool has a disclosure policy.
Copyright 1995 - 2016 The Motley Fool, LLC. All rights reserved. The Motley Fool has a disclosure policy.