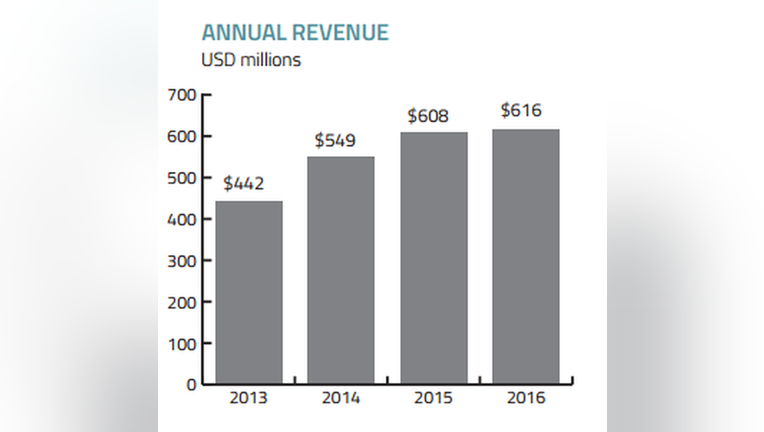 Sierra Wireless (NASDAQ: SWIR) is right in the middle of the Internet of Things (IoT) boom, but it has somehow failed to translate the opportunity into revenue growth. The company has a 33% share of the machine-to-machine (M2M) communications market, but this is not taking it anywhere as its top line stagnated in fiscal year 2016.
Image Source: Sierra Wireless.
After posting growth of about 11% in 2015, revenue inched up just over 1% last year, continuing a steady decline in the rate of growth since 2013. Meanwhile, the IoT marketclocked annual growth of 30% in the past five years and is expected to maintain that pace through 2020.
As it turns out, Sierra Wireless' biggest business -- OEM solutions -- has been the primary culprit. Revenue from this segment, which represents 84% of the total business, was down 1.3% in 2016 due to reduced demand from its larger customers. Recent developments, however, indicate that the OEM solutions business is on track for a turnaround this year.
Why OEM solutions will bounce back in 2017
Sierra Wireless has made a slew of improvements to its OEM solutions business and recently landed a big contract withVolkswagen (NASDAQOTH: VLKAY). The German auto giant will be using Sierra's high-speed AR series cellular modems to connect its cars securely to the cloud through its Car-Net platform.
Volkswagen uses this platform to provide vehicle connectivity services such as remote access, diagnostics, maintenance, and access to apps through Android Auto or Apple CarPlay. Sierra's high-speed cellular connectivity modules and integrated 4G services will allow Volkswagen to deliver a better experience to customers using its platform.
This contract is a major win for Sierra Wireless and its sluggish OEM solutions business. Volkswagen is the world's biggest automaker, selling 10.3 million vehicles last year. It is now working to enhance the appeal of its cars by offering fast connectivity and features likeAmazon'sAlexa voice assistant.
Image Source: Sierra Wireless.
The connected car services market will grow at a compound annual rate of 31% until 2020 when it will be worth as much as $41 billion, according to SNS Telecom Research.
Volkswagen will play a big role in driving this trend as subsidiaries such as Seat go all out to connect their cars to the internet by next year. This conforms to the company's timeline of deploying Sierra's 4G modules to several of its models from 2018 onward. In turn, Sierra Wireless will receive a much needed shot to the arm for its OEM solutions business.
The telematics market could also be a big deal
As it turns out, the automaker is not only using 4G hardware from Sierra Wireless but also its Legato platform, which will power Volkswagen's automotive telematics functions. Legato will allow the building and hosting of third-party applications right on its wireless module in Volkswagen cars.
Reportbuyer estimatesthat the global automotive telematics market will grow at 27% annually until 2021 -- when it will be worth $55 billion -- thanks to the adoption of integrated wireless communications systems. Sierra Wireless should make the most of this opportunity as its telematics products cover diverse applications such as fleet tracking and vehicle tracking after the acquisition of GenX Mobile last year.
Sierra has integrated GenX into its enterprise solutions business, and this is having a positive impact on the segment. The company's enterprise solutions revenue increased 13% year-over-year in 2016, reversing a 12% decline from the previous year.
This contract win with Volkswagen should help the company further develop its enterprise solutions business, while OEM solutions will benefit from an increase in the sales of 4G modules. In fact, these two business segments delivered half of Sierra's design wins last quarter. The traction gained by these two businesses, along with the rapid growth of the overall markets, should eventually allow Sierra Wireless to accelerate its top line growth in the future.
10 stocks we like better than Sierra WirelessWhen investing geniuses David and Tom Gardner have a stock tip, it can pay to listen. After all, the newsletter they have run for over a decade, Motley Fool Stock Advisor, has tripled the market.*
David and Tom just revealed what they believe are the 10 best stocks for investors to buy right now... and Sierra Wireless wasn't one of them! That's right -- they think these 10 stocks are even better buys.
Click here to learn about these picks!
*Stock Advisor returns as of February 6, 2017
Harsh Chauhan has no position in any stocks mentioned. The Motley Fool owns shares of and recommends Amazon, Apple, and Sierra Wireless. The Motley Fool has the following options: long January 2018 $90 calls on Apple and short January 2018 $95 calls on Apple. The Motley Fool has a disclosure policy.