Will The Walt Disney Company Raise Its Dividend in 2016?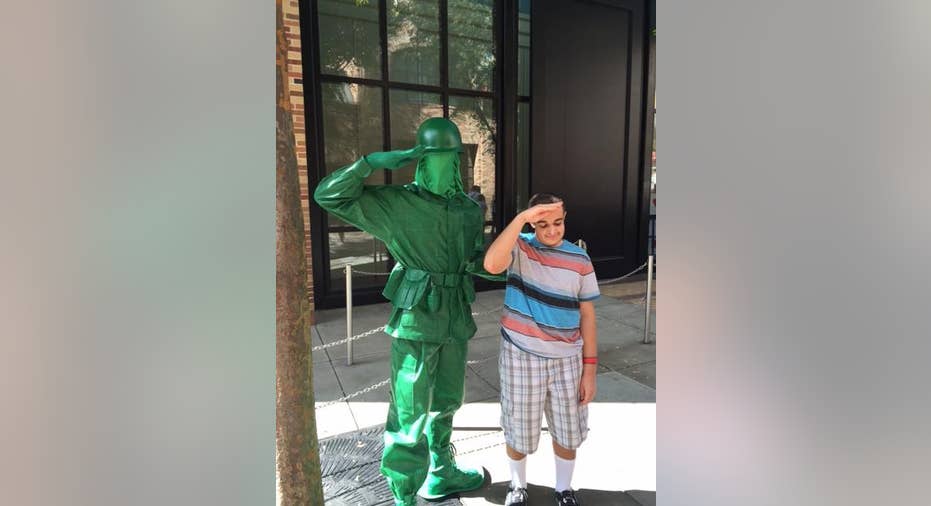 Image source: Author.
Income investors don't naturally gravitate to Walt Disney. The media giant's current yield of 1.25% isn't going to generate a lot of pocket change.
Disney also isn't one of those dividend aristocrats with a track record of annual hikes that stretches into the decades. Disney's annual distribution stood at $0.21 a share for several years before climbing to $0.24 a share in 2014. It held firm with its rate during the global recession, shelling out the same $0.35 a share in 2007, 2008, and 2009.
However, a lot has changed at the House of Mouse since then, making it incredibly likely that another boost to its distributions will take place in the year ahead. Let's go over a few of the reasons why the only real surprise here would be if Disney doesn't jack up its dividend in 2016.
Recent history is on Disney's sideThe leader in family entertainment has had its distractions when it comes to capital allocation over the years. It has shelled out billions to acquire Pixar, Marvel, and more recently Lucasfilm. It has invested billions in its theme park empire, including a reportedly $1 billion bet on the MyMagic+ technology that lets Disney World guests go through turnstiles, reserve expedited queues ahead of time, and eventually receive more customized in-park interactions.
Disney has also been eating its own cooking. Its outstanding share count has declined in back-to-back fiscal years as it buys back stock.
However, Disney has also returned more money to its shareholders in the form of increased distributions. I touched on how Disney's annual rate froze at $0.35 a share through the global banking crisis, but let's see what has happened since then.
2009: $0.35 a share
2010: $0.40 a share
2011: $0.60 a share
2012: $0.75 a share
2013: $0.86 a share
2014: $1.15 a share
Earlier this calendar year we saw Disney shift from annual payouts to semi-annual distributions. It declared a $0.66 a share disbursement for the first half of fiscal 2015, implying an annual rate of $1.32 a share. However, it just shelled out $0.71 a share for the second half of the year, bumping that annual rate to $1.42 a share.
So Disney has actually come through with seven increases over the past six years, and we're talking about a payout that has actually more than quadrupled in that time.
Disney's future is brightJuicing up its distributions fourfold since 2009 may seem aggressive, but there's plenty of room for the disbursements to expand. Its payout ratio -- the percentage of its earnings being returned to stakeholders in the form of cash distributions -- is less than 37%.
Disney's financial prospects continue to improve. Analysts see revenue and earnings climbing 7% and 10%, respectively in fiscal 2016. Between Star Wars: The Force Awakens later this month, the opening of Shanghai Disneyland early next year, and major theme park additions in the works, it will be hard for Disney not to justify an even meatier payout. It may even follow fiscal 2015's lead and increase its rate twice. Disney's yield may not seem like much, but after a fourfold pop in its rate over the past six years, the chances are great that we'll see even fatter dividend checks in 2016.
The article Will The Walt Disney Company Raise Its Dividend in 2016? originally appeared on Fool.com.
Rick Munarriz owns shares of Walt Disney. The Motley Fool owns shares of and recommends Walt Disney. Try any of our Foolish newsletter services free for 30 days. We Fools may not all hold the same opinions, but we all believe that considering a diverse range of insights makes us better investors. The Motley Fool has a disclosure policy.
Copyright 1995 - 2015 The Motley Fool, LLC. All rights reserved. The Motley Fool has a disclosure policy.