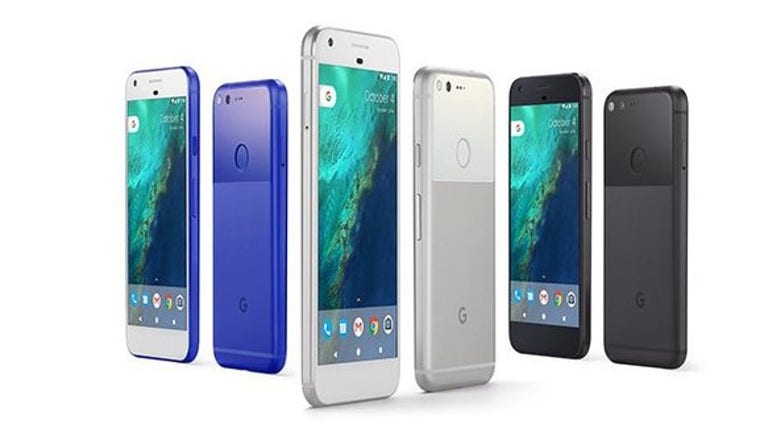 Image source: Google.
When Alphabet's (NASDAQ: GOOG) (NASDAQ: GOOGL) Google unveiled its fancy new Pixel phone in October, which overall looks like a strong smartphone, there was one bizarre anachronism associated with the device: it was launching as a Verizon (NYSE: VZ) exclusive. Well, at least in terms of distribution, as Big Red was the only U.S. carrier that would sell the Pixel at its retail store, even though technically the device is supported on all four major carriers.
Android Police reported earlier this week that T-Mobile (NASDAQ: TMUS) is planning on rolling out Pixel displays at its retail locations. But here's the rub: The Un-carrier will only be displaying the Pixel, and won't be actively selling the device. What gives?
Look but don't buy
T-Mobile sales reps will reportedly encourage interested customers to purchase the device directly from Google's online store. T-Mobile has been offering a Pixel promotion for a couple months, giving $325 to anyone that brings a Pixel to T-Mobile's network. The promotion value is spread out over two years via monthly bill credits, which is T-Mobile's way of making sure customers stick around.
"Verizon is spending millions to convince people that Google's Pixel is 'only on Verizon'and it is just not true," a T-Mobile spokesperson told FierceWireless. "The Pixel works great on T-Mobile with unlimited high-speed data and a faster, more advanced LTE network.Buy one from Google or buy one from Verizon and bring it on over."
It goes without saying that this is an inconvenient solution for T-Mobile customers, who would much rather just buy the device directly from T-Mobile in a seamless transaction. Instead, customers have to buy the device from somewhere else, and then jump through all the hoops to get the promotion. T-Mobile is obviously interested in carrying the Pixel, but its hands are probably tied for the time being due to Verizon's exclusivity.
Is that exactly what it sounds like?
Scoring an exclusive means exactly that. Verizon is the only carrier allowed to distribute Pixel for now, so the real question is how long the exclusivity window lasts. Once the exclusivity expires, I would imagine more carriers will look to sign on with Google to sell the Pixel at its retail stores, which is easily the most important distribution channel in the smartphone market -- as well as potentially the biggest limiting factor for Pixel.
Considering the broader shift away from carrier exclusives, it's hard to imagine Verizon's exclusivity window lasting more than three to six months, which importantly should cover the busy holiday shopping season. T-Mobile's push to display the Pixel but not to officially sell the Pixel likely skirts the exclusivity, which Verizon probably doesn't take too kindly.
In any event, there's a very good chance that the Pixel sees wider carrier availability once Verizon's exclusivity has ended, which will probably be in early to mid-2017.
10 stocks we like better than Alphabet When investing geniuses David and Tom Gardner have a stock tip, it can pay to listen. After all, the newsletter they have run for over a decade, Motley Fool Stock Advisor, has tripled the market.*
David and Tom just revealed what they believe are the 10 best stocks for investors to buy right now... and Alphabet (C shares) wasn't one of them! That's right -- they think these 10 stocks are even better buys.
Click here to learn about these picks!
*Stock Advisor returns as of Nov. 7, 2016
Suzanne Frey, an executive at Alphabet, is a member of The Motley Fool's board of directors. Evan Niu, CFA has no position in any stocks mentioned. The Motley Fool owns shares of and recommends Alphabet (A shares) and Alphabet (C shares). The Motley Fool recommends T-Mobile US and Verizon Communications. Try any of our Foolish newsletter services free for 30 days. We Fools may not all hold the same opinions, but we all believe that considering a diverse range of insights makes us better investors. The Motley Fool has a disclosure policy.