Will Philip Morris International, Inc. Raise Its Dividend in 2017?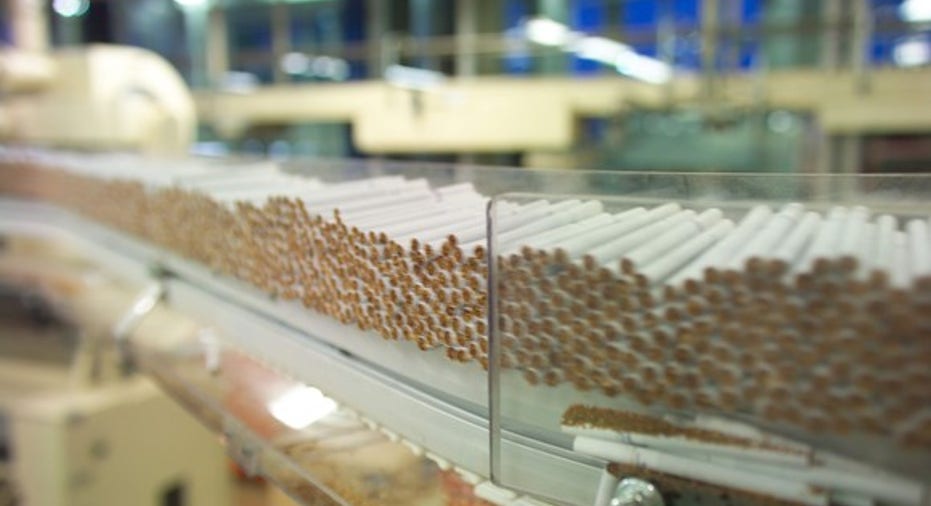 International tobacco company Philip Morris International (NYSE: PM) earned a reputation for high dividends from its former corporate parent, and in nearly a decade as an independent company, it has kept up the pace with increases of its own. Yet more recently, Philip Morris hasn't delivered the dividend growth that investors had seen in the past and hope to see again in the future. Some dividend investors wonder if Philip Morris will ever return to more lucrative payout increases. Below, we'll look more closely at what Philip Morris has been doing and whether it can reward dividend investors to a greater extent in the near future.
Dividend stats on Philip Morris International
Data source: Yahoo! Finance. Last increase refers to ex-dividend date.
How Philip Morris has rewarded shareholders in the past
When it first got spun off as an independent company, Philip Morris went to great lengths to show that it was just as committed to healthy dividend growth as its former parent. That's a big reason why the company gave investors a huge 17% increase in its quarterly payout during its first year as a separately traded stock. In the years that followed, Philip Morris regularly gave investors increases of 10% or more, with increases as high as 20% in 2011.
Image source: Philip Morris International.
In recent years, though, Philip Morris' dividend growth has slowed. A 6% increase in 2014 reflected the emerging headwind from foreign currency weakness, as Philip Morris has to report its results in U.S. dollar terms and therefore sees its revenue and profit fall when the foreign currencies that it earns fall in value. At some times, Philip Morris even reported declines in revenue and earnings, putting pressure on the company's dividend payout ratio and leading to even slower dividend increases in subsequent years. For two straight years now, Philip Morris has made minimal boosts of just 2% to its quarterly dividend.
Philip Morris' dividend history since 2008
Data source: Philip Morris investor relations.
Moreover, even with those small increases, Philip Morris has come up against the limit when it comes to its capacity to keep its dividend growing. Currently, the company has a 98% payout ratio, meaning that it's using almost all of its earnings to fund the dividends it pays to its shareholders. Signs earlier this year suggested that dollar strength might be waning, but a new push higher against many major foreign currencies to 14-year highs could signal that a strong dollar will continue to punish Philip Morris earnings.
What's ahead for Philip Morris International's dividend?
What we can conclude from past dividend moves from Philip Morris is that the company is likely to stay conservative for as long as its earnings growth remains at depressed levels. Whether from weakness in the foreign currency markets or from other factors, Philip Morris management has shown both the importance of giving investors at least some dividend increases while not overextending itself to go beyond its earnings. Ideally, the company would likely prefer to pull its payout ratio down to the 80% to 85% range. Yet that will take considerable earnings growth to achieve.
Given its commitment to shareholders, Philip Morris will definitely want to make another dividend increase in the second half of 2017. Unless growth rises substantially, however, investors should probably prepare for another 2% increase as Philip Morris positions itself to let earnings catch up with its dividend rate in the next few years.
10 stocks we like better than Philip Morris International When investing geniuses David and Tom Gardner have a stock tip, it can pay to listen. After all, the newsletter they have run for over a decade, Motley Fool Stock Advisor, has tripled the market.*
David and Tom just revealed what they believe are the 10 best stocks for investors to buy right now... and Philip Morris International wasn't one of them! That's right -- they think these 10 stocks are even better buys.
Click here to learn about these picks!
*Stock Advisor returns as of Nov. 7, 2016
Dan Caplinger has no position in any stocks mentioned. The Motley Fool has no position in any of the stocks mentioned. Try any of our Foolish newsletter services free for 30 days. We Fools may not all hold the same opinions, but we all believe that considering a diverse range of insights makes us better investors. The Motley Fool has a disclosure policy.