Will Office Depot's Weak Earnings Convince the Market It's Better Off Merged with Staples?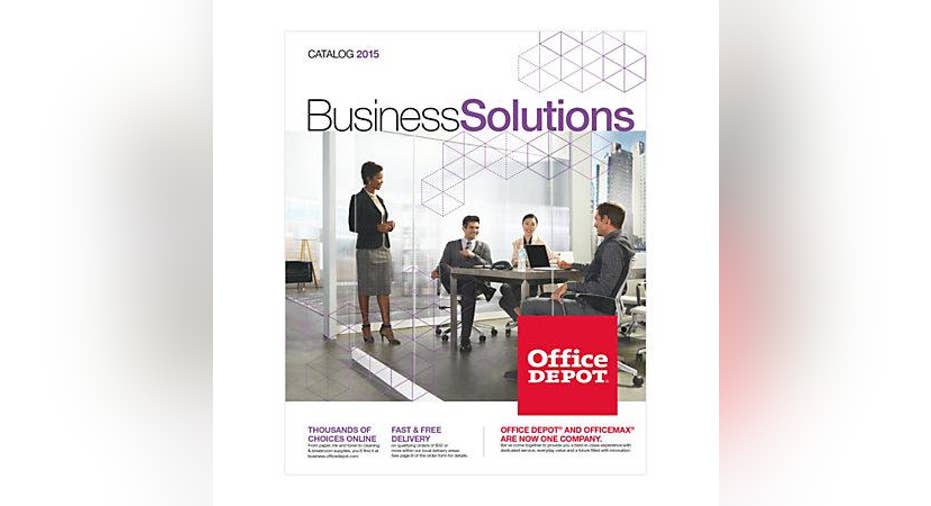 Office Depot's BusinessSolutions segment continues to decline, a result the office supplies retailer blames on the delays being experienced in its merger with Staples. Image source: Office Depot.
Does the fact that Office Depot reported first-quarter earnings that sorely missed internal expectations -- let alone Wall Street's forecasts -- validate Staples' argument that it needs to merge with its rival for both of them to survive, or does it undermine it, thereby seemingly endorsing the market's dour view of the deal?
Since Staples made known in early February 2015 that it intended to buy Office Depot, its shares have lost 40% of their value, either because the market thought the FTC would never approve the deal, or because investors viewed the union of two troubled retailers as a poor decision. Office Depot's stock has lost about one-fifth of its worth in that time frame.
Disruptive technologyOffice Depot says sales fell 10% in the first quarter to $3.5 billion largely due to the disruption being caused by delays in the merger process. Retail sales were down 9% mostly because of store closings, but business solutions sales fell 7%, allegedly because it's having trouble adding more customers due to the uncertainty surrounding its acquisition.
While that may be true, Office Depot's contract market wasn't all that robust to begin with. Sales in 2014 were essentially flat even after the addition of OfficeMax's business, and last year, while it also attributed falling sales to disruption caused by the merger, it was suffering weakness in Canada and lower catalog sales as well. Earlier on, the business solutions operation was reportedly already in decline.
In contrast, Staples has been gaining sales in the space, up 2% last year, 3% in 2014, and flat to up incrementally before that.
So it seems understandable why the market may not be enthused about the two businesses joining together. When Sears, Roebuck bought K-Mart to create Sears Holdings, it didn't result in a better retailer, but rather saddled one sick business with another.
A too-big footprintStaples, though, is not Sears, and there is still a lot of sense to be found in merging the two companies together, at least on the retail side. Between the 1,500 stores Office Depot operates and the 1,607 stores in Staples portfolio, there are simply too many bricks-and-mortar office supply locations for this weak economic environment. Shedding more stores will be necessary to right-size the company, particularly as it faces more competition from the likes of Wal-Mart, Costco, and the 800-pound gorilla in the room, Amazon.com .
It is, of course, Amazon that is central to Staples' argument as to why it needs Office Depot. As the e-commerce leader rolls out its business-to-business platform, both office supplies retailers will feel the pinch even more in the segment of their operations that provides them with 40% of their revenues. In pursuing its case against the merger, the FTC tried to pressure the Internet retailer to lie about how ready it was to take on the B2B market, yet there is some merit in questioning whether Amazon can be effective in it.
Wide open spacesAmazon Business is the e-tailer's third attempt at entering the space, and though it refused to acquiesce to the government's efforts to get it to misrepresent its capabilities, its executive also testified in the trial that it's only won one contract with a business having more than $250 million in revenues, despite numerous attempts. Even so, it also characterized the opportunity in the space as a "land grab" over the next few years.
Moreover, CEO Jeff Bezos has characterized its Amazon Web Services, Marketplace, and Prime membership program as "three big pillars" that allowed Amazon.com to grow to $100 billion in annual sales faster than any company before. He says it is looking for a fourth such pillar, and certainly the business-to-business marketplace has the potential to be that one.
Office Depot's earnings certainly are stressed, though whether that's simply a result of "disruption" due to the merger's delay, or something deeper, like losing opportunities to rivals, is still unclear. Regardless, it suggests the market cannot sustain two major bricks-and-mortar retailers that have the prospect of a multibillion dollar Internet rival looming over them. Its latest quarterly report indicates Staples really does need to buy Office Depot, and the sooner the better.
The article Will Office Depot's Weak Earnings Convince the Market It's Better Off Merged with Staples? originally appeared on Fool.com.
Rich Duprey has no position in any stocks mentioned. The Motley Fool owns shares of and recommends Amazon.com and Costco Wholesale. Try any of our Foolish newsletter services free for 30 days. We Fools may not all hold the same opinions, but we all believe that considering a diverse range of insights makes us better investors. The Motley Fool has a disclosure policy.
Copyright 1995 - 2016 The Motley Fool, LLC. All rights reserved. The Motley Fool has a disclosure policy.