Will NVIDIA's New Graphics Card Hold Off Competition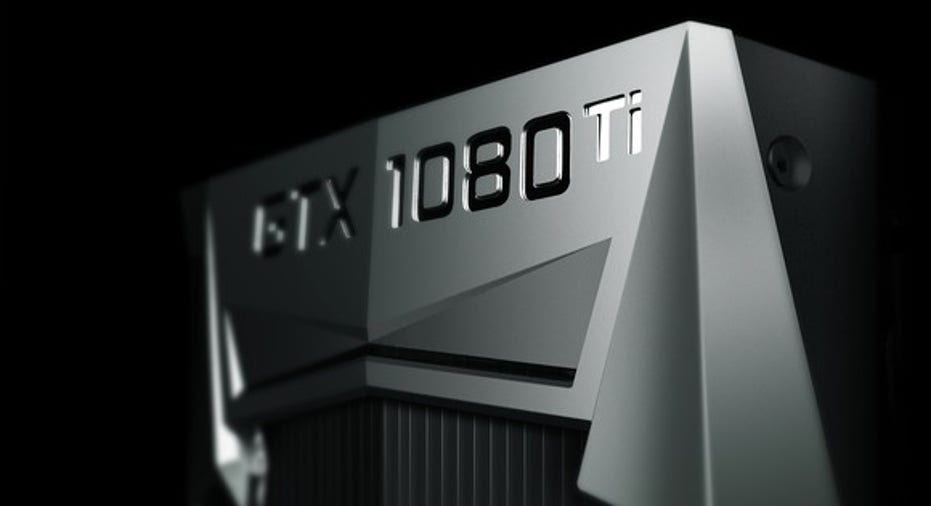 At the Game Developers Conference on Feb. 28, NVIDIA (NASDAQ: NVDA) announced the new GeForce GTX 1080 Ti graphics processor, which the company touted as its fastest gaming GPU ever.
The power of TITAN X for about half the price
NVIDIA claims the GTX 1080 Ti is 35% faster than the TITAN X Pascal-based GPU, which is used for deep learning and artificial intelligence.It's priced at $699 -- about half the cost of the TITAN X's $1,200 price tag.
NVIDIA holds a commanding lead in the gaming GPU market. Image source: NVIDIA.
One way NVIDIA is able to design its latest gaming GPUs to run faster than TITAN X is through advanced cooling solutions, which allows the GTX 1080 Ti, for example, to run at higher clock speeds while dissipating heat more efficiently.
The GTX 1080 Ti packs plenty of horsepower to run the latest games smoothly on 4K and 5K resolution displays. The new graphics card was also designed to power virtual reality (VR) games. It is important for NVIDIA to hold its lead in being the card of choice for gamers, because gaming is NVIDIA's largest revenue category.
The Pascal upgrade cycle is under way
NVIDIA's gaming revenue grew 44% in fiscal 2017 to $4.06 billion, fueled by gamer adoption of new GPUs that feature the latest Pascal card design. Strong demand should continue, as the majority of PC gamers have not upgraded to a Pascal GPU yet. According to CEO Jen-Hsun Huang, NVIDIA has an installed GeForce user base of "a couple of 100 million."As to how far along in the upgrade cycle those users are, he said:
Gamers are enthusiastic to get their hands on the $700 GTX 1080 Ti; it sold out quickly on NVIDIA's website. Valve Corporation's recent Steam Hardware Survey updated for February shows gamers rapidly adopting Pascal-based GPUs such as the GTX 1070 and GTX 1060. Steam is one of the most popular PC gaming distribution platforms. Here's the percentage of Steam users who use either the GTX 1060 or GTX 1070 model for each month going back to October:
| GPU | October | November | December | January | February |
| --- | --- | --- | --- | --- | --- |
| GeForce GTX 1060 | 1.41% | 2.06% | 2.79% | 3.37% | 4.08% |
| GeForce GTX 1070 | 1.78% | 2.15% | 2.52% | 2.69% | 3.00% |
Data source: February Steam hardware survey.
The launch of the new GTX 1080 Ti at the $699 price point allowed the company to lower the price of the GTX 1080 by $100, which should assist the upgrade cycle and could help the company hold its top market share position.
Competition will heat up
The launch of the new GPU is significant for NVIDIA as Advanced Micro Devices (NASDAQ: AMD) gets set to debut its new Vega GPU in the second quarter of 2017. The new Vega GPUs will target gaming enthusiasts as well as data centers, competing head-to-head with NVIDIA's GTX 1080 and GTX 1080 Ti. Early reports suggest AMD's upcoming Vega GPU is 10% faster than NVIDIA's GTX 1080.
AMD has lost considerable market share to NVIDIA in the last few years, making 2017 a pivotal year in the high-end GPU market. The latest data from Jon Peddie Research shows NVIDIA holding 70.5% share of the discrete GPU market. This is way ahead of AMD's 29.5% share. With the pre-emptive announcement of the GTX 1080 Ti, NVIDIA is not resting on its laurels.
As of now, NVIDIA is the card of choice for gamers. The company has successfully won the top market share spot by outmaneuvering the competition on performance and price. Under the leadership of CEO Jen-Hsun Huang, NVIDIA also positioned its GPU business to benefit from applications outside of gaming like deep learning and autonomous vehicles, leaving AMD in the dust in these areas.
On the flip side, AMD has kept itself afloat by supplying GPUs for Apple's27-inch Retina iMac and MacBook Pro computers in order to ride the tide of the iPhone maker's strength in the PC market.AMD's mobile GPU shipments have been strong of late due to the launch of the Radeon Pro 400 GPU and demand for Apple's MacBook Pro notebooks.
NVIDIA's stock is priced for perfection, so any signs of competition creeping up on the company could send the stock tumbling. Therefore, the reaction from the gaming community toAMD's second-quarter launch of its new Vega GPU will be important for investors to watch.
10 stocks we like better than NvidiaWhen investing geniuses David and Tom Gardner have a stock tip, it can pay to listen. After all, the newsletter they have run for over a decade, Motley Fool Stock Advisor, has tripled the market.*
David and Tom just revealed what they believe are the 10 best stocks for investors to buy right now... and Nvidia wasn't one of them! That's right -- they think these 10 stocks are even better buys.
Click here to learn about these picks!
*Stock Advisor returns as of February 6, 2017
John Ballard owns shares of Nvidia. The Motley Fool owns shares of and recommends AAPL and Nvidia. The Motley Fool has the following options: long January 2018 $90 calls on AAPL and short January 2018 $95 calls on AAPL. The Motley Fool has a disclosure policy.